10 Apple Science Activities for Little Learners
Science activities are so much fun to do with preschoolers! I find that my boys love doing anything science-related with me. While I do enjoy browsing Pinterest for ideas, I don't love doing science experiments that don't explain the "why" behind them. I decided to plan specific activities for my boys and also explain the science behind each activity. So I've created these science packets for little learners that are hands-on and fun for kids! My first packet is all about APPLES!
In this packet you'll find activities about these science concepts:
Life processes
Living things
Acids & Bases
Diffusion & molecular motion
Density
Sense of smell
Preserving food
Now those may sound really scientific, but I promise we are doing simple (and cool!) science activities. Here's one of my favorite activities from the packet. We watched how apples decay. Air was the constant and then we soaked apple slices in vinegar, salt water, and lemon juice. We observed them for a week and it was fun to see the results!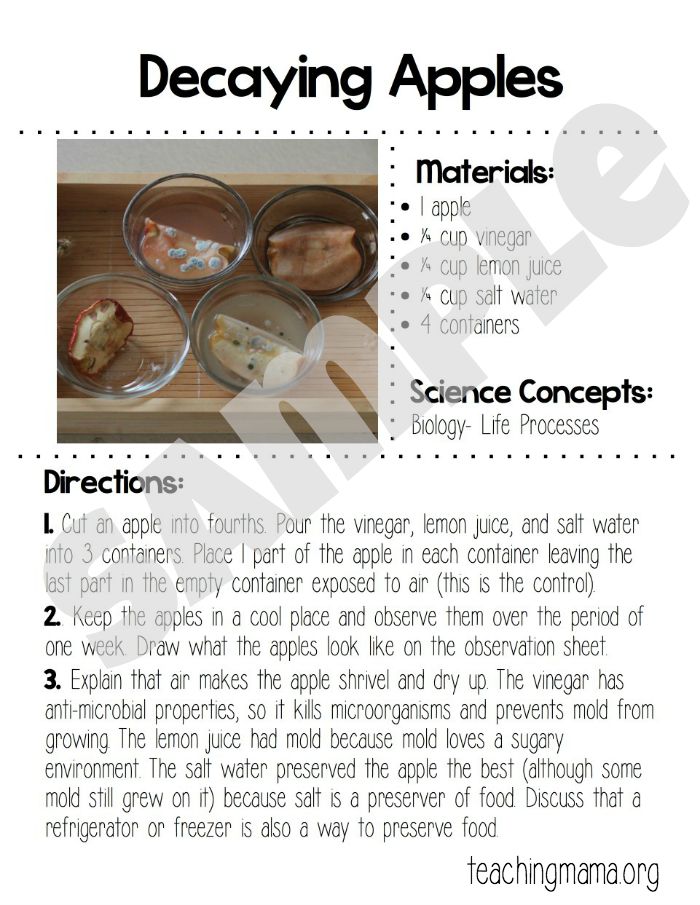 The lessons begin with talking about the life cycle of an apple and observing the characteristics of apples. Then I share 8 science experiments using simple ingredients. There are also printables for 5 of the activities.
I had a fun time creating this packet and I hope this will make life as a home preschool mom or preschool teacher much easier! I will be creating many more of these science packets and will be releasing the rest of my fall-themed packets within the next month! (I will also have a bundle price to buy all the packets together once they are finished.)
This packet is in the format of an eBook, but you can easily print it. You can get this apple packet for low price of $4. Just click on the picture or button below to buy yours today. Happy Learning!