We had such a great week learning about the letter M! We kept busy and had so much fun. Here is a recap of our letter M activities.
We always start the week off with opening our alphabet box. If you want to see more about our alphabet boxes and how I organize them, you can check out my post at the Homeschool Village.
Then he goes through the box and tells me what everything is. I think the homemade batman mask was his favorite! 🙂
We also go over the letter with our sandpaper letters. These are such an awesome visual and tactile way to learn alphabet letters. We have used two different kinds. I like the Didax brand, but in the past they only had Uppercase Letters. They now have Lowercase Letters which is great! The ones below are from Ideal School Supply.
Then we always do a Do-a-Dot page. We use the ones from Confessions of a Homeschooler and love them. As you can see, we are still working on using Do-a-Dot markers!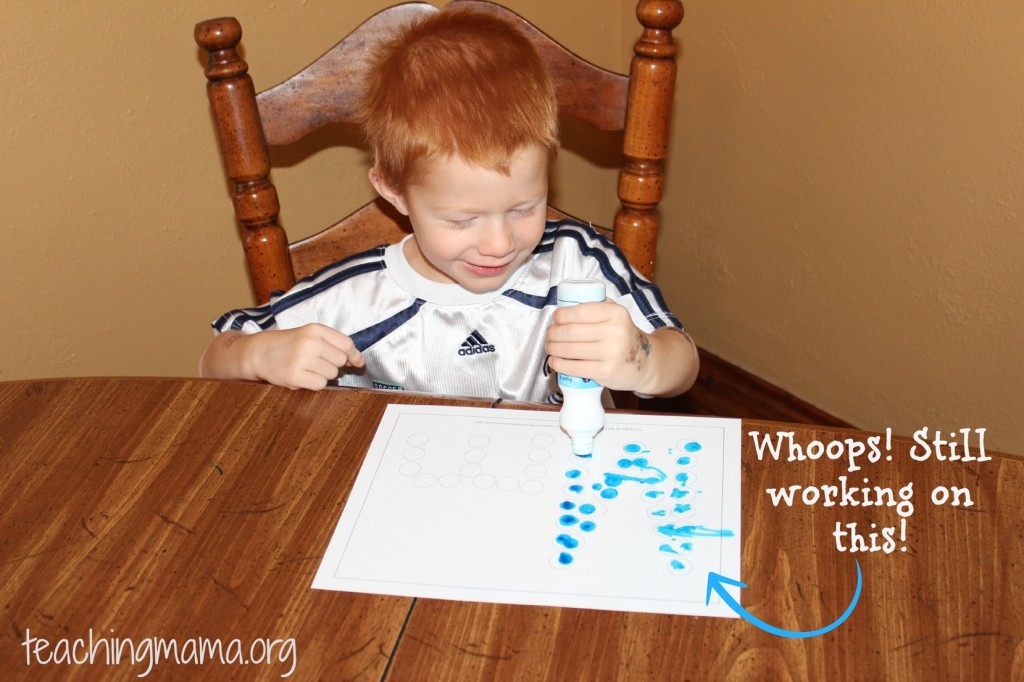 Next, we do our letter of the week craft. This week was M is for Mountain. I have a craft for every letter of the week in my preschool curriculum.
We did a lot of other activities and read books with M words. Here are a few of our favorite activities…
We created squares and triangles with marshmallows and toothpicks. I would prefer to use mini-marshmallows, but we only had large ones. 🙂
Wes had fun with this too! He just created poked toothpicks into a marshmallow. I guess that can be good for fine motor skills!
We did some sorting and graphing with M&Ms…which was a fun activity! Love how concentrated Troy was and how neatly he lined up those M&Ms!
Oh and we LOVED this activity from The Measured Mom. We played a Monster Dice Game, which was really fun and great for working on counting, number recognition, and subitizing (knowing how many dots are on the dice without counting). You can get your free printable game on her blog!
Well, that wraps up our week on Letter M. How was your week? Do you have any fun activities to share? Have a great weekend!