Turkey Handprint Sensory Activity
Thanksgiving is upon us and turkeys are the most popular animal right now! There are a lot of turkey crafts, but sometimes it is hard for little ones to participate. That is why I love activities that include safe activities that are edible for toddlers.
High sensory crafts can be messy, but they sure are fun! This special turkey print is all about the process and doesn't need to be saved when completed (unless of course, you want to take a picture of it and frame it for future Thanksgivings). Not only do we get to use delicious chocolate pudding, but we also get to explore fluffy craft feathers.
This super fun turkey activity teaches colors, numbers, fine motor skills while diving "hand-first" into an exciting sensory experience.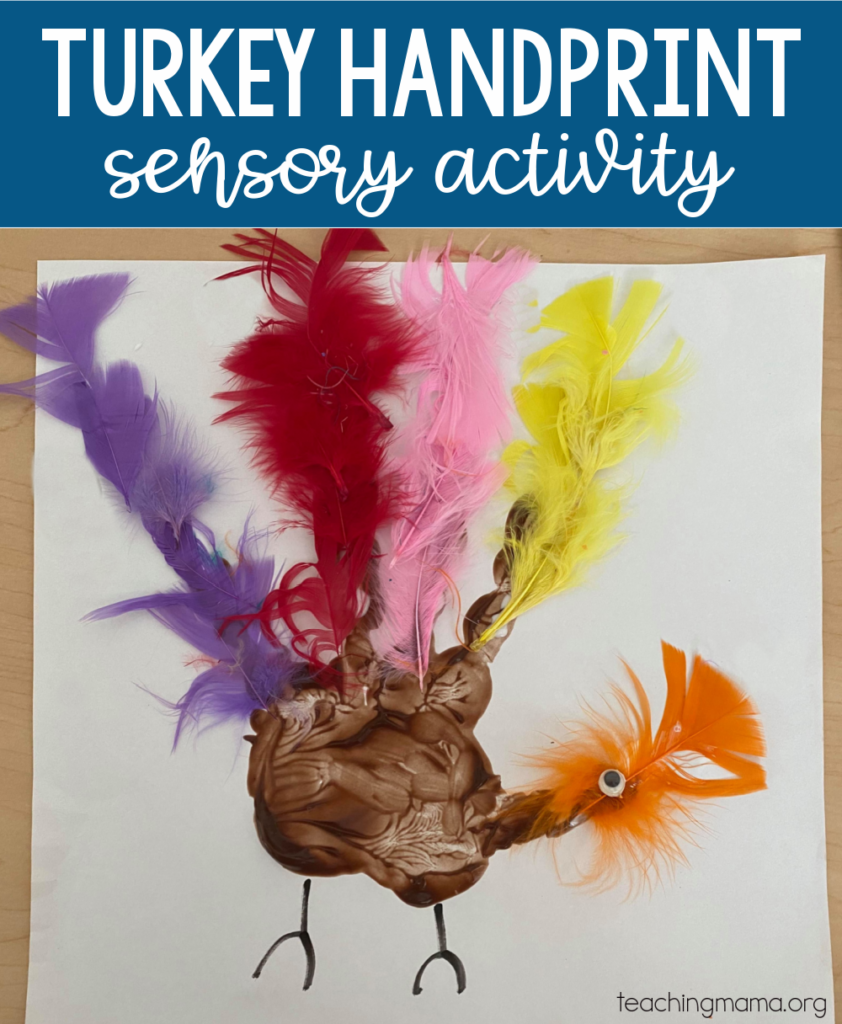 What you need:
1 Chocolate pudding cup (or brown fingerpaint)
1 Plate
5 Craft Feathers (each a different color)
1 Black Marker
1 Box of Crayons
1 Glue Bottle (Liquid Glue works best)
1 Paintbrush (any size)
1 Googly Eye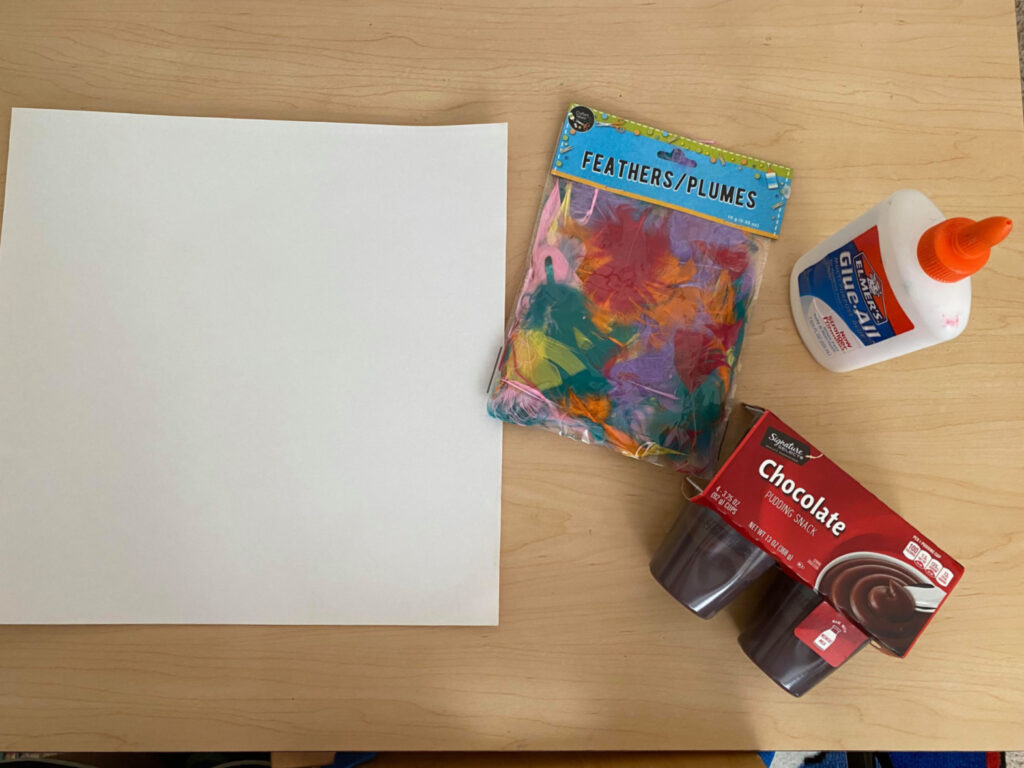 Steps:
1. Pour the cup of chocolate pudding onto the plate. You can use brown finger paint if you would rather.
2. Have your child put their hand into the pudding and squish it around. 
3. Ask them what it smells like? What does it look like? What does it feels like?
4. Use the paintbrush to make sure the pudding is everywhere on their hand, with no gaps.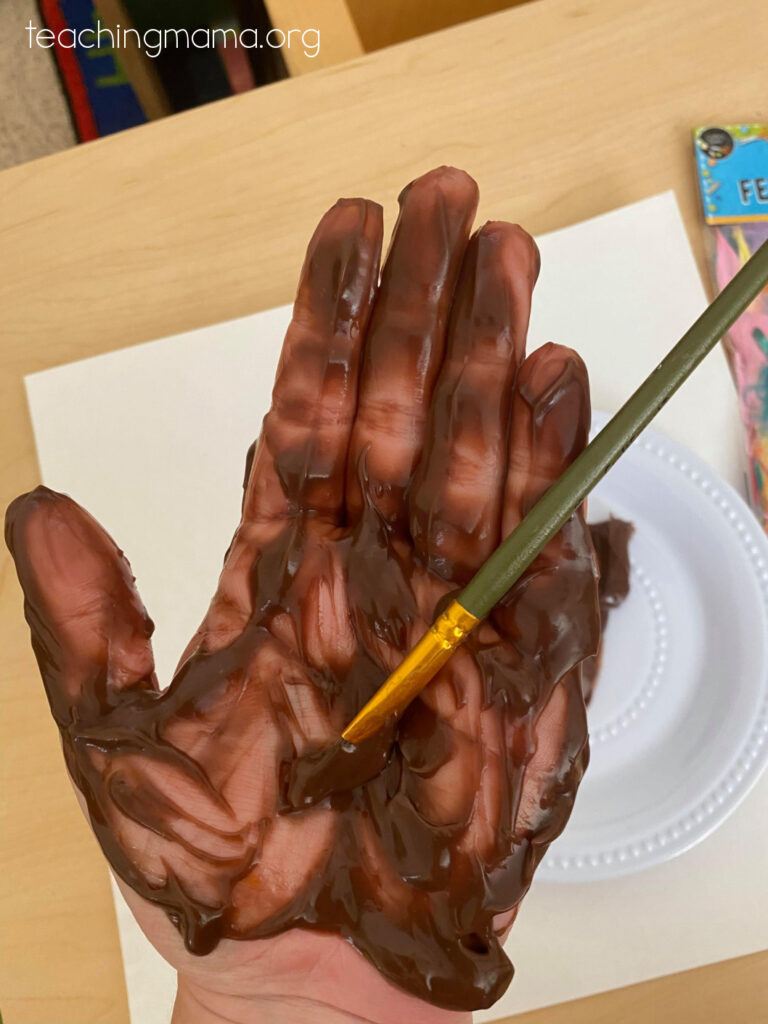 5. Have your child place their hand, with fingers spread out, on the paper to make a handprint.
6. Use glue to make lines along each finger.
7. Ask your child to count how many fingers there are, starting with the thumb.
8. Write each number next to each finger (1 next to the thumb, 2 next to the pointer finger…)
9. Have your child count how many feathers there are.
10. Ask your child the name of each feather color.
11. Allow your child to put a feather on each finger (over the glue). They can pick which color goes on which finger.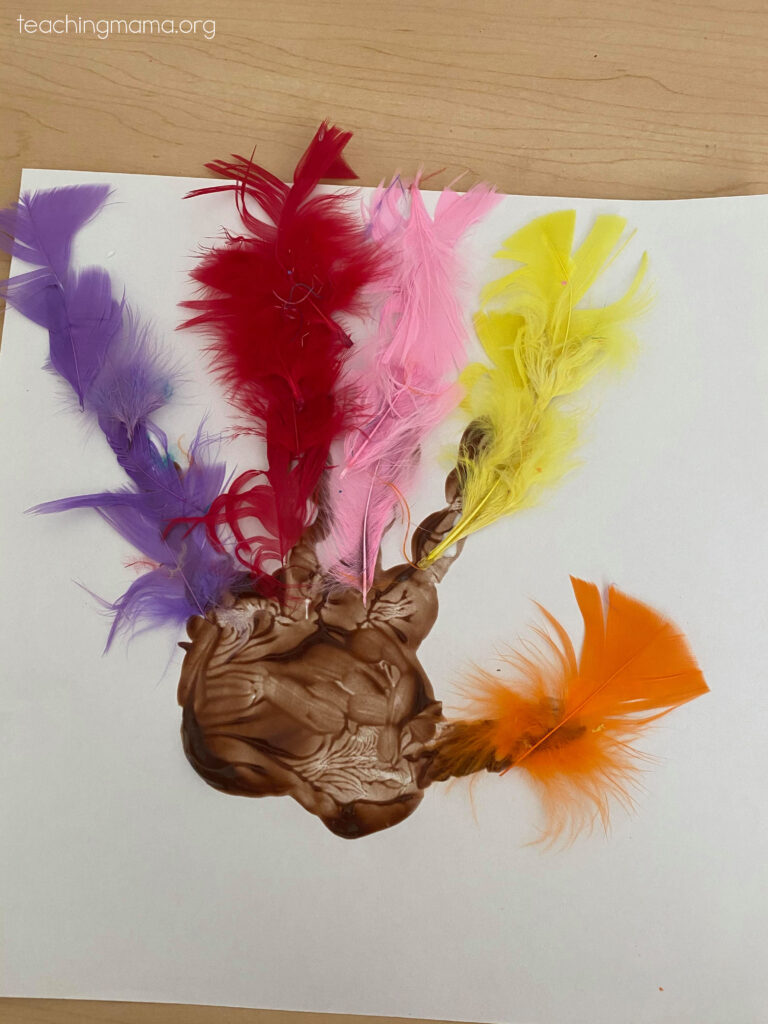 12. Place a drop of glue over the feather on the thumb.
13. Place the googly eye on the glue. 
If you have children that are working on prewriting and color matching, here are some ways to take this activity to the next level.
15. Write numbers 1 through 5 on the bottom of the paper with a black pen.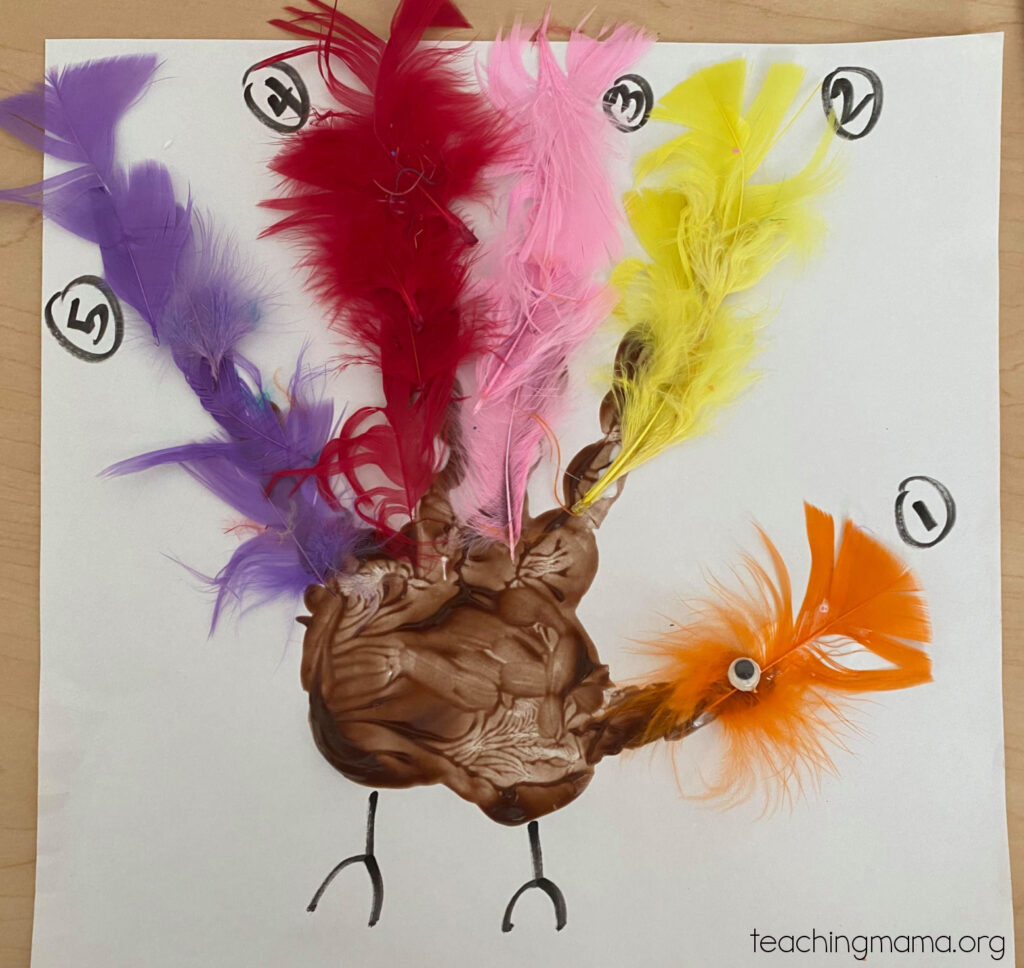 16. Write the name of the feather color that corresponds to each number (1 thumb = orange )
17. Ask your child to find the 5 crayons that match the feather colors.
18. Have your child trace the numbers and colors with the corresponding color crayon.
What's next?
Since this is a pudding picture, you might not want to save it for long. Have your child hold up their turkey and take a picture while they hold up their hand next to it.
If your child would like to create a turkey they could save, they can make another turkey by tracing their handprint or using brown finger paint.
What did your child learn?
Sensory language (What does it feel like, smell like, taste like?)

Exploring senses

One-to-one correspondence (counting)

Fine motor development

Following simple directions

Using words to describe objects

Color identification

Tracing and letter knowledge

Compare and contrasting
What a fun activity! My favorite part about this is that kids of all ages can participate. If you have a toddler, they can touch (and eat) the pudding while their older sibling makes a handprint. Having the family play together creates memories that will last a lifetime!
Sensory input plays a large role in helping kids calm down when they feel upset or overwhelmed. Learn how Soothing Sammy, an emotional skills program for preschoolers, can help kids calm down with their sensory system by using items you already have at home.
BIO: Jeana Kinne, MA received her Master's Degree in Early Childhood Education. She has been a preschool teacher, preschool director, parent educator, and now works with infants and toddlers with special needs. Jeana loves working with parents and families, creating simple and fun ways to teach children new skills.