St. Patrick's Day Sensory Bin
March is around the corner, so it's the perfect time to start making a St. Patrick's Day sensory bin! We made one this week and it's simple, yet so fun. I'm also sharing an easy math activity using plastic gold coins.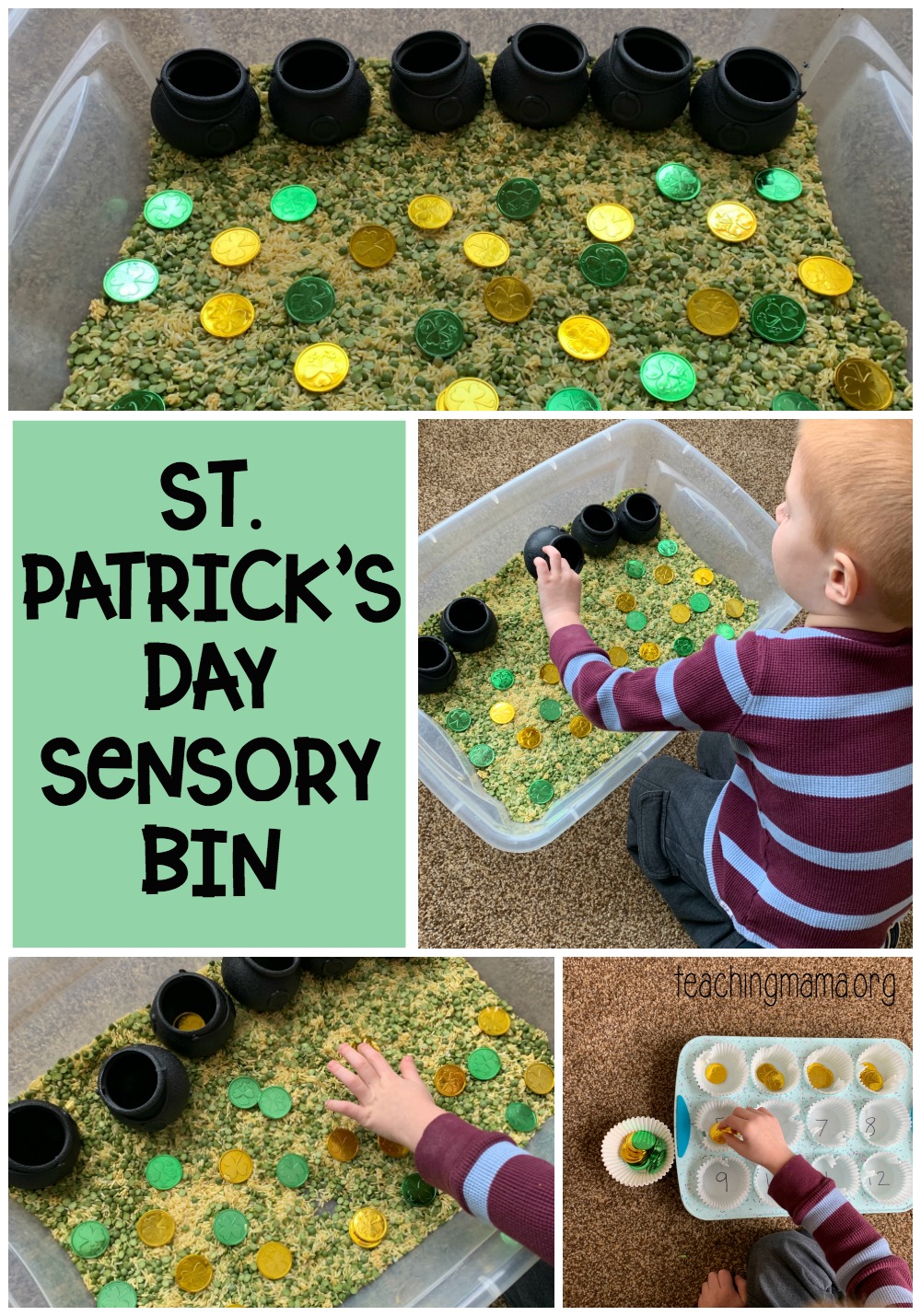 Materials for St. Patrick's Day Sensory Bin
dried split peas
white rice
gold paint
Ziplock bag
tray lined with wax paper
plastic gold coins (found at Hobby Lobby)
large bin
little cauldrons (found at Target)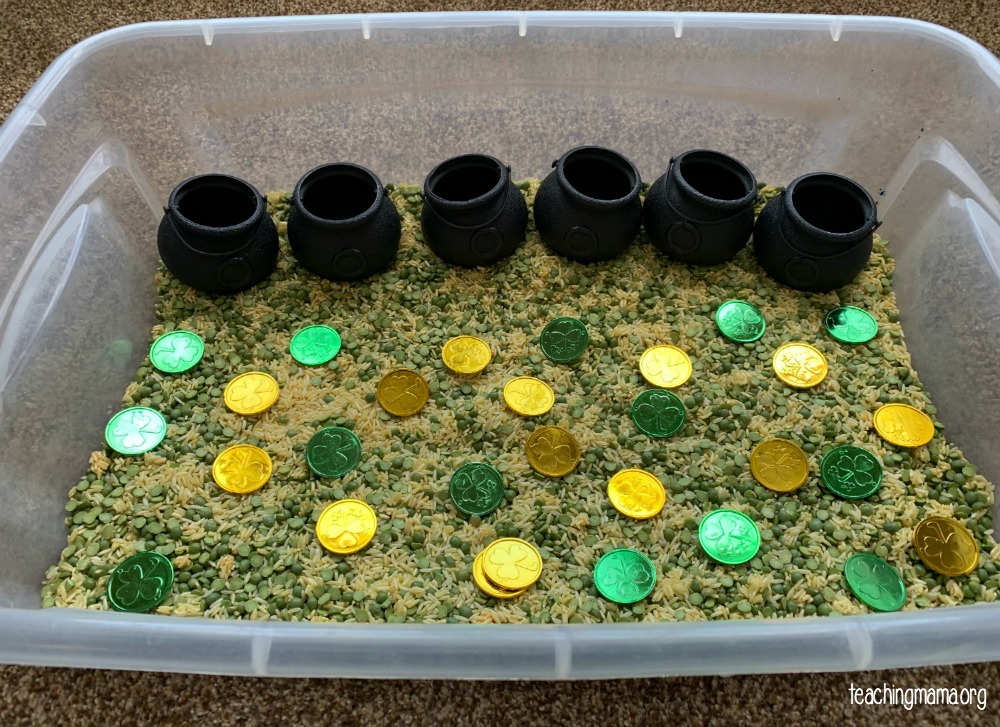 I first colored the rice. All I did was place rice in a Ziplock bag and then poured in gold paint. I didn't measure it, just put a couple globs in. Then I closed the bag and shook it until all the pieces were coated with paint. Then I placed it on a tray lined with wax paper to let it dry. It took about 1 hour.
Some of the rice may stick to each other, but just break it up with your hands. Then add the rice and the dried split peas into the large plastic bin. Also add in some gold coins and cauldrons or anything else you'd like for St. Patrick's Day!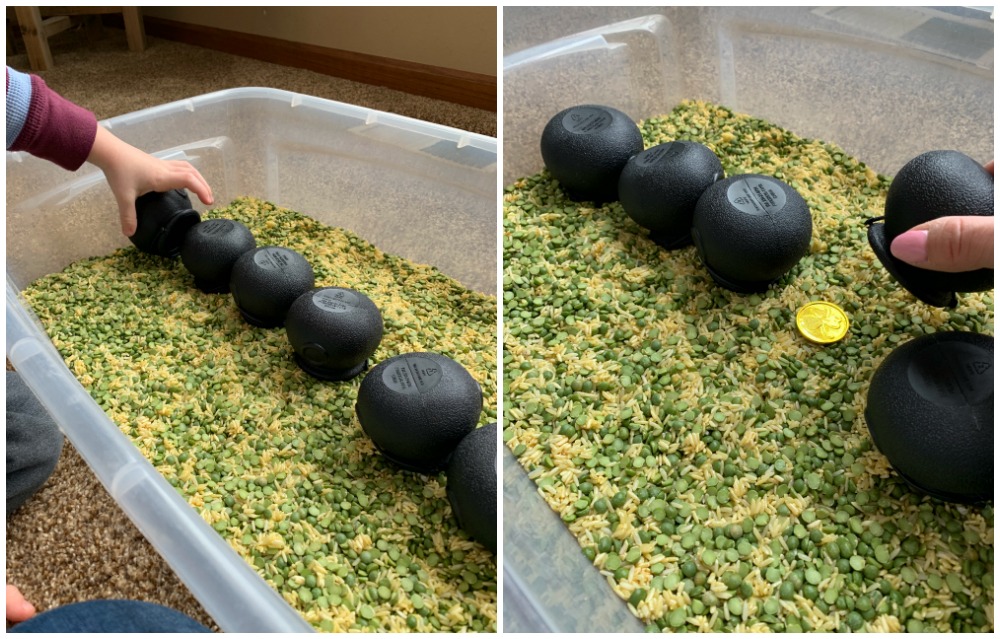 Invite your little one to play with it! I recommend placing a towel or mat underneath so you can easily pour any contents that spill back into the bin.
As soon as Lincoln saw this bin, he was pumped to start playing! I love how the rice and dried peas feel. They are soothing to play with. You could add in scoops, funnels, cups and more! We scooped the contents into the cauldrons and did some pretend play, too.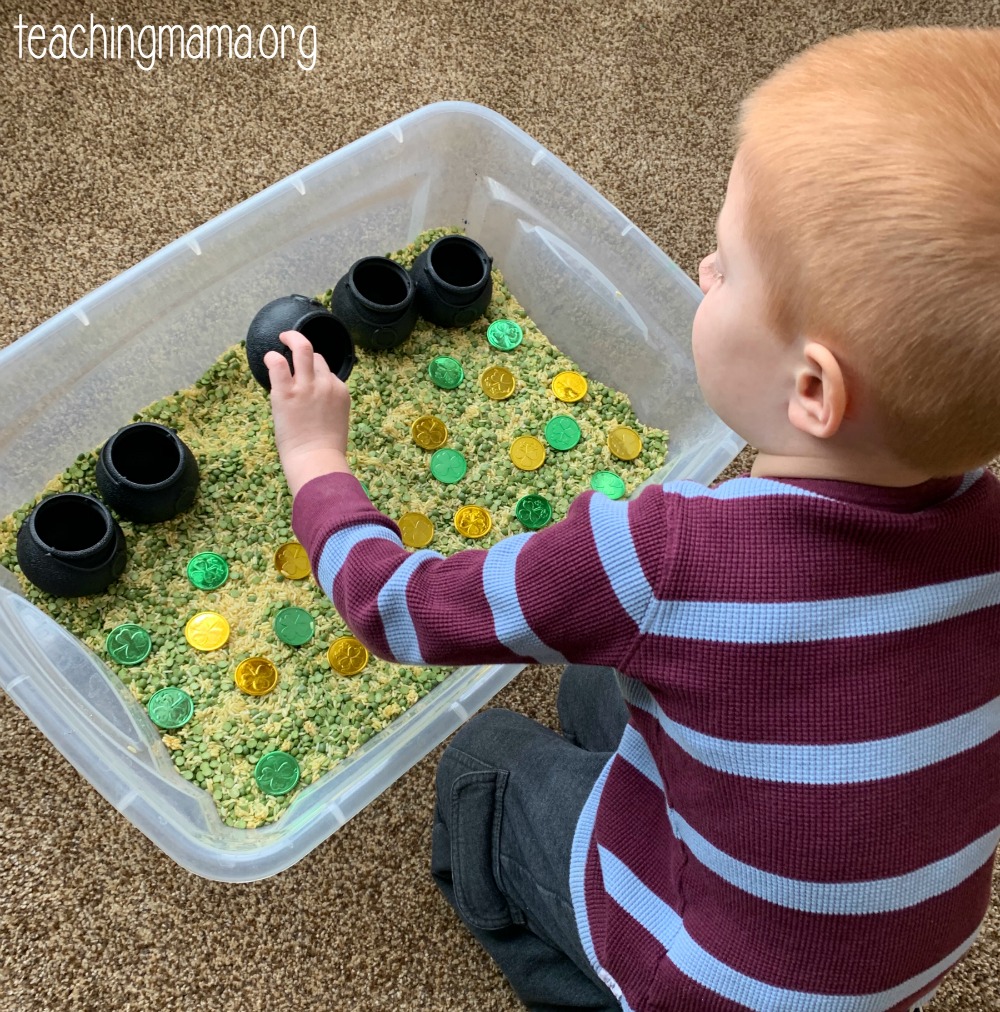 We used the gold coins for a fun math activity, too. I placed muffin tin liners into a muffin tin and wrote the numbers 1-12 on them. Then I gave Lincoln (4.5 years old) the coins and asked him to place the number of coins into the matching muffin tin number.
This activity is great for working on counting, number recognition, and one-to-one correspondence. These skills are all important to work on in preschool!
You could also hide the coins in the sensory bin and have your child find the coins and match them to the muffin tins.
I love to make sensory bins simple. Children find lots of ways to play with sensory bins. It's great for sensory play, language development, social skills (if playing with other kids), fine motor, and more!