Hi 👋🏻 my name is Mor and I'm a hoarder off all things book 📚 and educational materials.
Can you at all relate?!? [sigh]
Seriously now…. I'm totally type A, OCD, and organized by nature, but while I try to adapt the minimalizm approach in most aspects of my home & life, I've been feeling swamped and overwhelmed by the amount of "stuff" I've accumulated from my classroom teaching days & homeschooling years.
I've been in a homeschooling funk for quite some time now…. I used to be all fun & hands-on but have been turned off for a while. I have found myself heavily relying on workbooks, and commercial curriculum as opposed to the hands-on methods I love & believe in.
It was time to get to the bottom of it, and to find the root to my problem!
After taking some time to reflect & evaluate the situation and my feelings, I realized I have accumulated so many materials, games, manipulatives, and resources in the past 3 years that I became mentally overwhelmed. My kids' playroom was overflowing, my home office an utter chaos of mountains of things that needed to be filed, at least 15 half projects that required my attention, and many more projects I was fantasizing about starting. Our huge hallway closet full of games, activities, and manipulatives I keep buying and barely using, and let's not get started on the amount of kids' artwork I was drowning in because I had a hard time letting go. Add to it the never ending files that needed to be printed, laminated, cut & assembled, and you get my situation…
My brain has gradually became so cluttered with ideas, projects, and to-do lists, that I just needed to take time off, regroup, and simplify.
It is SO easy to get sucked in! Target Dollar Spot, Dollar Tree, TpT Sales, and endless ideas courtesy of FB, Instagram, Blogs, and Pinterest have become a huge part of our lives that it's truly a challenge to keep up both the ideas, physical items we keep on purchasing, and digital files we accumulated.
I needed an intervention!!!!!
To reduce my stress level, mental clutter, and get me back on track, I decided it was time to come up with a few guidelines. I needed to stop buying more, let things go, and use what I already have (and hardly even getting to).
Organization & Decluttering Tips:
Start small…one project at a time!

Make a list and cross off projects as you finish them.

Get rid of any toys, puzzles, games, and manipulatives you own multiples of. (you don't need 2-3 shape sorters, 3 alphabet puzzles, and 4 different sets of blocks)

Let go of things your child outgrew. Donate!!

Don't hold on to things your child lacks interest in. "maybe we'll use it later."

Find an organization method that works for YOU!!! (I use old filing cabinets I bought ages ago for all my themes & files, and large clear containers for my themed manipulatives)

Label everything for quick access

Make an inventory of what you currently have 

(a. so you can use it, b. So you don't buy more of it)

Don't take on ANY new projects until you've finished what is on your current list

BREATHE! If you're overwhelmed, stop. Take a day off, pick up a different, simpler project to complete. BREATHE again! It's a process.
Lastly, with your materials & files all organized, and an inventory at hand, sit down, enjoy your coffee, and PLAN your lessons.
If we are honest, it took me a little over a month to get my act together!!!!
I'm finally at the point of starting to pull things together things for the beginning of the school year. Whew! I feel like a huge rock has been lifted off my chest and I can BREATHE again.
Here are some of my before & after pictures.
Before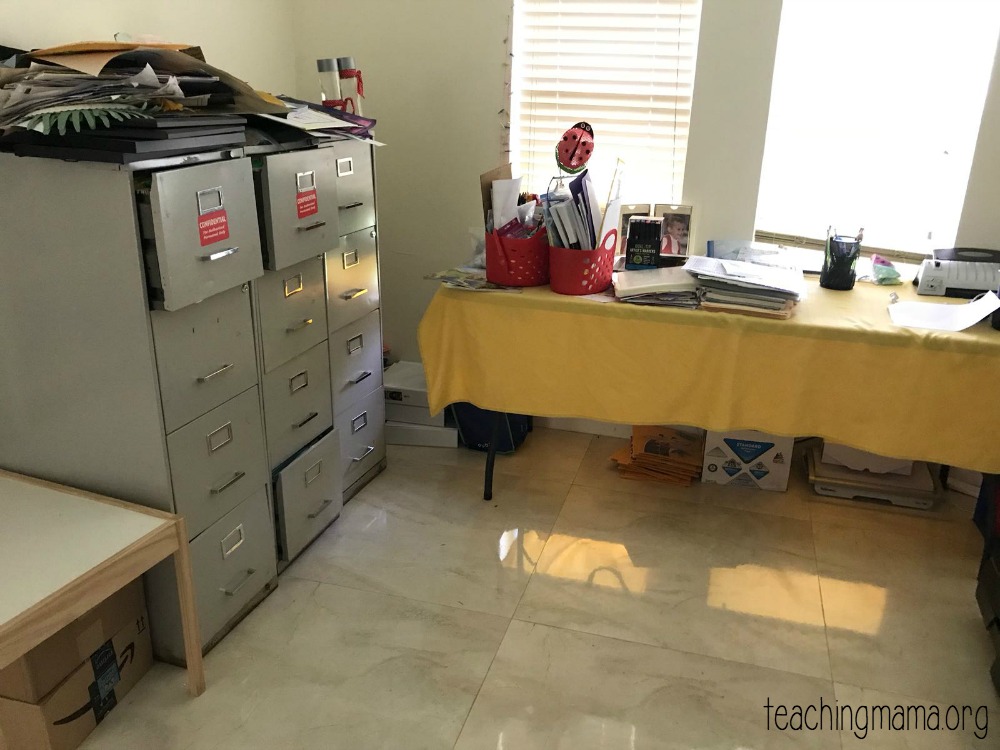 After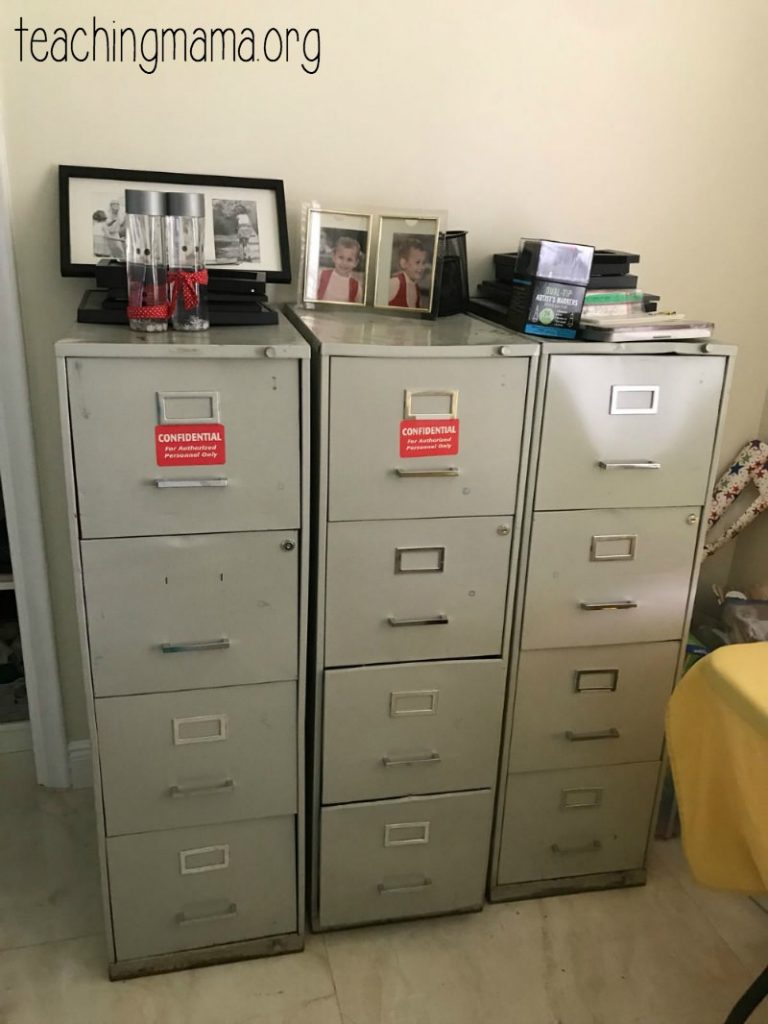 I'd love to hear from you!
What has been your greatest challenge getting organized & ready to start a new school year?
Enjoy the rest of your SUMMER!
Till next time, Mor.
BIO:
Mor Zrihen is a mother of 3 littles, Daniella (5), Maya (4), Jonathan (2.5) and wife to a loving husband. Mor has a Bachelor of Science in Elementary Education, and a Masters of Science in Reading Education K-12. She is a former classroom teacher, turned stay-at-home mom and is currently residing in sunny South Florida. Her favorite things to do with her kids are reading, hands-on sensory activities, process art, outdoors play, visiting children museums, and lots of free play to develop age appropriate skills.  On the weekends she enjoys family time, festivals, and community activities.