Halloween Alphabet Puzzle
Halloween is around the corner and I have a fun activity to share with you! This Halloween alphabet puzzle is a great way to work on learning the alphabet order. Plus it's fun to do for Halloween!
Alphabetizing is an essential skill that will help students in many day-to-day tasks both at home and at school. There are so many jobs and tasks in school that rely on the person's ability to alphabetize. That is why we practice it at an early age! And doing it in a fun way is a great bonus!
This post contains affiliate links. See my disclosure for details.
Here's what you need for this activity:
Start by printing the Halloween alphabet printable onto card stock paper. Then cut around the lines to separate the alphabet letters. Lastly, glue the paper strips to craft sticks. (You can also put Mod Podge onto the sticks if you want them to stay on better.)
Then mix up the alphabet sticks and put them into a container.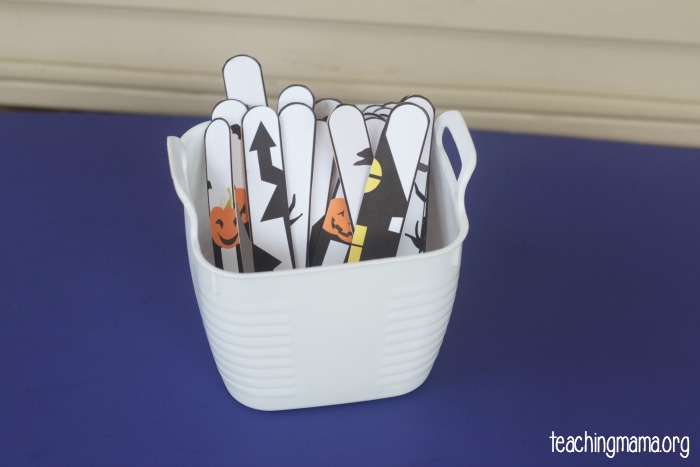 Then invite your child to put the puzzle together. They will need to put the pieces in alphabetical order. At the bottom of each stick is an alphabet letter. The puzzle will go from A to Z.
You can have your child sing the alphabet song to help them remember the order! The pictures also help with this. In the end, it will make a fun Halloween scene!
My kids loved this puzzle and thought it was so fun! I think it's a great way to sneak learning into a fun activity. Hope you'll try it out, too!
You can download the printable here —> Halloween Alphabet Puzzle