Fun Ways to Play with Kinetic Sand
Disclosure: This post contains affiliate links for your convenience. 
Have you ever played with kinetic sand
? It is the coolest sensory material! Kinetic sand feels so awesome that it's hard to stop playing with it. There are some homemade ways to make kinetic sand, or you can buy kinetic sand at the store (or here
on Amazon.)
Kinetic sand is fun to play with. It's great to touch, squeeze, and hold. Kinetic Sand is a mixture of sand and polymers and so it feels like no other sensory material I've ever played with. When you hold it, it moves and falls through your fingers. It feels like what I think quicksand would feel like!! My kids can spend hours playing with this stuff, so I highly recommend getting some for you kids to play with!
While it's fun to just hold it and squeeze it in your hands, there are other ways to play with kinetic sand.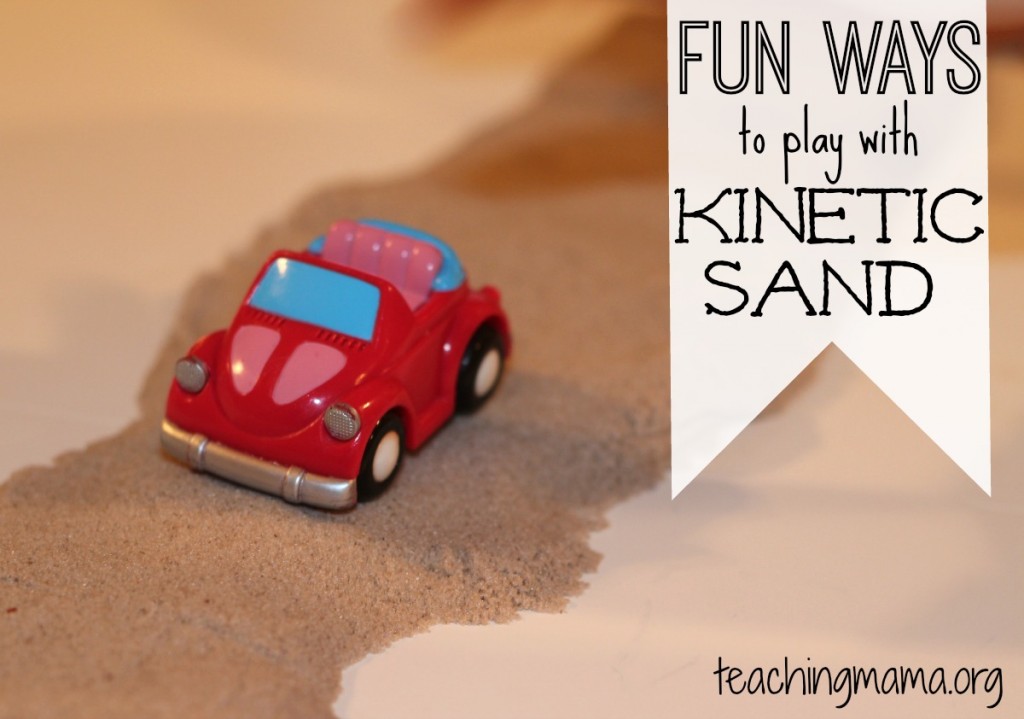 You can place kinetic sand in molds. Our Kinetic Sand came with molds to put the sand into. You can also place it in cups or buckets and make a sand castle out with the cylinder molds.
It's fun to stamp magnetic letters in the sand to create words. They make a great imprint!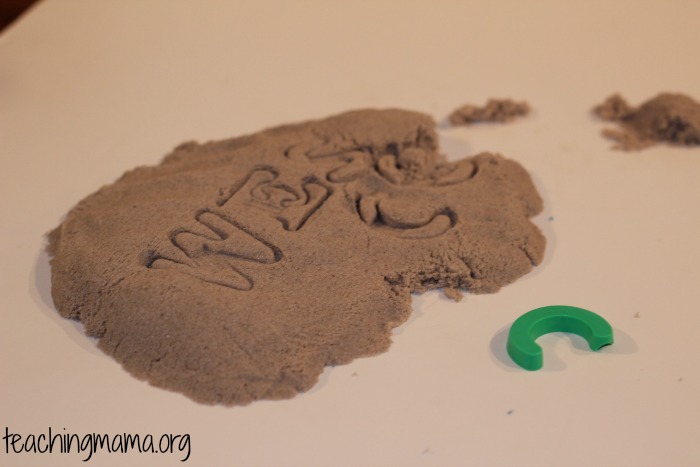 We made a track by just molding the kinetic sand in a wide line. We also used a fork to make lines down it. Then we drove cars down it!
We poked straws in the kinetic sand to make designs!
We even made these sand tubes when we pushed sand through the mini-straws!
It's really easy to make clean looking shapes when you use cookie cutters on kinetic sand.
Kinetic Sand has some awesome benefits:
Very easy to clean up, which is why I let my kids play with it indoors.
Nontoxic and microbial
Kids AND adults enjoy playing with it
Will never dry out! I do recommend keeping it in a container with a lid to keep dust away
Do you have kinetic sand yet?? If not, what are you waiting for! Go out and get some today!
This was day 24 of the 31 Days of Play Series. To see all the activities, visit here.