Today's play activity is sort of like a craft. When I need my kids to play quietly, I pull out sticky paper to create on. For this activity, I place a piece of contact paper on the table, along with craft supplies, and let them create whatever they like! It's really simple, but it's a great quiet play idea and also a way to spark your child's creativity.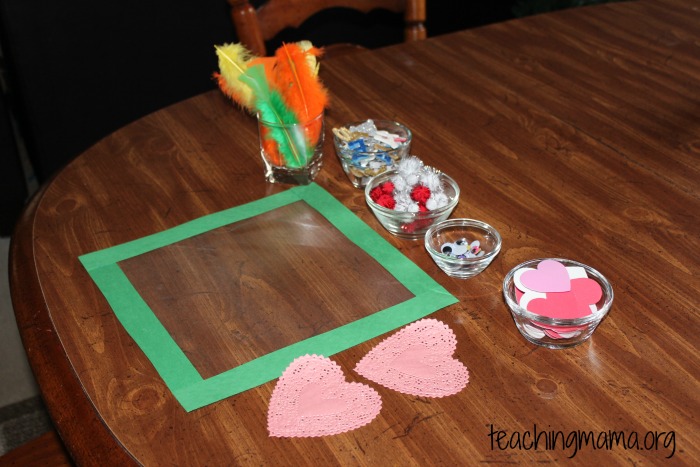 Contact paper
 is like a giant sheet of tape. It's an adhesive and you can find it in the kitchen section at stores like Walmart. (People use it as a shelf liner.) I like to place strips of construction paper around the edges. It makes the contact paper lay flat. You could also tape it to the table.
Then I just set whatever craft supplies I have in front of them. On this day, I set out foam hearts, yarn pieces, glitter letters, feathers, beads, pom poms, and doilies for my 3-year-old to create with.
And then he just created on the sticky paper.
You can rearrange the objects once you place them on the contact paper. After they are done creating, you can place another piece of contact paper on top to keep the objects in place and to preserve the art.
This was day 11 of the 31 Days of Play series. To see all of the activities, visit here. Happy Playing!