Hey! It's been a couple weeks since I've done a Friday Favorites post. We've just been a bit busy. I love summer. There are so many wonderful things to do during the summer that our days are full, yet still relaxing. So today I thought I'd share a few pictures of what we've been up to.
We all adore this 10 month old babe. He brings all of us so much joy!
Troy just finished up the spring soccer season. This boy had a smile on his face every time he was on the field.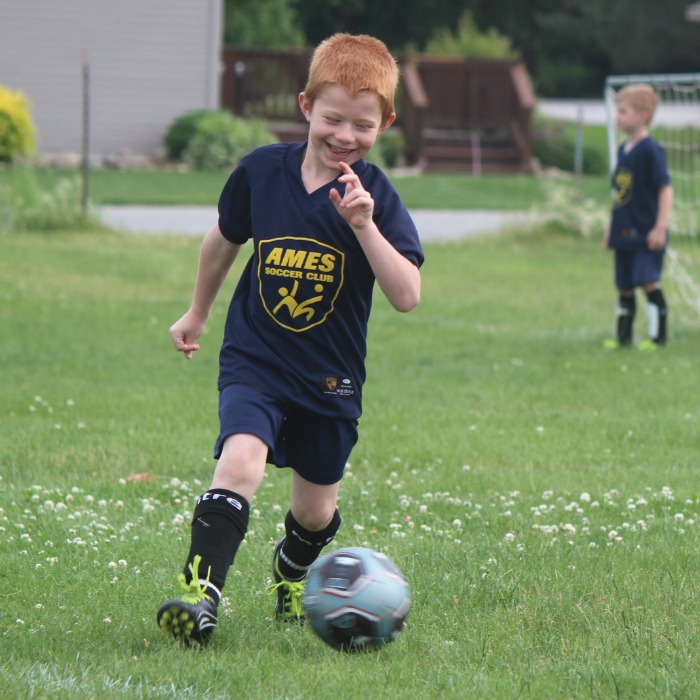 This is my view most of the time…these three melt my heart! I look back at these pictures and think…boy my days are full! And I also think of how blessed I truly am.
We are swimming a ton this summer. All three boys love the water!
We got the sprinkler out and enjoyed getting soaked! This made me think of my childhood summers!
I've just gotta share this picture because it makes me smile. For some reason, he always puts on his undies backwards 🙂 Cracks me up!
And how sweet is this picture?! He fell asleep on the couch while watching a movie!! And I'm fairly certain his undies are on backwards here, too!
And I've just gotta share my favorite salad I've been eating all week. I'm doing the 21 Day Fix Challenge (eating and workout program) and so I've been eating a lot of veggies, fruits, and protein. This salad is delicious and filling! It's spinach, raspberries, strawberries, sesame seeds, chicken, and feta cheese topped with a raspberry vinaigrette!
This weekend I get to head to an Iowa bloggers meet-up and a friend's wedding!!
Hope you have a wonderful weekend!