Friday Favorites – First Days of Fall!
Fall is here and we are happy about it! Although I love summer, I realllly love fall! The only thing I dislike about it is how short the season is. It seems like winter sneaks up so fast! Anyway, we've been having fun with homeschooling and fall activities. Here's what we've been up to…
We went to visit our favorite apple orchard/pumpkin patch! Troy was at school that morning, but we went with some of our close friends. Every year we take a picture with this pumpkin cut-out. It's a favorite of mine to see them grow through the years!
The boys' FAVORITE thing to do here is play in the giant corn pool! Talk about the ultimate sensory bin! I had to watch Lincoln like a hawk to make sure he didn't put any of the corn in his mouth!
They also love the jumping pillow. It's like a giant trampoline!
We can't wait to go back again!
Homeschooling is going well…we are finally getting in a good groove. Wesley's favorite activity was taking this fake pumpkin and hammering golf golf tees into it and then wrapping rubber bands around the tees. The made shapes and designs, while also working on fine motor skills. He was proud of his work!
Troy's been having fun with Kindergarten math at home. This week we did a lot of hands-on math activities. Here are a few of them:
1. We practiced writing in shaving cream
2. Made shapes and letters with marshmallows and toothpicks
3. Played a pumpkin seed transfer game. We each rolled the dice and whoever got the highest number transferred that many pumpkin seeds to the other jar until all of them were transferred.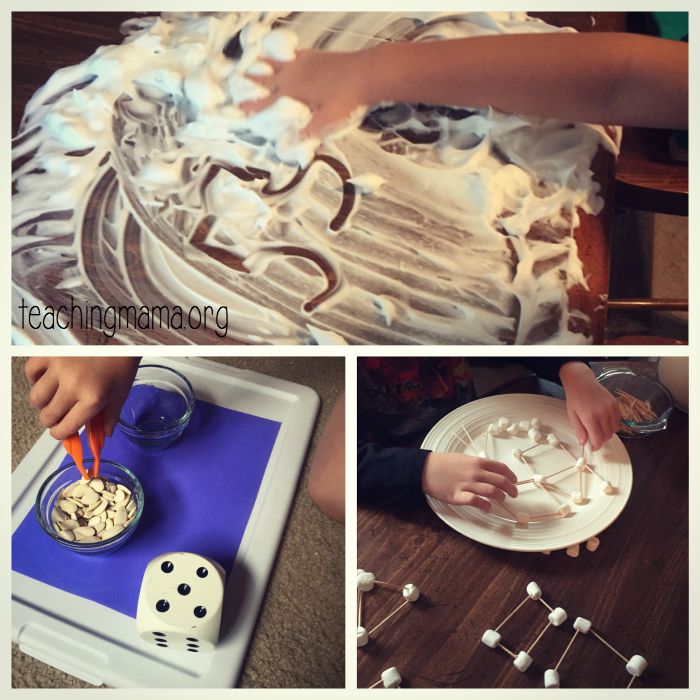 Sometimes it's hard to have Lincoln around when we're trying to get schoolwork done. This week, I did find something to keep him occupied for a while. He drops a large pom pom into an empty oatmeal container (that has a hole in the lid). He thinks it's so great!
We also took a little field trip to the zoo! It was a fun afternoon with hardly anyone at the zoo! The boys' favorite thing to do is ride the train.
I love this picture of Lincoln look at the sea lions! So much wonder in his eyes.
Lastly, I've gotta share my 2 favorite purchases from Target this week…an adorable mug and Starburst candy corn! Have you tried it yet? It's so addicting…
Have a great weekend and I'll see you back here Monday! XOXO