Fine Motor Skills: Scissors
I never realized how important it is to teach kids how to use scissors until I was recently reading about it. It is definitely a complex task to learn! Here are four reasons why scissor practice is important:
1. It builds up the tiny muscles in their palm and hand since they have to continuously open and close the hand.
2. Cutting enhances eye-hand coordination. They must be able to see what they are cutting while moving their hand.
3. It encourages the child to use bilateral coordination. That means the child can use both sides of their body at the same time. For example, the child holds the paper and turns it in one hand while cutting with the other hand.
4. It prepares them for handwriting and using a pencil.
Usually between the ages of 2-3 your child will be ready to start using kid scissors. I really haven't done anything to introduce scissors to Troy, so I thought it was about time! We decided to start with cutting play dough, since it is soft and easy to cut. I will admit that at first, this was difficult for Troy. He really had no clue what to do.  I showed him to put his thumb in the small hole on top and the middle and ring fingers in the bottom hole. Then I asked him to move his hand out and in and at this point all he could do was just look at his hand. I know he was thinking "come on hand, just move", but it wouldn't. I could tell that this was difficult for Troy. All he wanted to do was use both hands!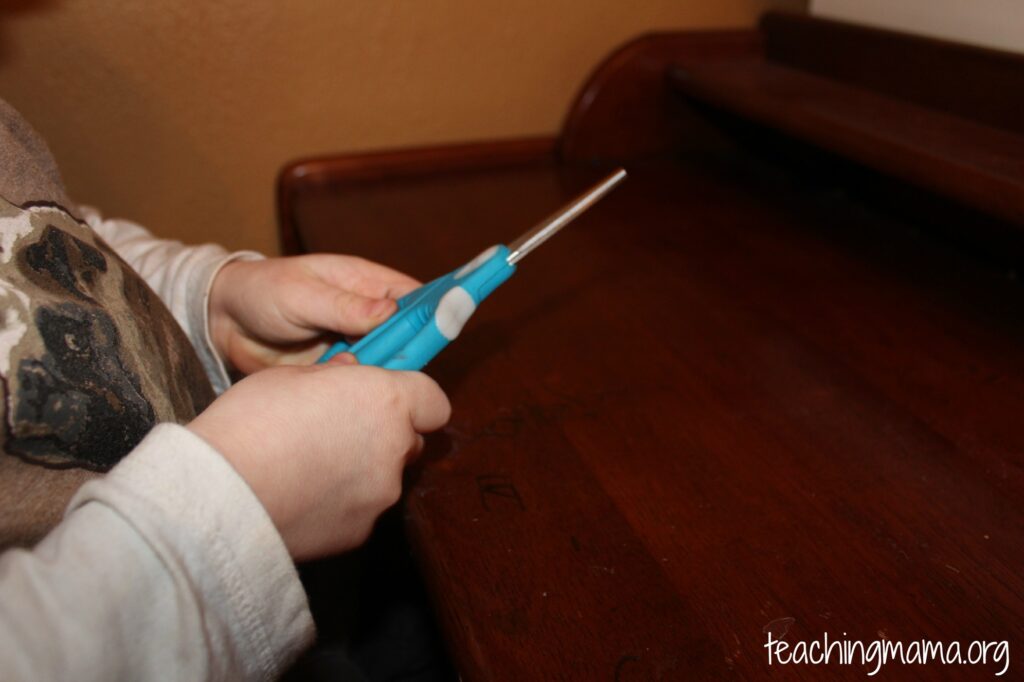 So, I modeled how to do it several times and had him try. He was starting to move the scissors slightly. We were practicing with his right hand, since that's the hand he draws with.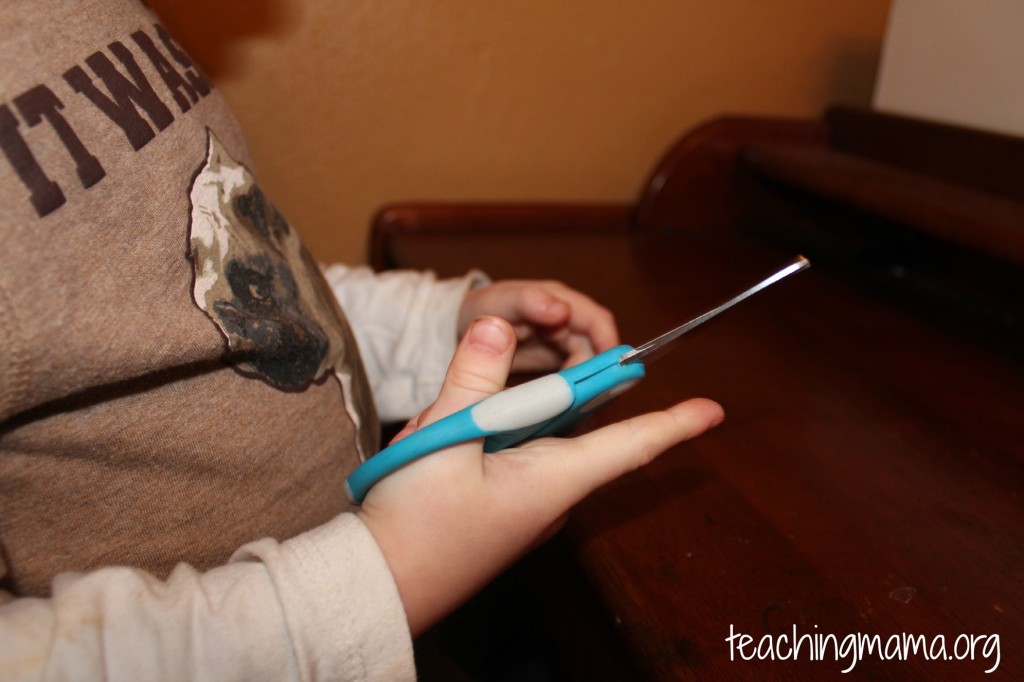 Then it dawned on me to try his left hand. So we switched and he suddenly could move the scissors! Maybe he is left-handed? You should've seen the smile on his face when he finally caught on to using scissors. It was priceless.
I rolled some play dough into "snakes" and had Troy cut the snakes into baby snakes. He was very focused and so proud of his work!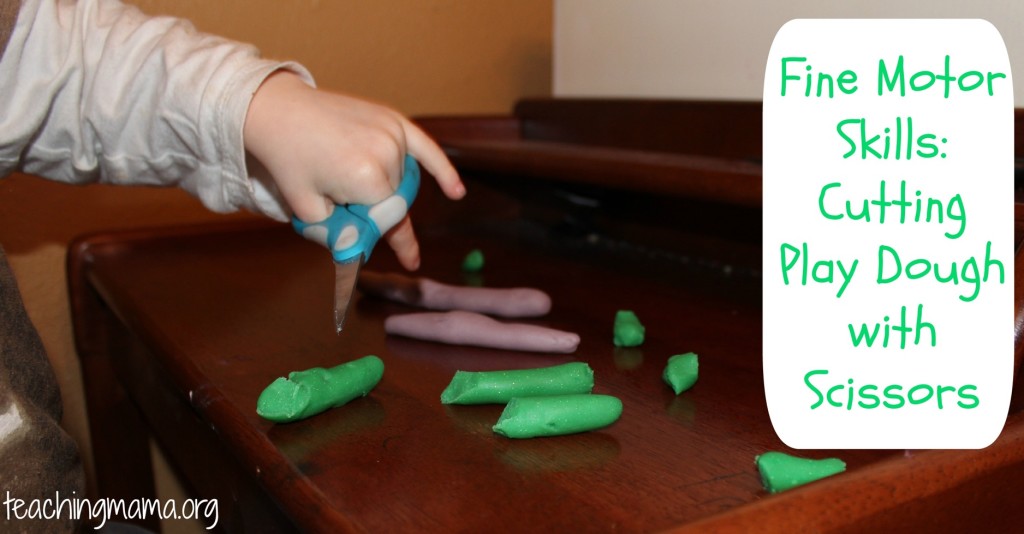 Lastly, I taught him how he should hold his scissors while walking. I told him to point the sharp points down and wrap your hand around it. Then I had him practice marching around like this. Silly boy!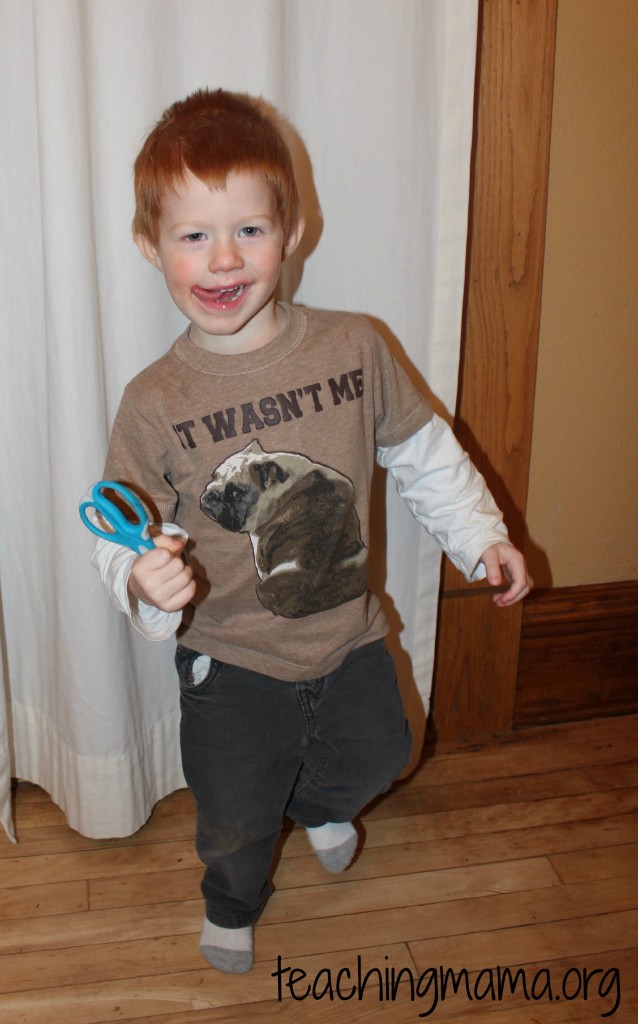 Then this morning, we reviewed cutting with scissors and he made this little video.
How did you teach your child to use scissors?