End of School Year Picture Books
As the end of the school year approaches, it's normal for children and teachers can have mixed feelings! It's the end of a chapter, but also the beginning of another.
Reading aloud a beautiful picture book is a wonderful way to close out the school year. I'm excited to share some of my favorite picture books with you today.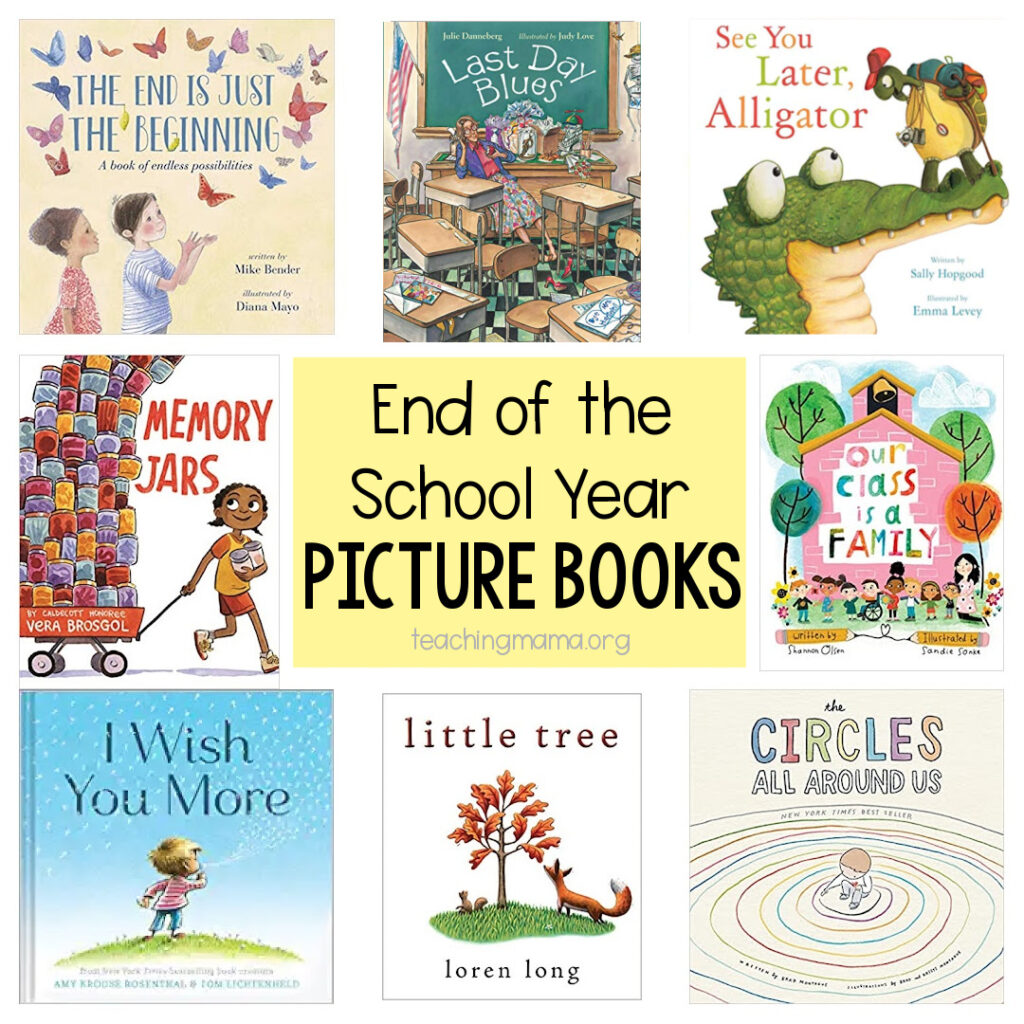 Memory Jars by Vera Brosgol – This is such a sweet book about the importance of keeping the things that bring you joy forever in your memories.
See You Later Alligator by Sally Hopgood – A tortoise is going on an adventure, but before he goes, he must say goodbye to all his animal friends! This book has so many fun rhyming ways to say "goodbye!"
The End is Just the Beginning by Mike Bender – This book is such a good reminder that the beginning and endings of things are really beautiful.
The Circles All Around Us by Brad Montague – In every part of life, you have a circle and it continues to grow as you get older. It's a good reminder that even though the school year is ending, there are beautiful things on the horizon that will grow your circle and bring new experiences to the child.
I Wish You More by Amy Krouse Rosenthal and Tom Lichtenheld – This is a perfect book to read on the last day! It's wonderful for sharing thoughtful wishes with children. Plus the illustrations are great!
Last Day Blues by Julie Danneburg – The students are worried that the teacher will miss them during summer, so they find a way to make sure she isn't too sad. It's a sweet and funny book that teachers especially will find amusing.
Little Tree by Loren Long – I love this story about a young tree who holds tight to its leaves, even though everyone else lets theirs drop. It's a gentle story about growing up and changing.
Our Class is a Family by Shannon Olson – What a beautiful book about how the classroom is like a family. You could also start the school year with this book!
Check out the books on Amazon by clicking the images below.
Memory Jars

See You Later, Alligator

The End Is Just the Beginning

The Circles All Around Us

I Wish You More

Little Tree

Our Class is a Family

Last Day Blues

Happy end of the year!