Disclosure: This post contains affiliate links for your convenience. See my disclosure policy for more details.
Are your kids crazy for slime like mine are?! Last week alone, we played with 8 different slimes! We made four of them, but we also tried Elmer's Pre-Made Slime called Gue. Yep, you read that right. It's called GUE…not Glue. 😀
If you want to know if it's worth it, the short answer is YES! It really is amazing and probably the best pre-made slime I've ever tried. We've been playing with it for five days and it still is like new. Not many slimes are like that! A lot of homemade slimes are great for about the first hour, but then they start to break down and get hard or they don't stretch well. Elmer's Gue is different!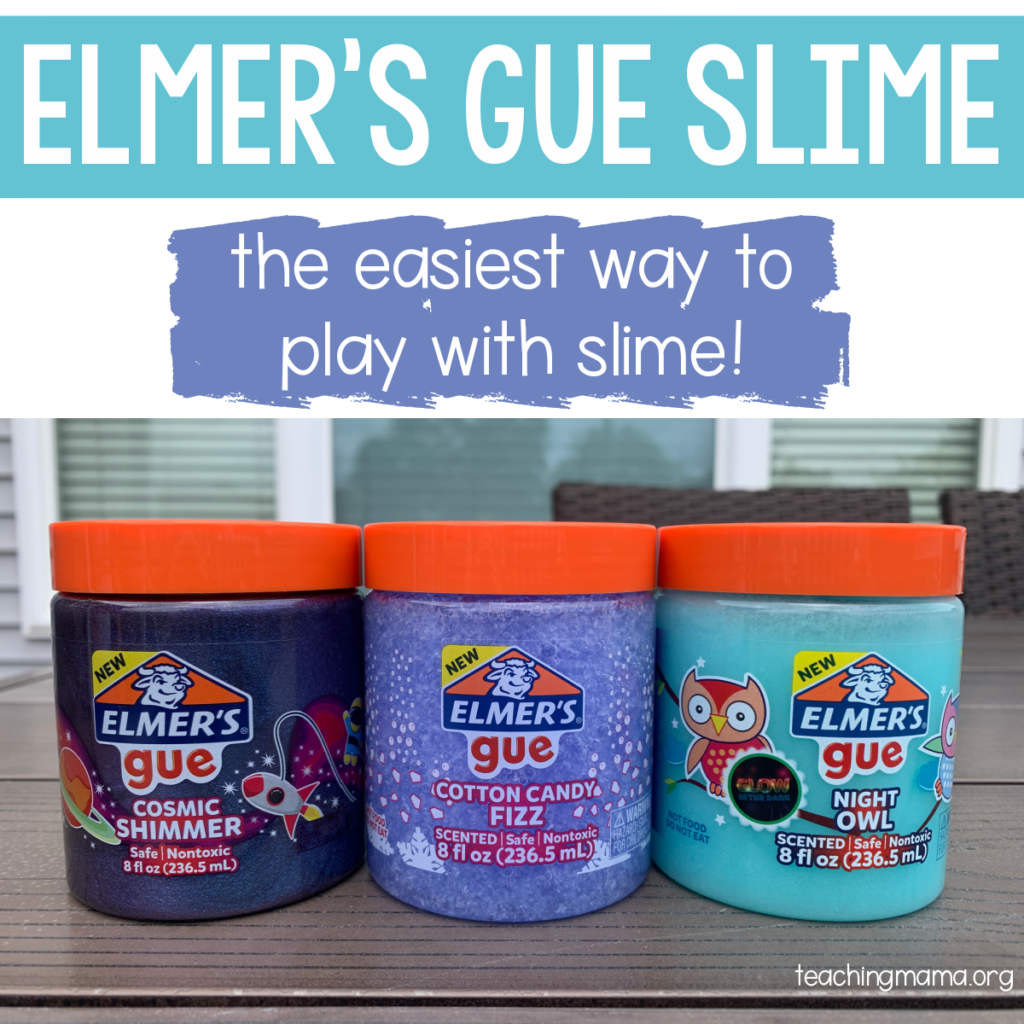 What is Elmer's Gue?
First of all, let me share what Elmer's Gue is! I first found it in the slime section at Walmart. Gue is premade slime packaged in a plastic jar. There are different colors, scents, and textures. We tried out four of them, but there are plenty more to pick from!
Reasons Why Elmer's Gue is Great!
Elmer's premade slime is really fantastic. The jar holds a lot, which in my opinion has enough slime for two people to play with.
Some of the jars have different items to mix into it. That is fun because it adds some different textures!
The slime doesn't dry out! If you keep it in the container while you're not playing with it, it will stay great!
It is safe for kids and is nontoxic.
The slime stretches so well and it isn't sticky.
There is NO work involved. You don't need to buy materials or have the mess of making slime.
It's affordable! We bought the jars for around $5 at Walmart. I did see they are on Amazon but are slightly higher priced.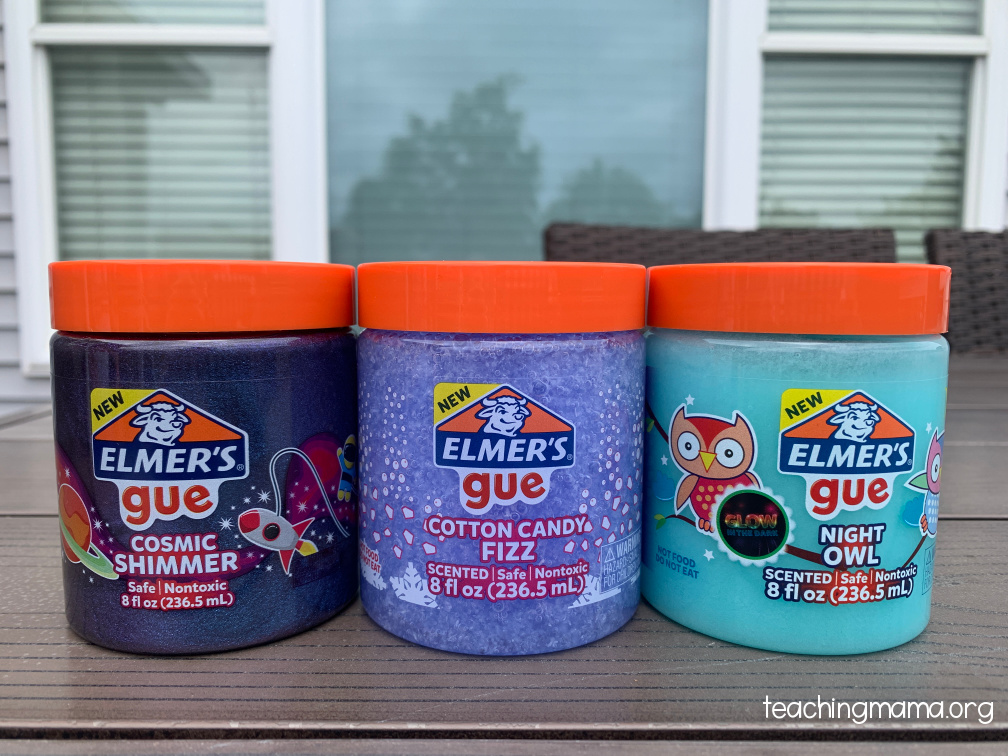 4 Types of Slime
I'm going to share the four types of slime we bought and tell you how my kids rated them.
Strawberry Donut
The first one is the strawberry donut slime. It comes with sprinkles to mix into the slime. At first, my 6-year-old didn't like the texture of the sprinkles, but once it was mixed in well, he loved it!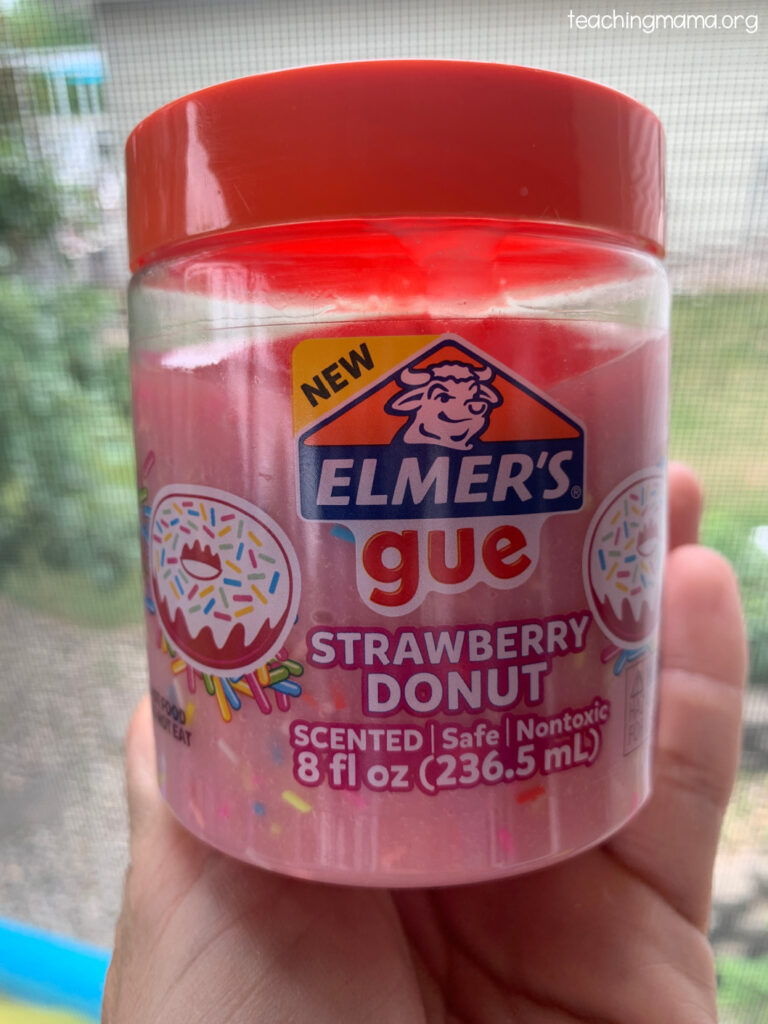 It has a slight strawberry scent to it, which is fun! I love how easy it is to stretch and play with. It's honestly therapeutic for me to play with! We rated this one a 5/5.
Cotton Candy Fizz
This cotton candy fizz slime is a pretty periwinkle color. It has a very interesting texture…I can't tell what it is, but it makes it feel crunchy. It doesn't stretch as well as the first one, but it does have a pleasant scent! We rated this one a 3/5. Just wasn't our favorite.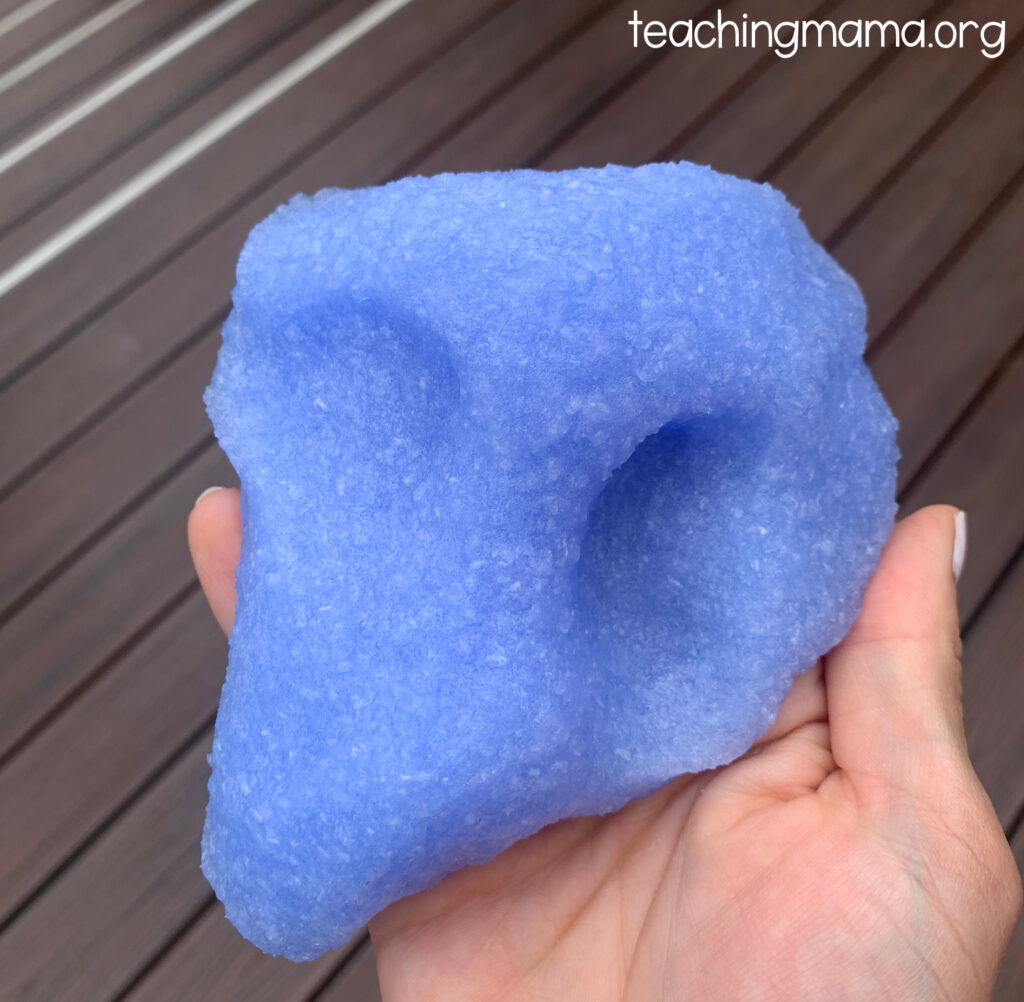 Cosmic Shimmer
This cosmic shimmer slime was my boys' absolute favorite slime! They loved the colors because it looked like a galaxy.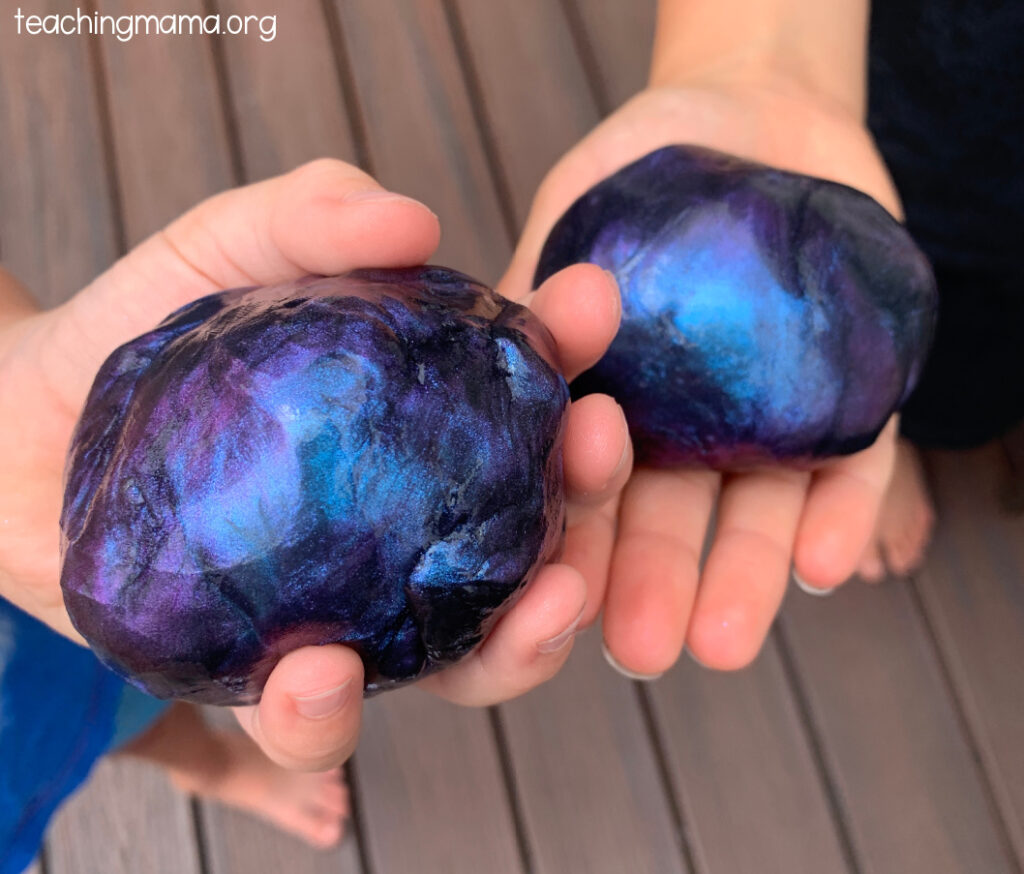 It stretched SO well and they played with this one for hours. We ranked this one a 5/5.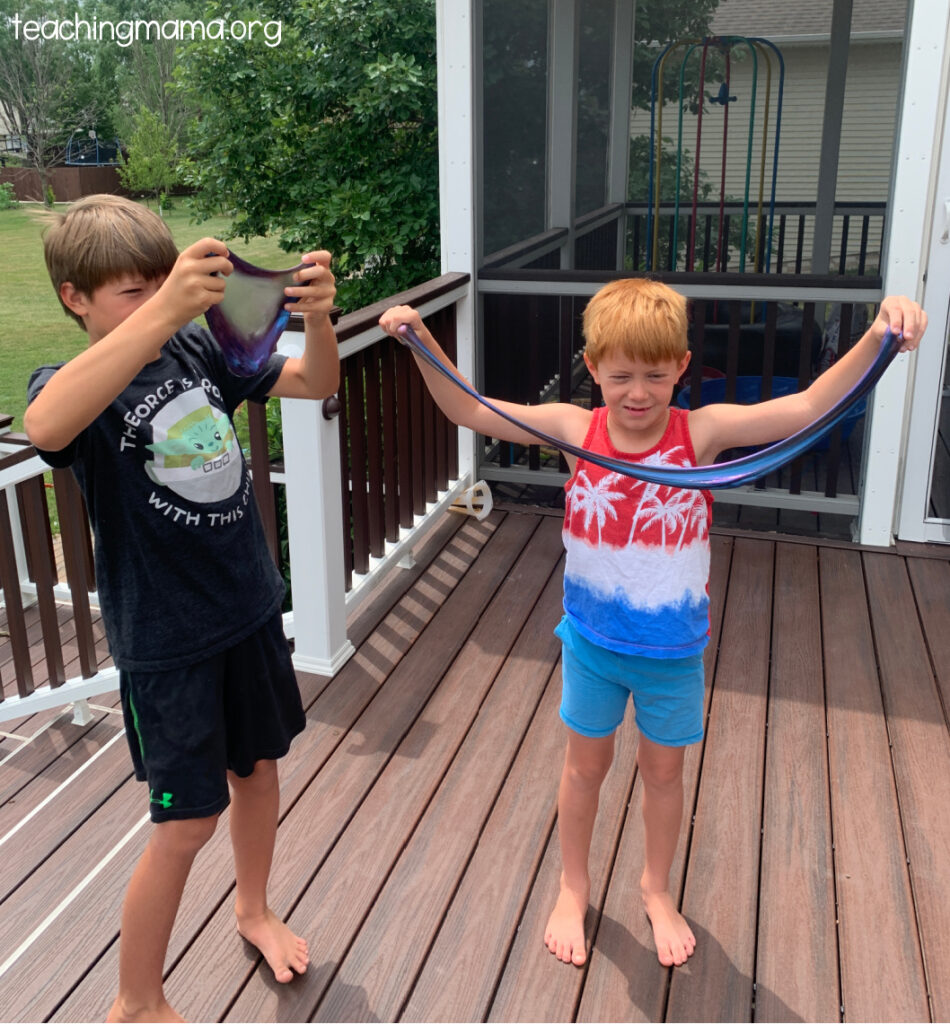 Night Owl
The last one we tried with the night owl slime. This one glows in the dark really well! We've tried other glow-in-the-dark slimes and this one was the brightest. It also has a nice scent! We rated this a 4/5. It wasn't quite as stretchy as the galaxy one.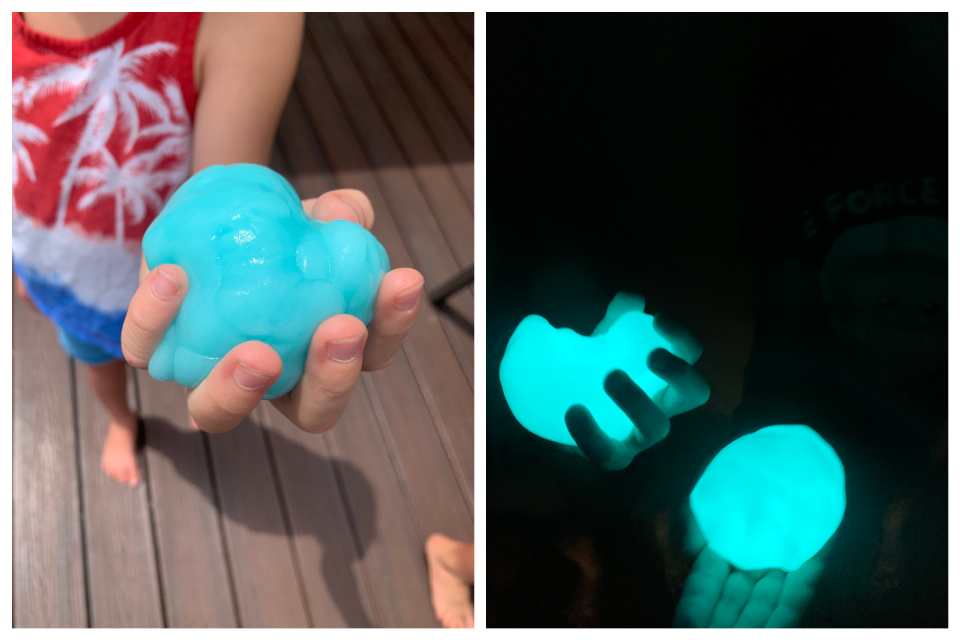 Elmer's is a trusted brand by many. You can also trust them with this awesome slime. These really fun jars of slime would be great for birthday presents, sensory play, calm down time, and more!
Have you tried these slimes? Let me know what you think!