Chapter Books for Preschoolers
Disclosure: This post contains affiliate links to Amazon. See my disclosure for details.
Are you looking for chapter books to read aloud to preschoolers? Read-aloud time is my favorite part of the school day and by reading with my children, I've been able to find books that we love and adore. I'm always looking for suggestions for books to read to my kids during our homeschool day. I either preview a book by reading it ahead of time or I get book recommendations from friends.
Today I'm excited to share 10 of our favorite chapter books to read to preschoolers. If you have more chapter book suggestions, I'd love to hear them in the comments!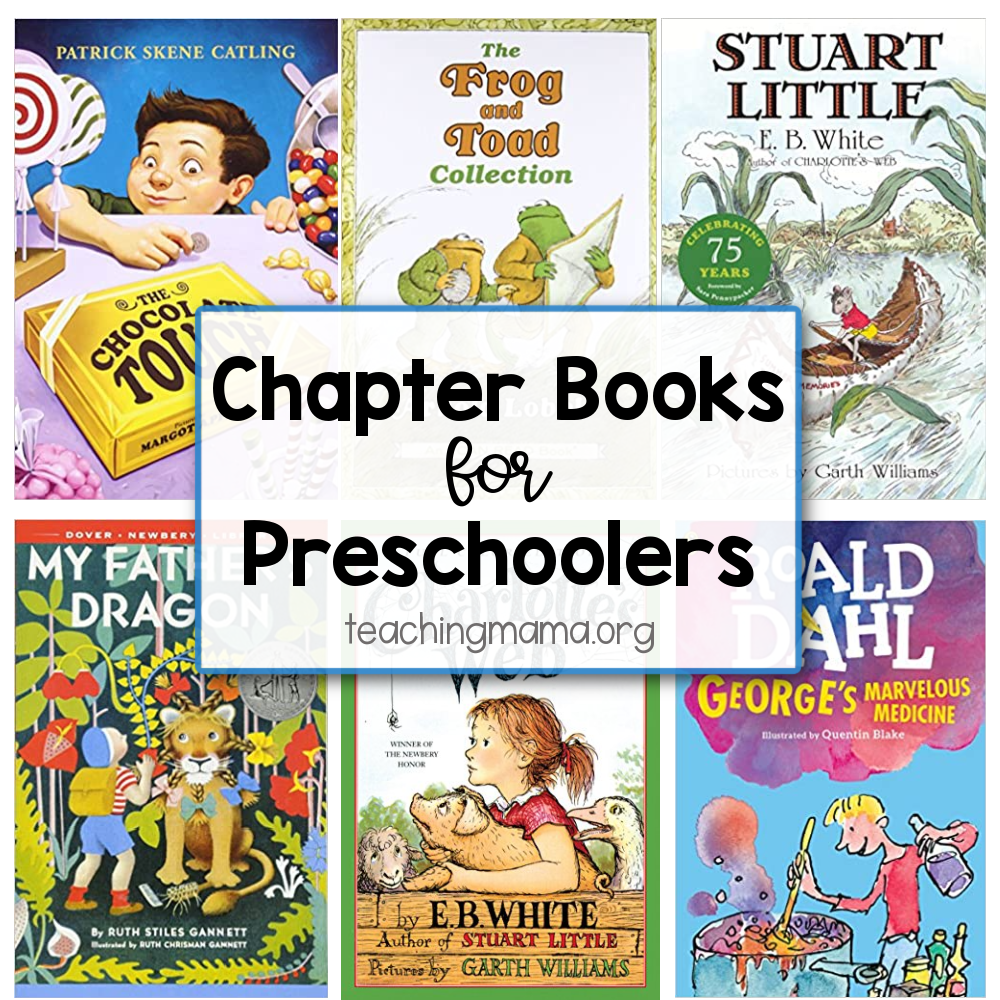 1. Frog & Toad Collection by Arnold Lobel
This book series is a favorite for two of my kids. We've read them or listened to the audiobook hundreds of times! The friendship between frog and toad is so sweet and the adventures and lessons they learn along the way are memorable and fun. If you love this series, make sure to check out another Arnold Lobel book called Owl at Home!
2. My Father's Dragon by Ruth Stiles Gannett
Although this book has been around for a long time, it is fairly new to us! My boys loved this adventurous book about a boy rescuing a dragon. Since the chapters are short and there are some pictures, it's also a great book for a child who is just starting to read chapter books. This fantasy book is filled with fun adventures and humorous stories!
3. Farmyard Tales by Heather Amery
This book is an Usborne book and a favorite of my boys! We have the book with the audiobook, so we also enjoy listening to it as well. I love the colorful pictures and cute stories about farm animals. There are 20 stories in this collection. It's a great beginning chapter book, too! Oh and children enjoy finding the hidden duck on every page!
4. Mercy Watson Series by Kate DiCamillo
We love this series! Mercy is a funny pig who gets into all sorts of mischief! The colorful pages and short chapters are perfect for young children.
5. Zoey & Sassafras by Asia Citro
Zoey is a sweet little girl, who is always extremely curious. She has adventures with her cat, Sassafras. In the first book called Dragons and Marshmallows, she learns a secret that will allow her to help injured animals that come to their backyard. In this book, a poor baby dragon comes for help. Zoey is determined to use her scientific knowledge to figure out what's wrong! I love how these books are STEM-inspired and introduce science topics.
6. Charlotte's Web by E.B. White
This is a classic book! Kids will fall in love with the animal characters, like beloved Charlotte and Wilber. You better believe I cry every time I read the end!
7. The Chocolate Touch by Patrick Skene Catling
John loves chocolate SO much he could eat it all the time…until something happens and everything he touches turns to chocolate! Kids love this fantasy-filled book and it will have them on the edge of their seats to find out what happens in the end!
8. Fantastic Mr. Fox by Roald Dahl
Fantastic Mr. Fox is a clever animal! He works to outsmart the three meanest farmers around. Kids love the adventurous and funny stories in this short chapter book!
9. Stuart Little by E.B. White
Stuart is an adventurous mouse who isn't afraid to race a sailboat in Central Park, ride a Fifth Avenue bus, talk to humans, or even be a substitute teacher! His greatest adventure is setting out to look for his friend Margalo, a beautiful bird.
10. George's Marvelous Medicine by Roald Dahl
This book is hilarious! George tries to make some medicine for his grandmother to cure her grouchiness. Instead, he gets the surprise of his life when he sees the results of his mixture!
This is just a small taste of all the great chapter books out there for young learners! I'd love to know…which read-aloud books do you love?