Cars 3 Piston Cup Showdown Game
Have you seen the new Cars 3 movie yet? It is so cute! Our whole family went to it last week and I can tell you that we thoroughly enjoyed it! The movie was a little long for our almost three year old, so he and I left early. But my older two boys loved the movie and came home excited to play the new Cars 3 Piston Cup Showdown game.
Disclosure: I received this game and compensation from SpinMaster to write this review. As always, my thoughts and opinions are 100% mine.
This game is a lot of fun and it's great for playing with others, following directions, and even builds hand strength! The game is super easy to set up. In fact, it only contains these pieces.
There are just a few steps to get things set up and then it's ready to play! You do need three AAA batteries for this game.
The goal of the game is to be the first car to get to the Piston Cup. In order to do this, you need to push the gas pedal, which moves the car down the track. The trick is you have to pay attention to the red, yellow, and green lights on the piston cup. It's very similar to the game Red Light, Green Light. When it's red, you stop. When it's green, you go. However, if they catch you moving your car when it's red, it will tell you to go back to the start.
It's really a fun game and great for those who like a little competition!
Here's what I like about the Cars 3 Piston Cup Game:
children have to pay attention to the lights and follow the directions
pushing the pedal gives your hand a workout, which is good for building hand strength for fine motor skills
the game is fairly short, which is good for those who don't have a big attention span
a fun way to relive the Cars 3 movie – Children who love the movie are gonna love this game!
the game is interactive and talks to you
I have only one drawback for this game. You have to stop your car as soon as you see the light turn yellow. If you don't, the game will tell you that you cheated and have to go back to start. And the yellow light does not last very long. It's not hard to play once you know that, but my boys found it a little confusing at first.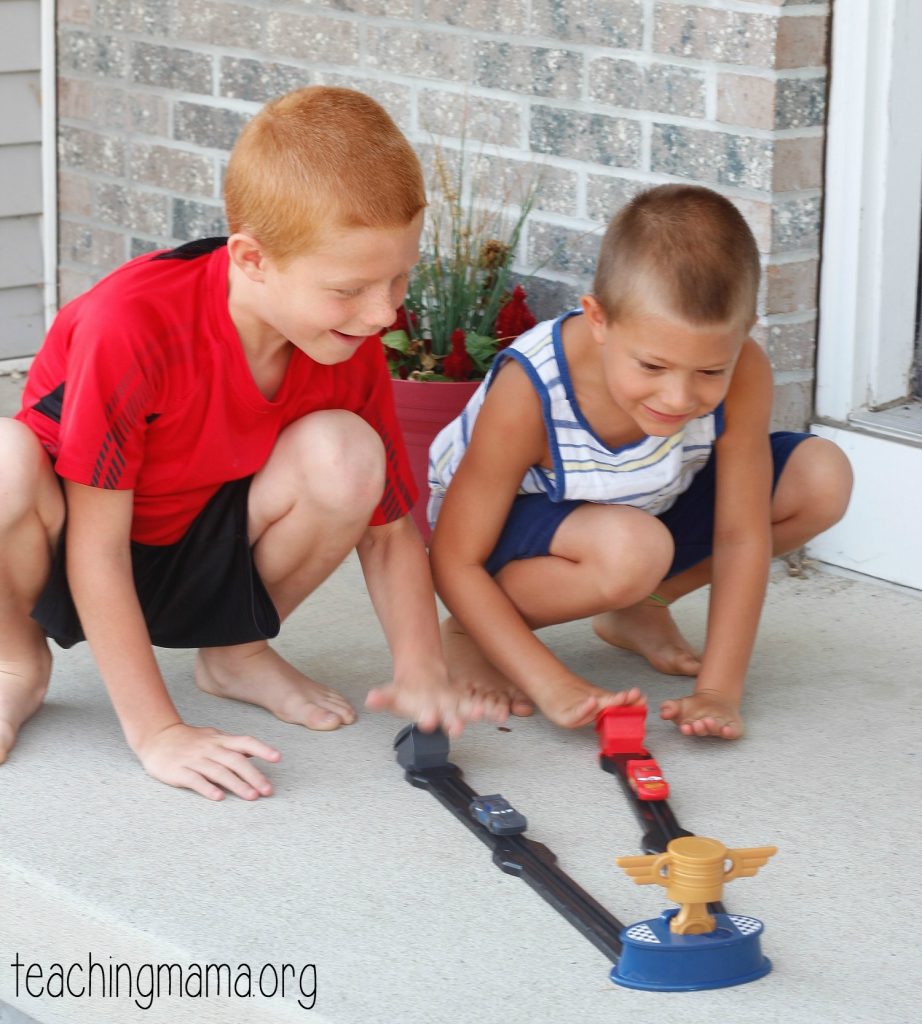 Since we've received this game, my boys have asked to play with it so much! My youngest even plays with it by himself frequently.
It's a fun interactive game and so fun to play after watching the movie! If you have a Cars movie lover, THIS is a gift for them! You can pick up this Spin Master Game at Walmart, Amazon, and Toys "R" Us.
We loved this game and I know you will, too!