An "Egg-cellent" Way to Learn About Teeth
Did you know that February is National Children's Dental Health Month? This month is a great time to teach little ones the importance of taking care of their teeth!
An important skill for dental health is learning how to properly brush teeth. When kids are little, they may wonder why it's important to brush their teeth. This activity is great for teaching this!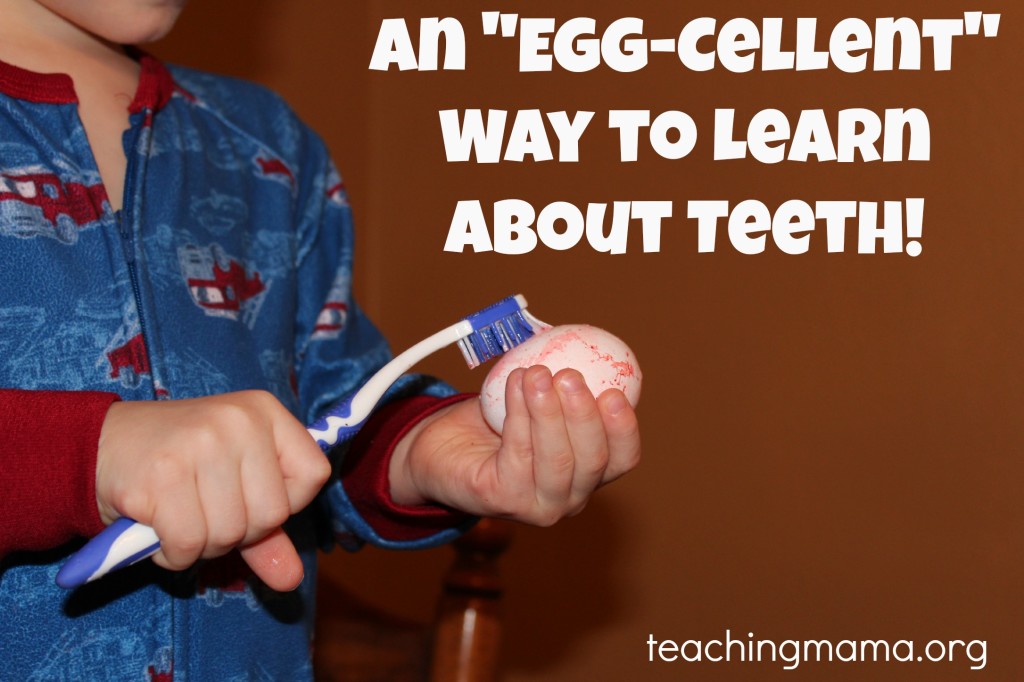 This activity needs a little prep time. You will use hardboiled eggs, which will need to be prepared ahead of time. I suggest doing the prep work the night before you do this activity.
Here are the materials you'll need:
*hardboiled eggs (I suggest using 3 eggs)
*various liquids (I used dark pop, apple juice, and pink lemonade)
*toothbrush
*toothpaste
*screwdriver
To start, soak hardboiled eggs in liquids of choice. I let them soak for several hours. The eggs will be stained a color, representing teeth before they are brushed.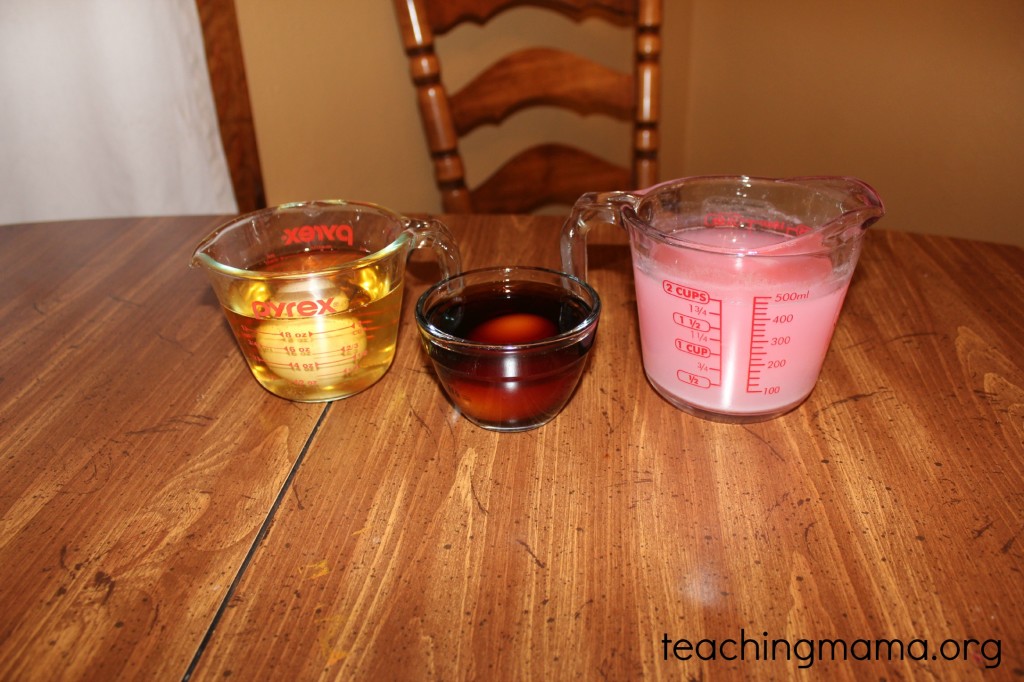 Then take a toothbrush and scrub away! Before doing this, I talked to my son about what everything represents. We discussed how food can stain our teeth and brushing helps clean them and keep them healthy.
>
He took his job pretty seriously and enjoyed scrubbing the eggs!
All clean!
Then to spice it up a bit, we decided to make cavities in our teeth. Of course, cavity was a new vocabulary word for him so we discussed what it meant to have a cavity. Then he started making holes in the eggs to represent cavities.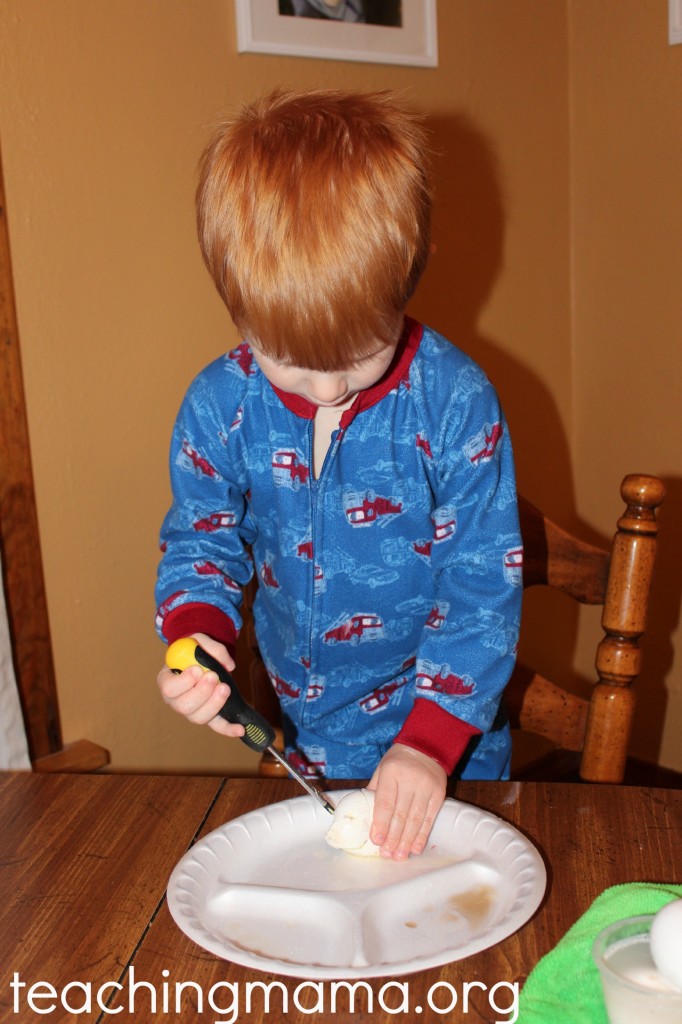 I'm glad this isn't my tooth! Way too many cavities!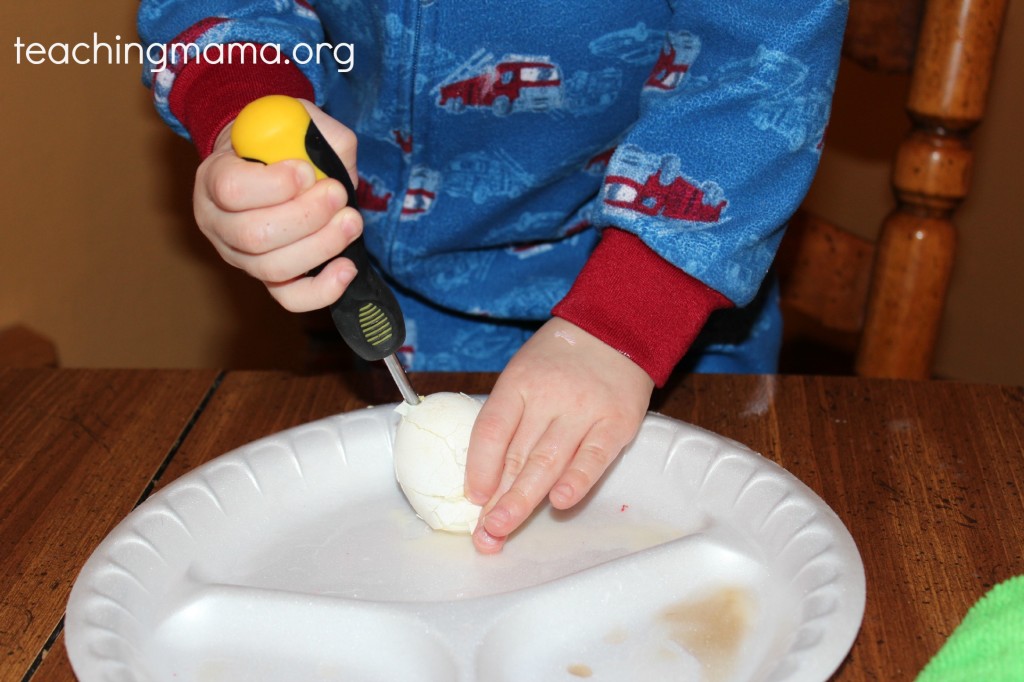 We both really loved this activity. It covered the following topics:
*making predictions about if and how the color of the egg will change
*fine motor skills with brushing and poking holes in the "tooth"
*showing the importance of taking good care of your teeth
*sensory activity with the sense of touch
The best part is that this lesson really helped him with brushing! He loves brushing his teeth and he makes sure he frequently because he really doesn't want a cavity. Oh to be 3 again!