7 Activities We Do Every Day to Prepare for Kindergarten
Disclosure: This post contains affiliate links. See my disclosure policy for details.
My oldest son will be in Kindergarten when the new school year starts. We've decided to do a dual enrollment, which means he will go to Kindergarten in the morning and then we will homeschool in the afternoon. This summer I'm trying to prepare him for Kindergarten. We aren't doing anything too extensive, but these activities will keep his skills sharp.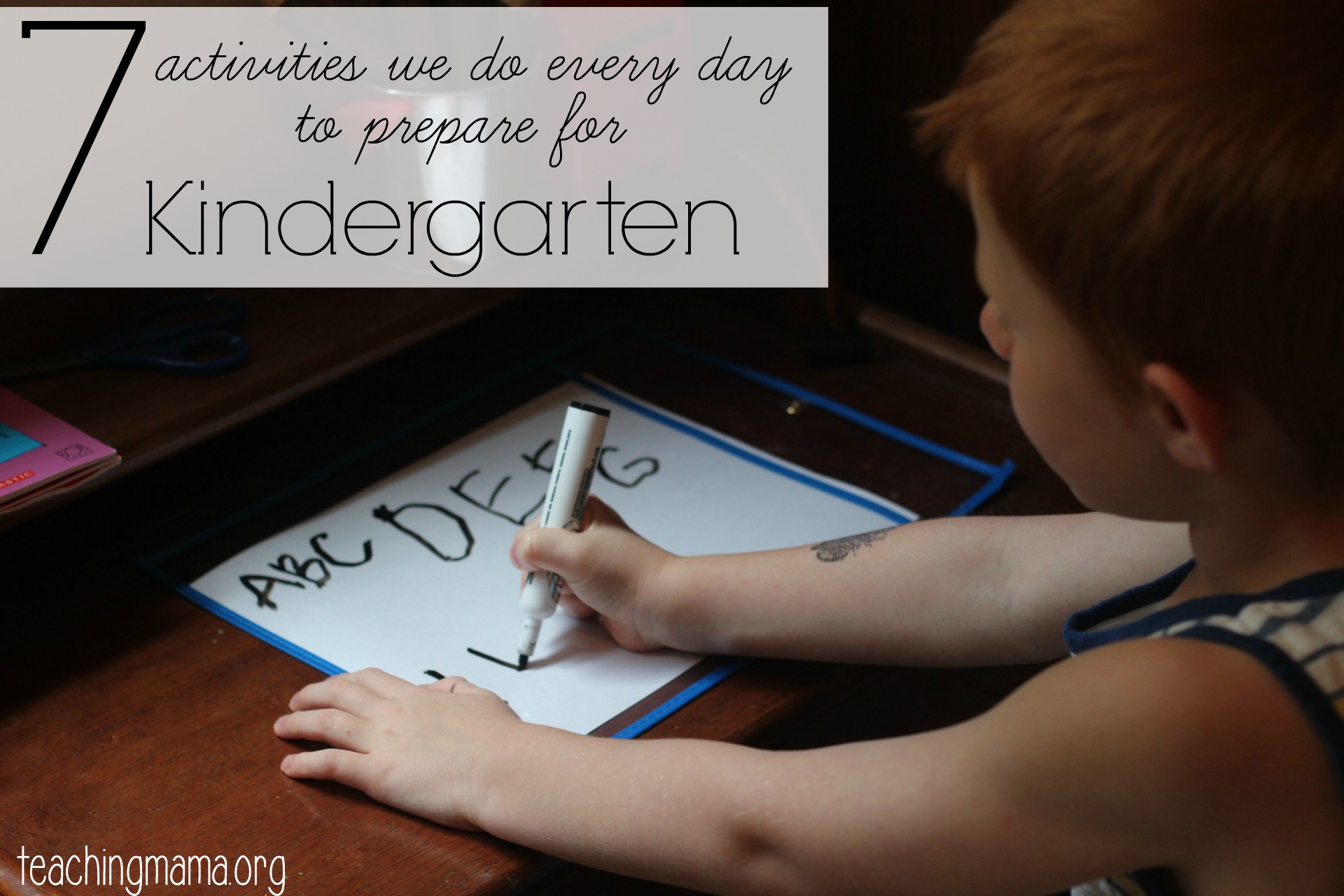 Most days, when my 10 month old and 3 year old goes down for their afternoon naps, we do our "school" time together. He actually looks forward to this time with me. I know he enjoys the time alone with mom!
Here's what we do in this same order.
1. Write the Alphabet
We start with writing all the letters of the alphabet in order. Right now we are working on uppercase letters, but we'll eventually work on lowercase letters. I have a poster above his desk to help him if he forgets which letter comes next or how to write a letter. I also have him write with a dry erase marker on a dry erase pocket so it's reusable. (I got the poster and plastic pocket at the Target dollar section.)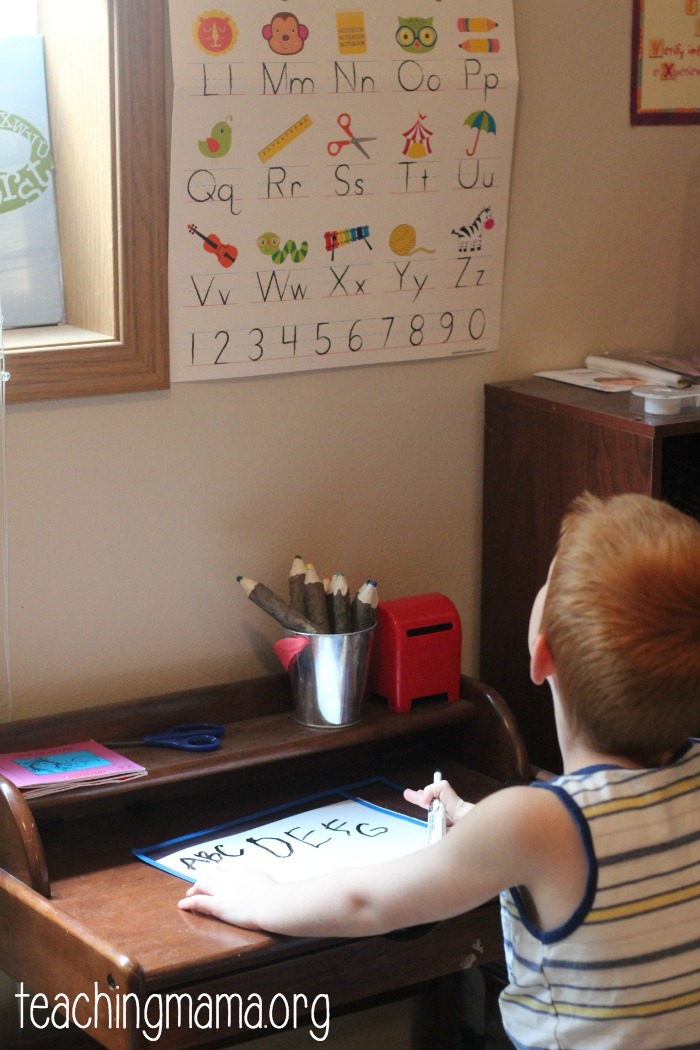 2. Write Numbers
I also have him practice writing numbers. I only have him write 5 numbers since his hand is usually tired of writing.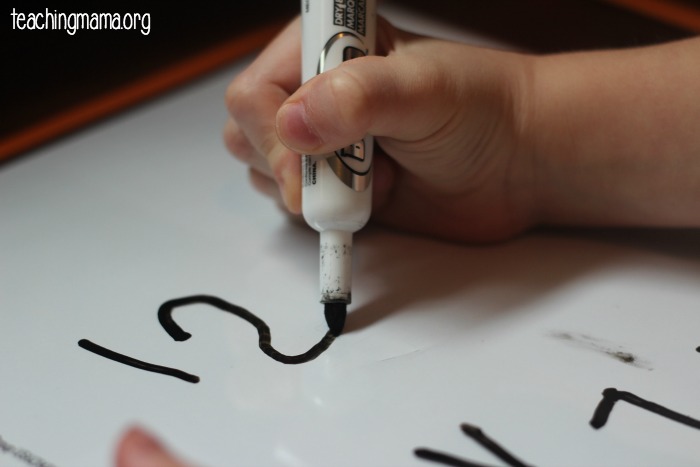 3. Cutting Practice
Next, we do some cutting practice with kid scissors
. Some days I use printables I find on other blogs and other days I draw designs or zig zags on a paper and have him cut them out. It's just something simple to practice fine motor skills and keep his fingers used to cutting paper.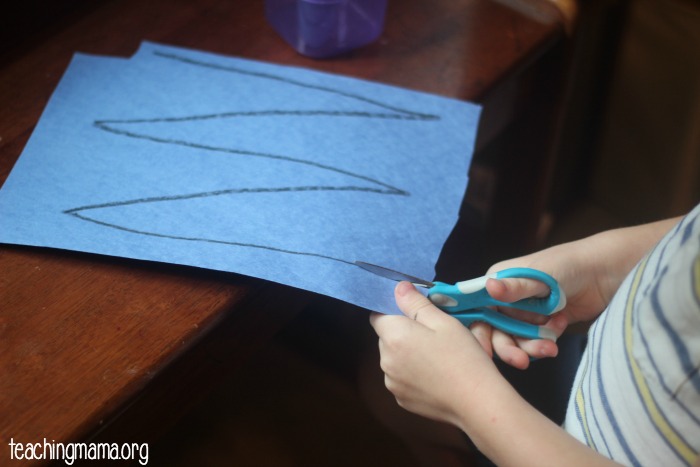 4. Name Writing
Next, I have him practice writing his name. I know he'll need to do this a lot in Kindergarten!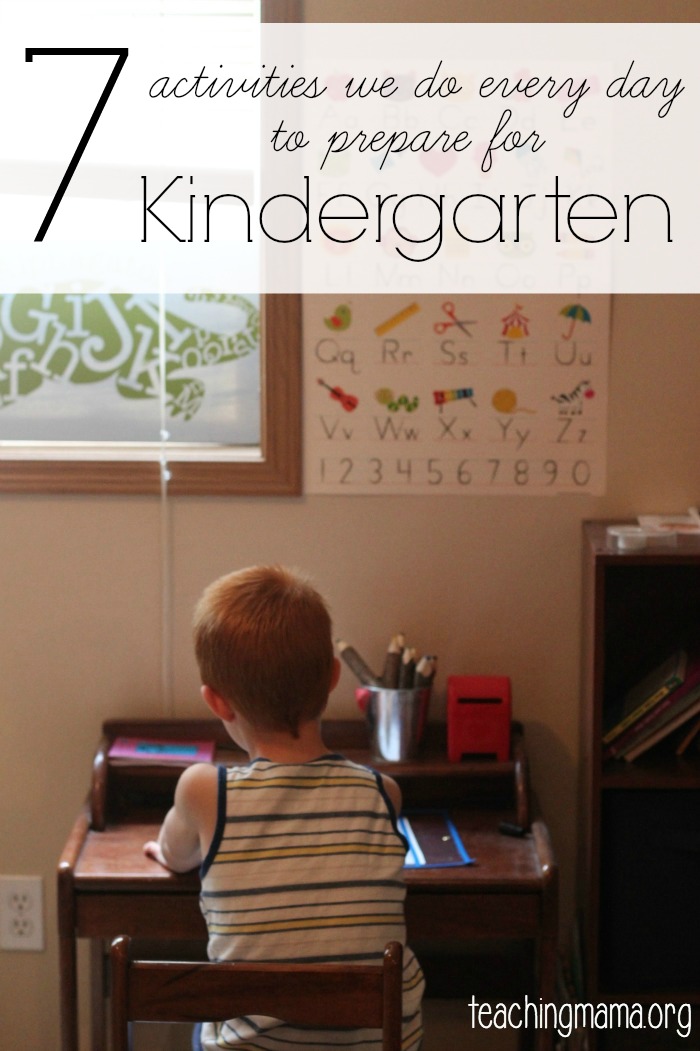 5. Read Simple Books
I am teaching him to read simple books this summer. It is amazing to watch him sound out new words to read! We are just reading BOB Books
right now and I have other simple readers for him to read next. I also LOVE the Usborne Very First Reading series. The stories are so cute and it's starts off with shared reading, meaning the parent reads one part and the child reads the other part. These books helped my son tremendously when he was learning to read!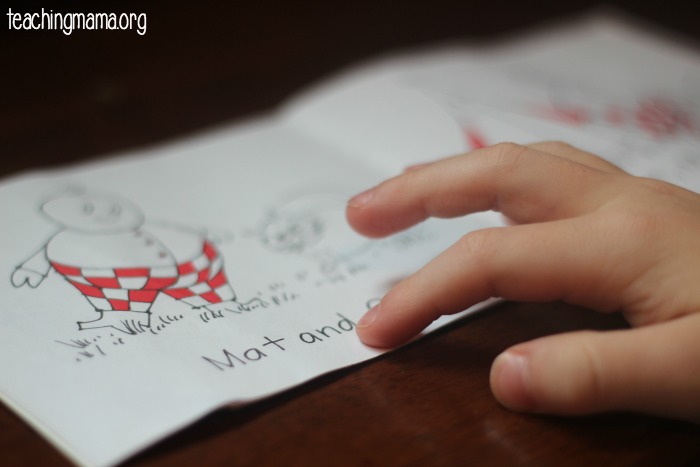 6. Read Aloud
I love to read aloud to my children. Since Troy is 5.5, he is to the age where I can read a book out loud to him and he doesn't need to see the pictures. Right now, we have been reading Mercy Watson books
, which have a few pictures. I'm also going to start reading books off of this read aloud list here.
7. ABC Mouse
Lastly, he completes his lessons on ABCmouse.com. We have used this online program for over 2 years and love it. My oldest and middle children use this program. My oldest is on the Kindergarten level, which has practice for literacy, math, science, and social studies. I'm usually next to him while he does his lessons because he loves to show me what he's doing, but he can also do this independently.

I'm sure there are more things I could do with him every day, but I also want to make summer fun and relaxing so we do a lot of play activities!
If you're looking for a great summer program for your almost-kindergartener, then check out 10 Weeks to Kindergarten! Find more information about this program HERE.