December is the perfect time to do candy cane experiments with your students! These five science experiments are a big hit with kids and are also great for incorporating STEM into your classroom.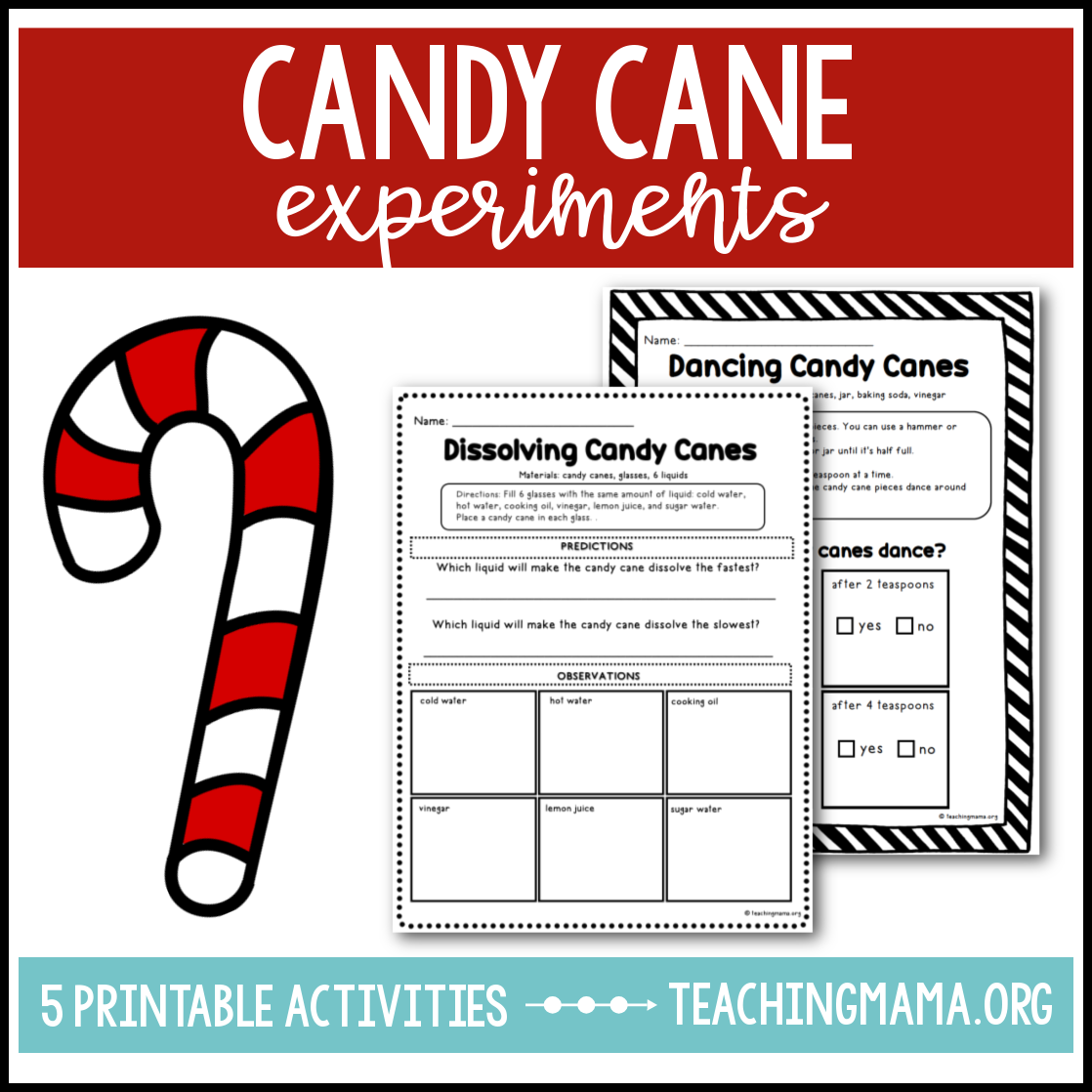 5 Candy Cane Experiments
All of these activities require very few materials. At the bottom of this post, there is a printable for all five of these activities. Check out all the instructions below!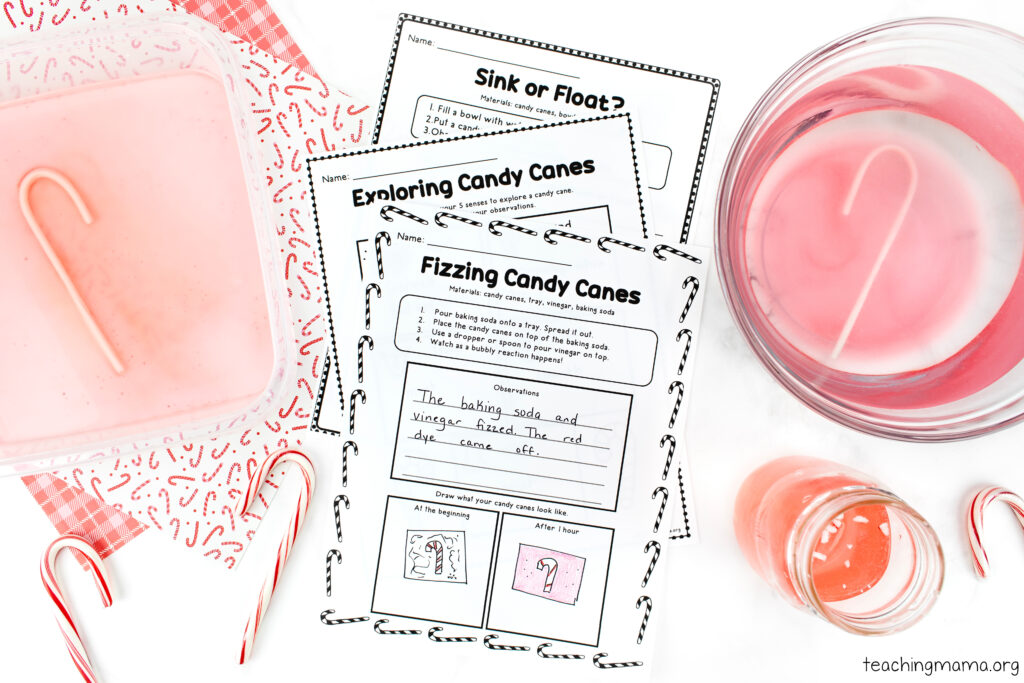 Fizzing Candy Canes
This is my favorite activity to do in December with my kids! Here's what you need:
baking soda
vinegar
candy canes
tray
dropper or spoon
Spread baking soda onto a baking sheet.
Then place candy canes on top.
Next, pour vinegar into a cup and mix with food coloring. I also put in peppermint extract to mask the vinegar smell.
Then you can have your child use a dropper or spoon to drop the vinegar mix on top of the baking soda.
Watch and listen the reaction it makes!
The candy canes won't dissolve right away, but after a while you'll start to see the candy canes getting smaller and smaller. If you want to read more about this experiment, check out this post.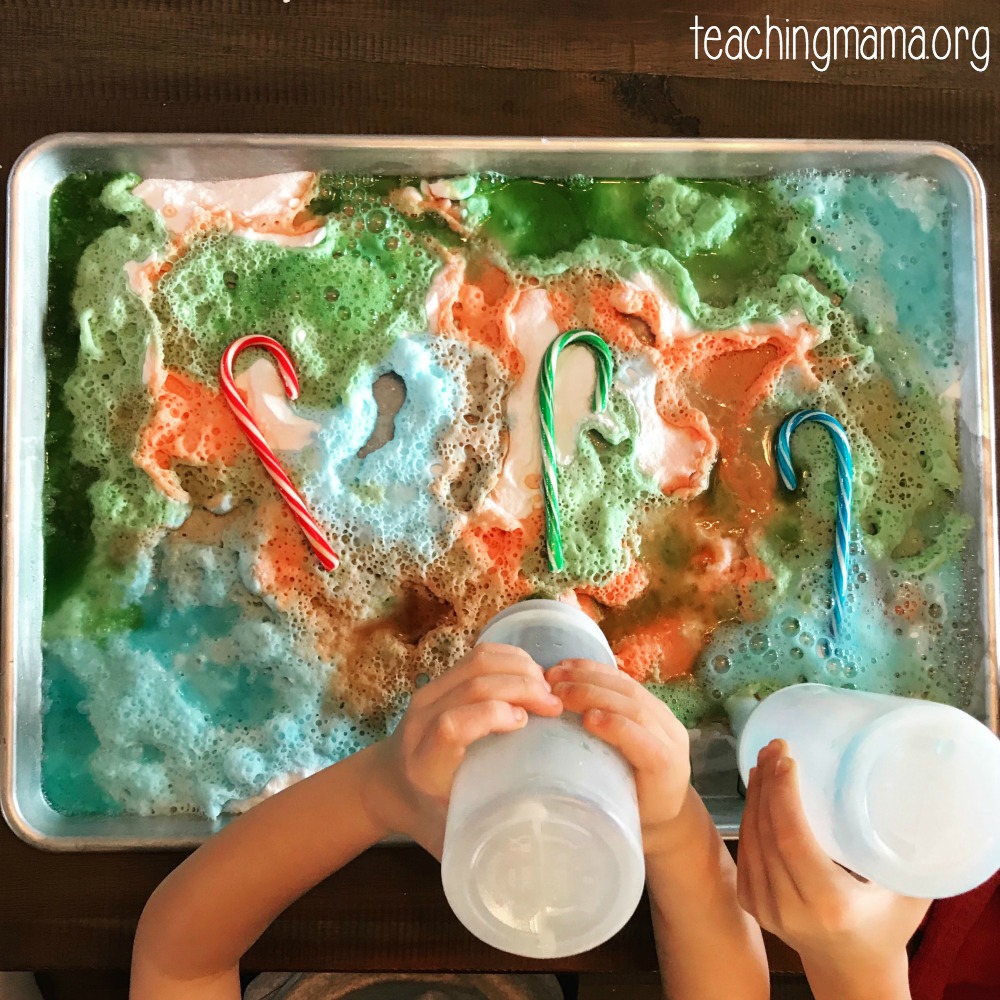 Sink or Float?
Kids will predict whether a candy cane will float or sink. You may be surprised with the results!
Fill a bowl with water.
Put a candy cane in the bowl.
Observe if the candy cane sinks or floats.
Make sure your students make predictions before doing the experiment!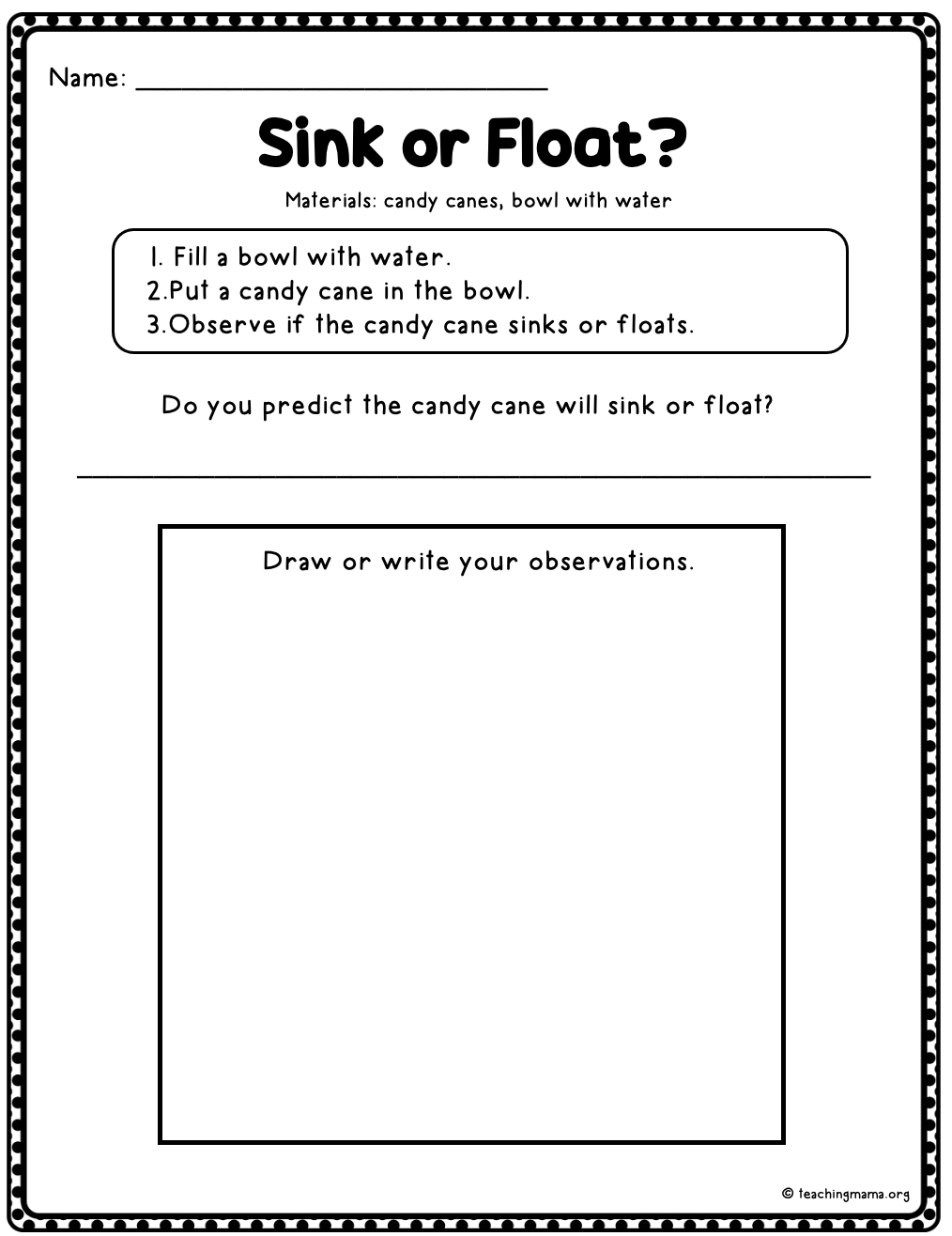 Dissolving Candy Canes
This experiment is to test what candy canes will do in different liquids. You can have your children decide which liquids to test, or you can do the ones we did: hot water, cold water, vinegar, vegetable oil, lemon juice, and sugar water. It's fun to see what happens and to see the kids' reactions!
You can use the printable at the bottom of this post to record your observations!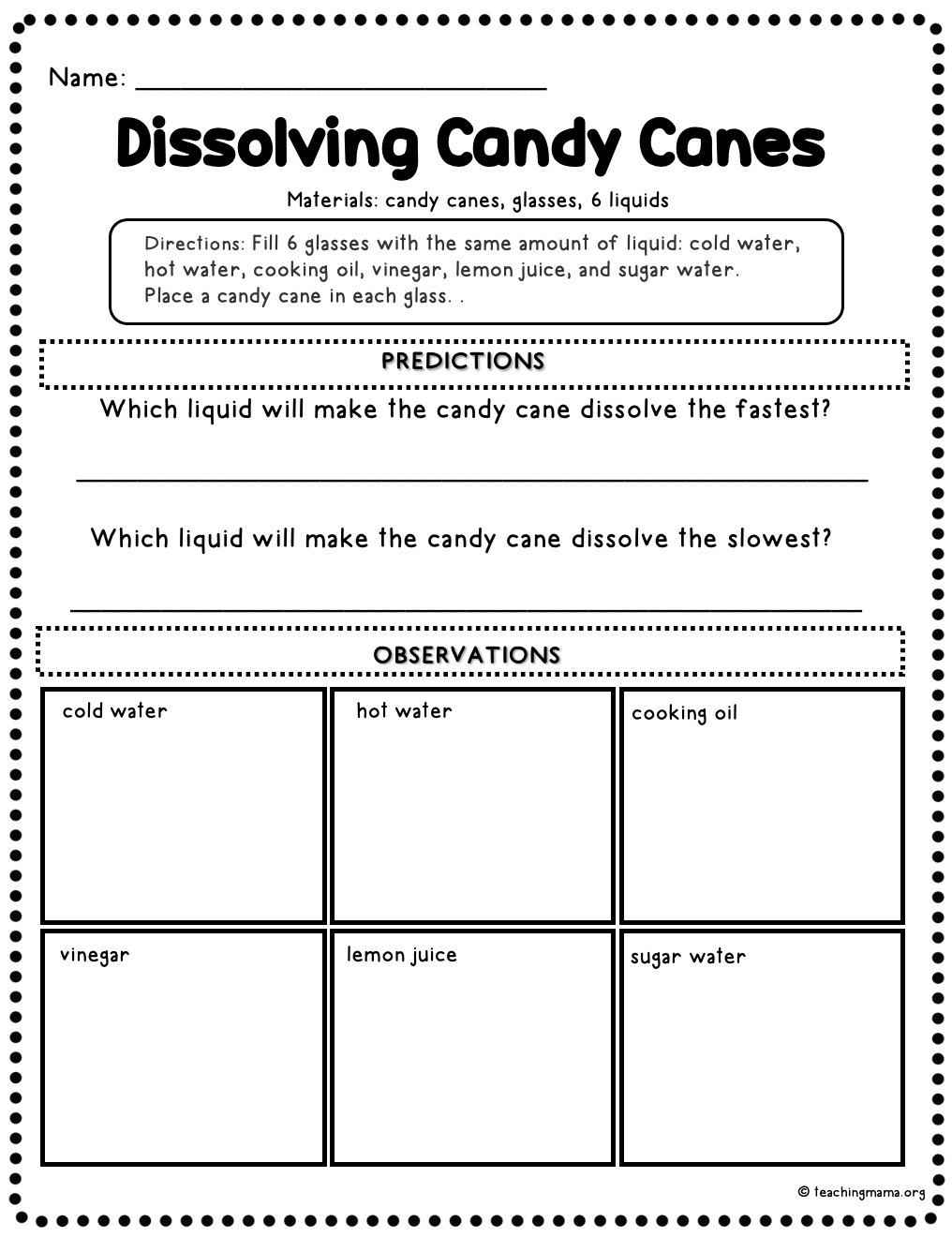 5 Senses
This activity engages the 5 senses to learn more about candy canes.
sight – what does it look like?
sound – how does it sound when you tap it on a table?
taste – what does it taste like?
touch – what does it feel like in your hand?
smell – what does it smell like?
Have the students use the printable to record their observations about candy canes.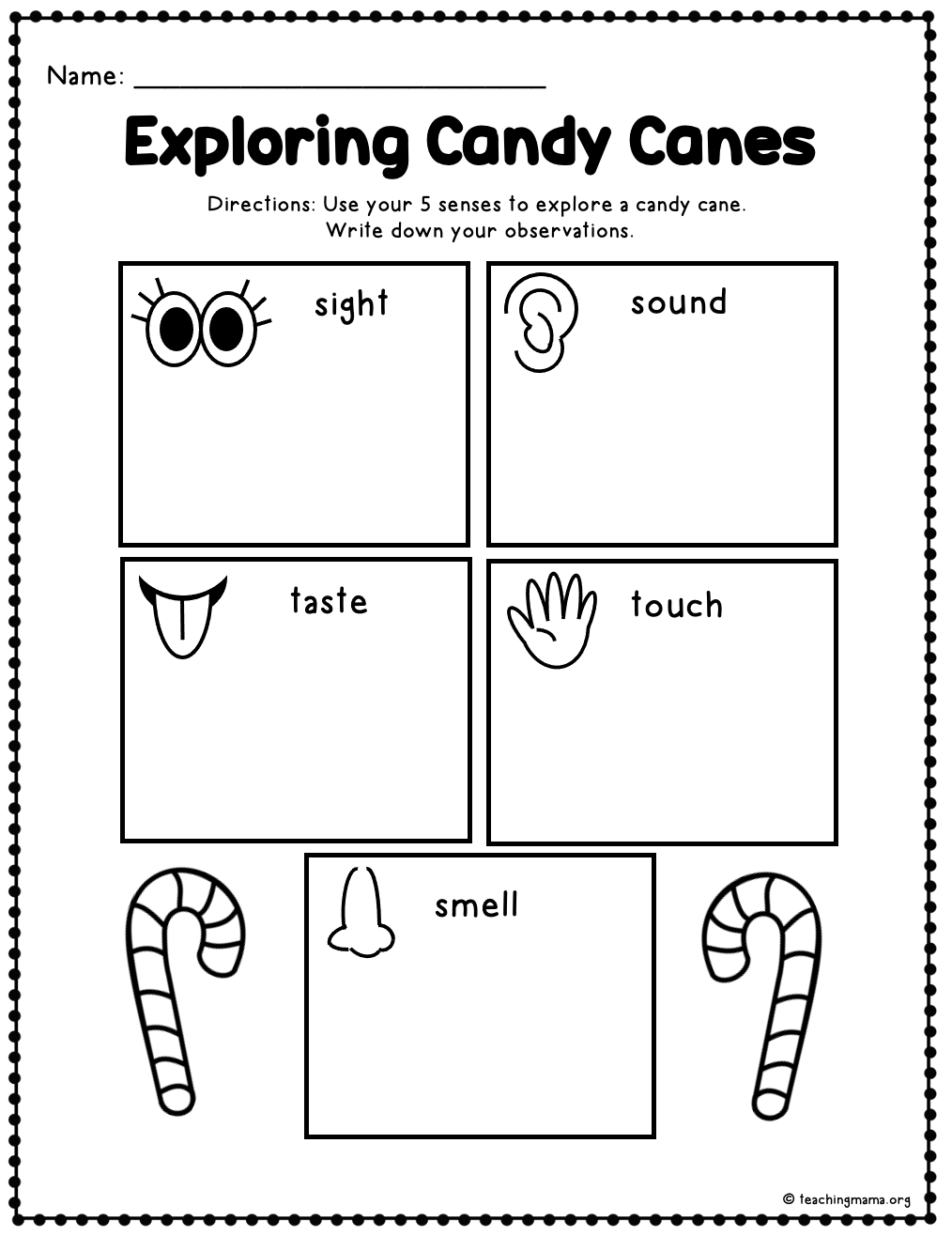 Dancing Candy Canes
For the last experiment, you will watch candy cane pieces dance around in a jar! This one is really fun to watch!
Here's what you need:
jar
crushed candy canes
vinegar
baking soda
Crush a candy cane into tiny pieces. You can use a hammer for this or just break them with your hands.
Pour vinegar into a tall glass or jar until it's half full.
Add in the candy cane pieces.
Then add in baking soda one teaspoon at a time.
Watch as the bubbles make the candy cane pieces dance around the jar!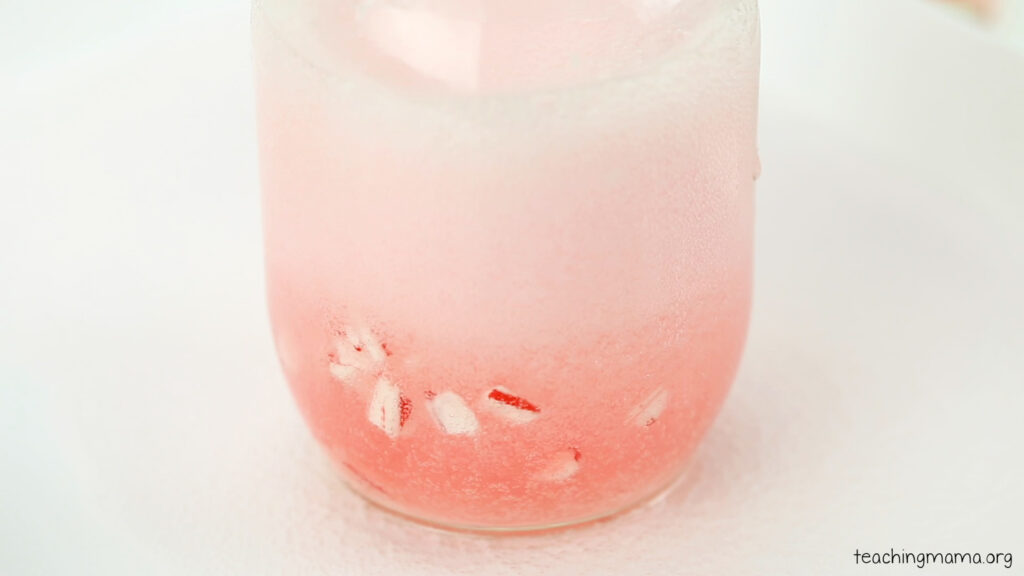 Use the printable to record your observations.
Check out the experiments in action!

If you'd like to download the Candy Cane Experiment printables, just click on the button below.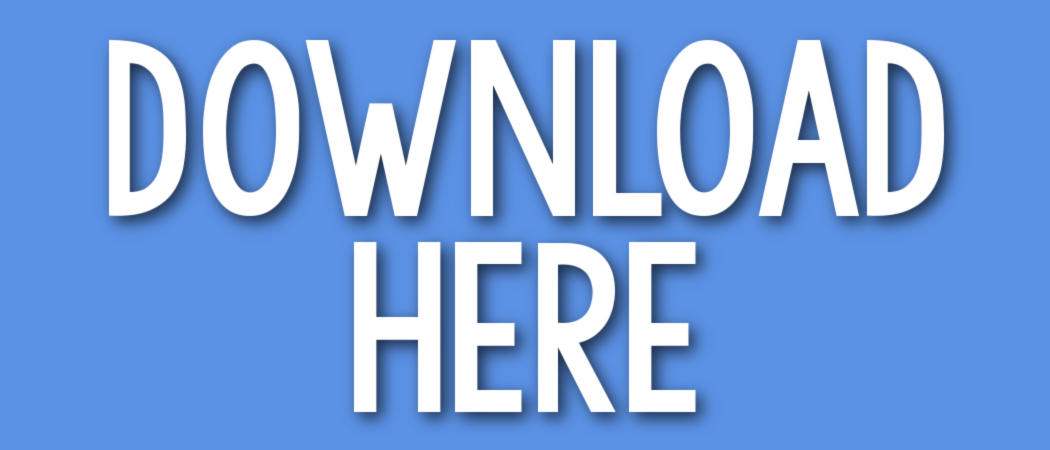 Have fun with these experiments! If you need more fun activities, make sure to check out this post with my bending candy cane activity!