100th Day of School Ideas
Does your school celebrate the 100th day of school? I always love celebrating this milestone. I mean, the 100th day of school IS a big deal! It means lots of learning and growth has happened.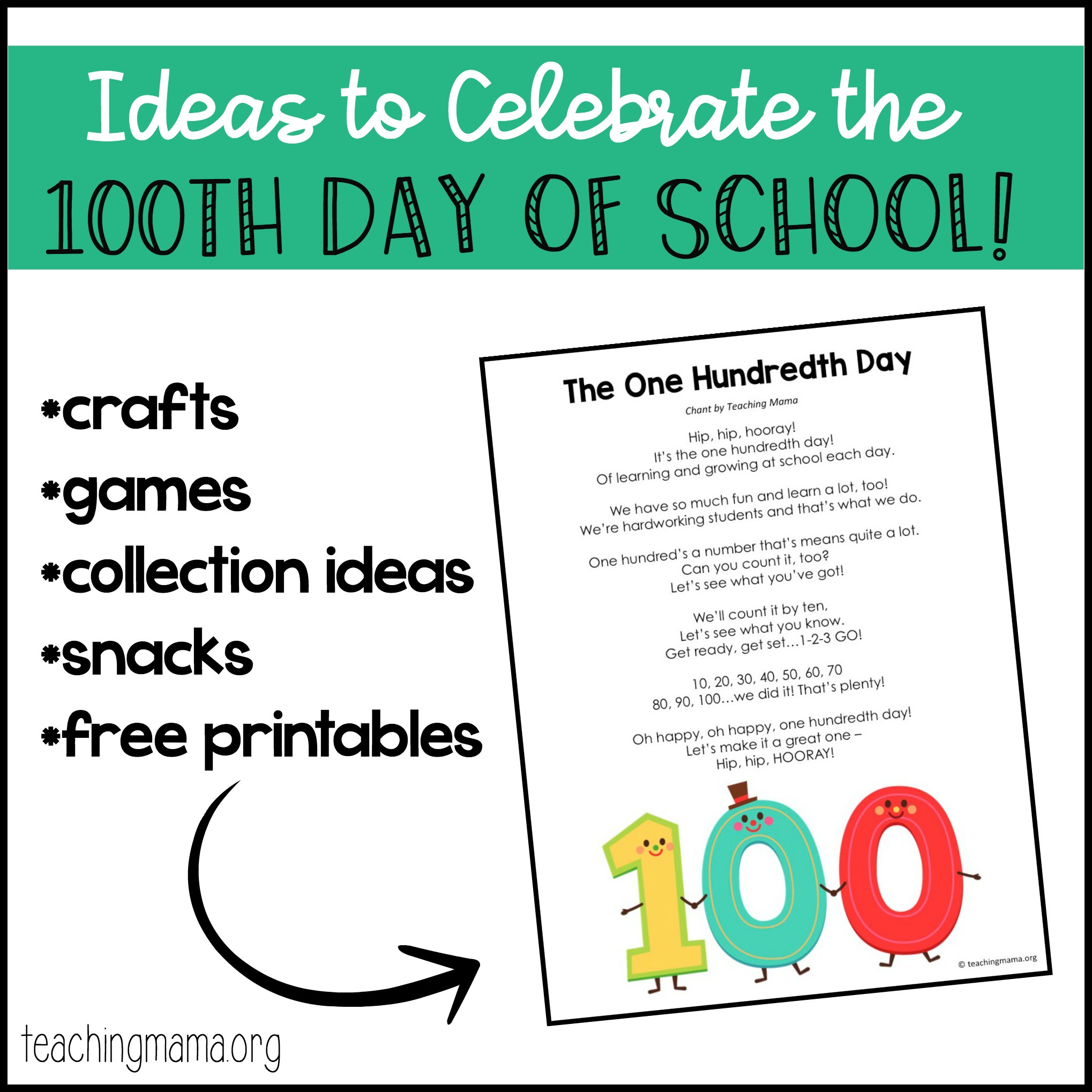 Today I want to share with you some fun ways to celebrate the one hundredth day of school. First, is a poem for students to recite. This would be fun to do as a whole class or even present to another classroom.
You can download this free printable here  –> One Hundredth Day Poem
And if you'd like to hear the poem, just click below.
Next is a printable coloring sheet. The student can write their name at on the line and then color in the 100.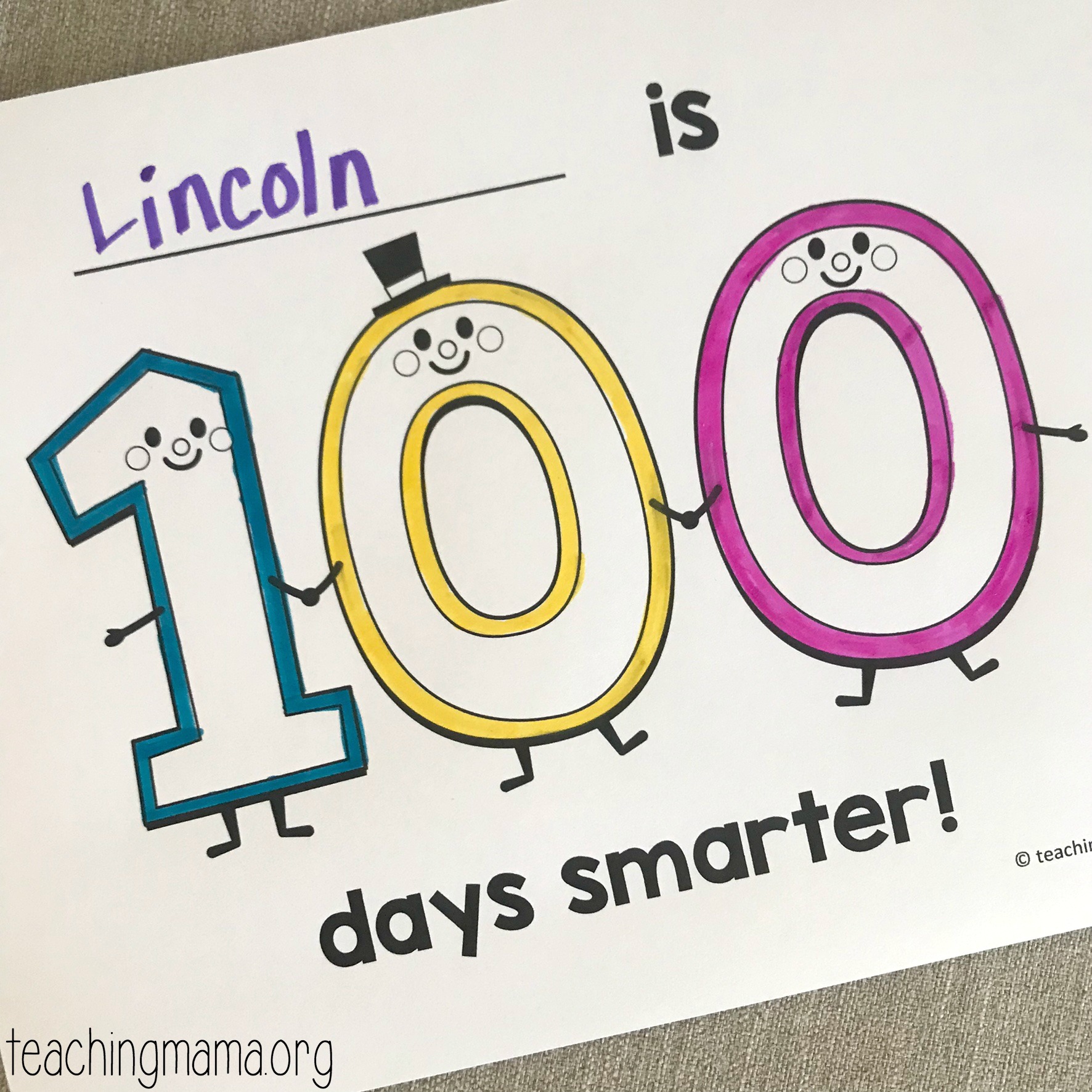 You can download this coloring sheet here –> 100 Days Smarter Printable
Some of my fellow kid bloggers have some really amazing ideas! Check them out by clicking the links below.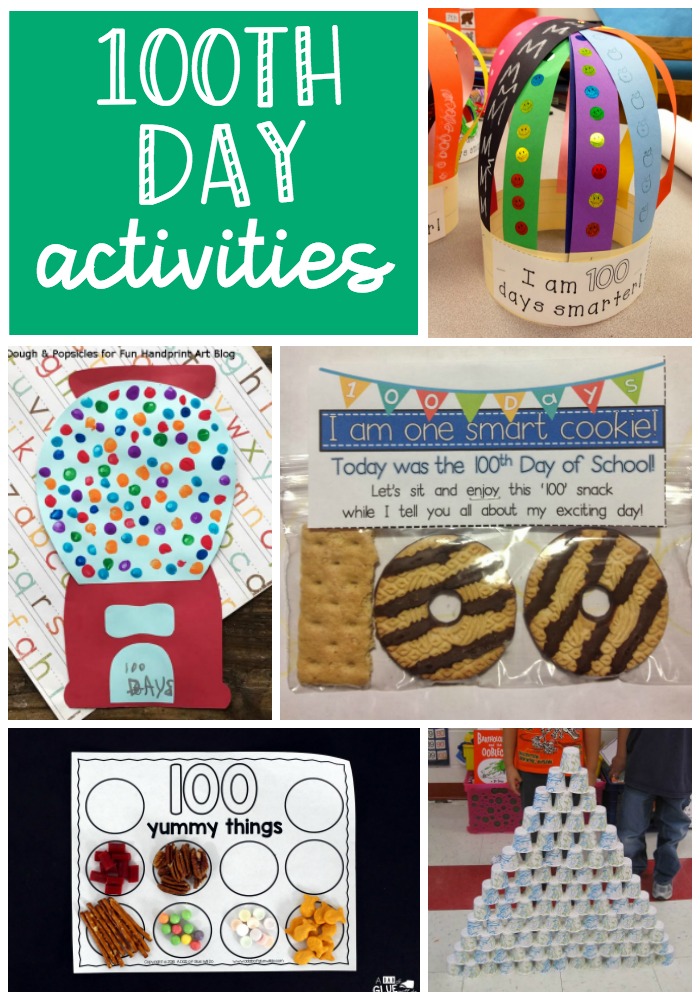 100th Day Glasses Printable from A Dab of Glue Will Do
Trail Mix Mat from Playdough to Plato
One Smart Cookie from Jennifer Drake
Fingerprint Gumball Machine from Fun Handprint Art
Coloring Printable from J-Daniel's Mom
Cut and Paste Printable from The Kindergarten Connection
Estimation Activity from This Reading Mama
Fruit Loop Necklaces from The Kindergarten Connection
100th Day Activity Printable Pack from This Reading Mama
100 Yummy Things from A Dab of Glue Will Do
100 Songs About 100 from Living Montessori Now
Dot Sticker Art from Mom to 2 Posh Lil Divas
100 Day Snack from Mama.Papa.Bubba
Building Activity from Crayons & Cuties in Kindergarten
Adorable Hats from A Spoonful of Learning
And lastly, I love this list of quick 100th Day ideas from Pre-K Pages
I know every year, my boys' teachers ask them to bring a collection of 100 items from home. Sometimes it gets tricky to think what items to bring. Here are some ideas I have.
Around the Kitchen
popcorn kernels
straws
spaghetti noodles
dry beans
veggie straws
goldfish
carrots
chocolate chips
blueberries
fruit snacks
raisins
pretzels
dixie cups
grapes
lids (pouch lids, plastic bottles, etc.)
School Supplies
googly eyes
pipe cleaners
sequins
alphabet letters
stickers
pencils
markers
scraps of paper
pieces of yarn
paperclips
erasers
craft pom poms
puzzle pieces
Do-a-Dot marker circles
feathers
Random Items
pennies
seashells
dice
gems
marbles
playing cards
buttons
paper towel sheets
plastic baggies
nails
screws
toothpicks
cotton balls
Q-tips
bobby pins
Hope these ideas are helpful to you as you plan for the one hundredth day of school!