Ten Ways to Play with Water Beads
Playing with water beads is one of our favorite play activities. They are squishy, bouncy, slimy, and are just plain awesome to play with. Here are 10 ways to play with water beads.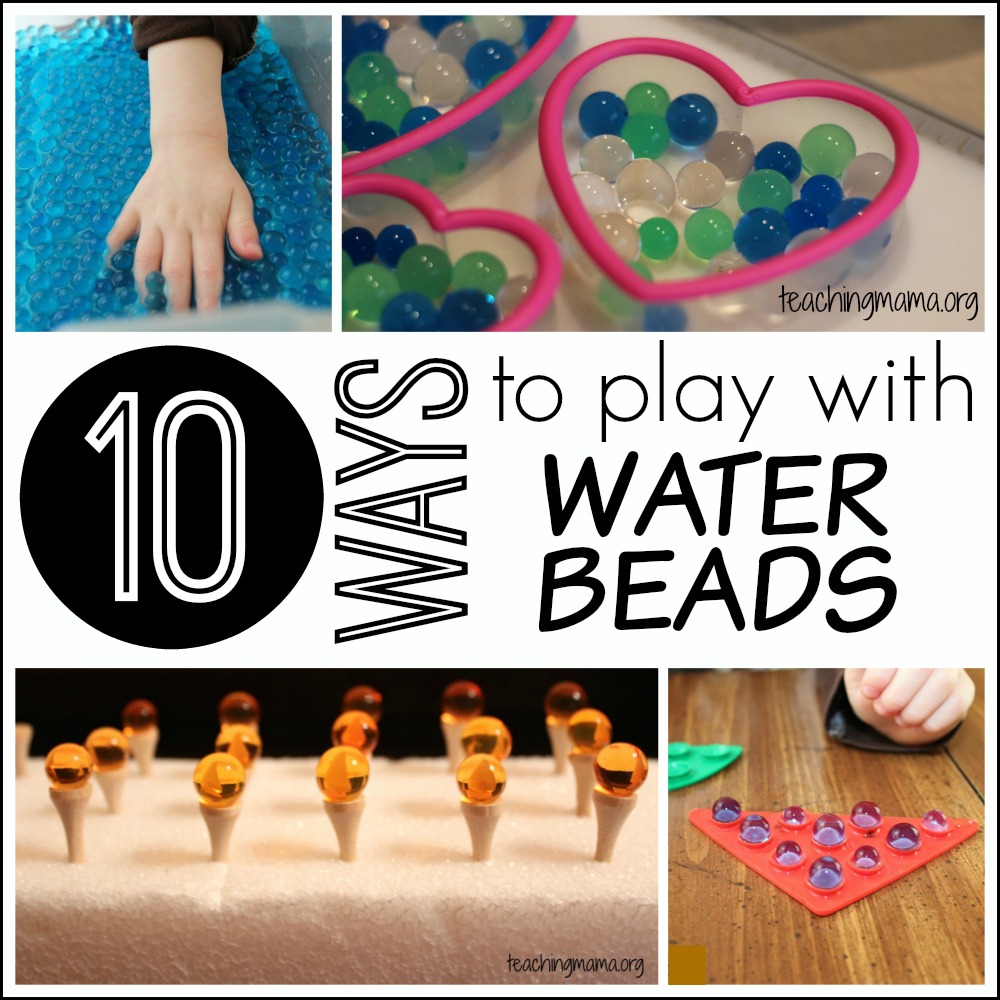 1. Sensory Bin
The easiest way to play with water beads is to place them in large bin and let your little one play with them. You can place funnels, cups, scoops, in the bin for them to explore with.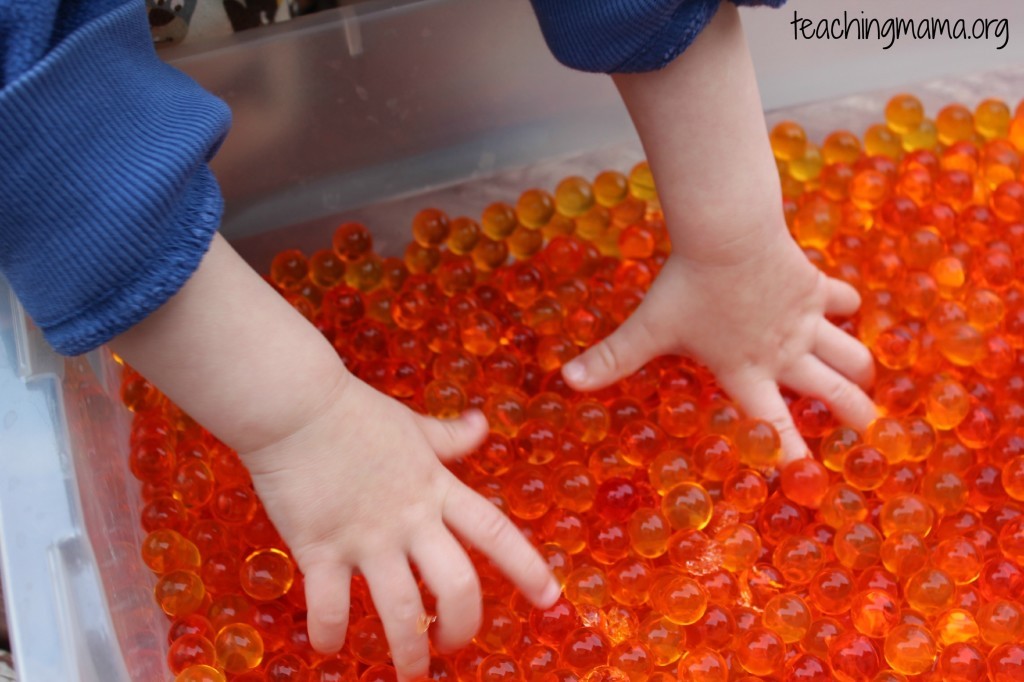 2. Shaving Cream
Add shaving cream to water beads for some super fun messy sensory play!
3. Golf Tees
Practice fine motor skills by placing water beads on top of golf tees. We put the golf tees in styrofoam first. You can see how we did it here.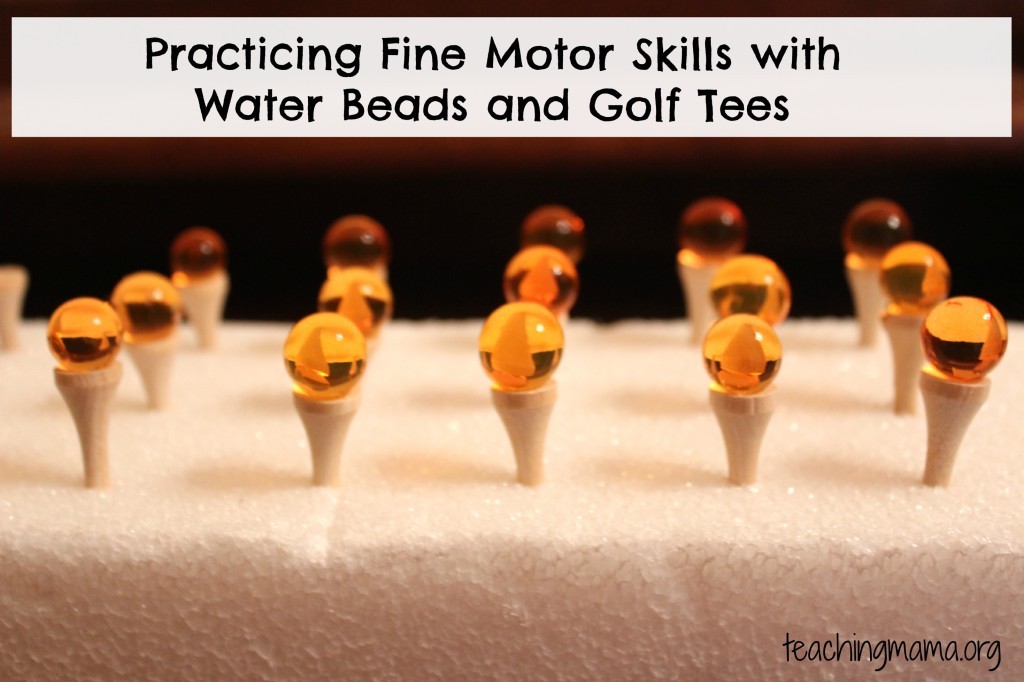 4. Cookie Cutters
Place water beads inside cookie cutters. It's also a great way to practice counting!
5. Balloons
Put water beads INSIDE of balloons! I used a funnel to drop the water beads inside of the balloon. Then I blew it up with air.
After you tie off the balloon, you can shake it and it will make a fun "popcorn" sound! The water beads swirl around and it's really neat! I only wish I had a clear balloon so you could see the water beads better. It's also fun to play catch with the balloon because it has to weight to it.
6. Sensory Balloon Ball
This was fun to make. I just put water beads inside of a balloon and tied it shut. When you squeezed it, it felt really cool! And the water beads popped out! It is a great stress reliever and reminded me of these sensory balloon bugs.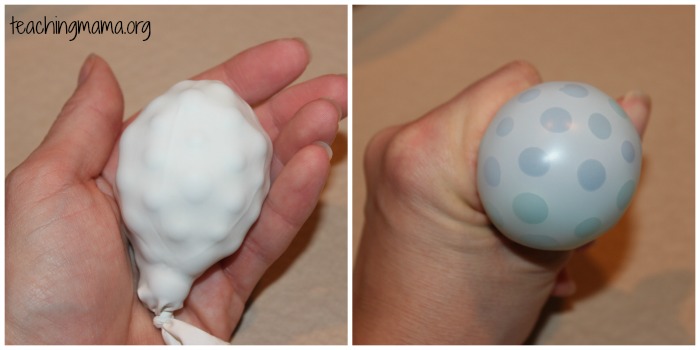 7. Water Beads on Shapes
One way we've played with water beads is by putting them on shapes. These are actually bath shapes from Discovery Toys. I flipped them over and he put the water beads on the suction cups. It is great for fine motor practice! I can't find the Discovery Toys bath shapes anywhere, but these Bathtub Grippy Dots
 would work.
8. Water Beads Bag
To make this play safe for babies, you could put water beads in bags, like the blog Sugar Aunts did.
9. Water Beads Slime
Make slime with your water beads! This is a really fun play idea from I Can Teach My Child.
10. Freeze & Smash
After you're done playing with water beads, it's super fun to freeze them and then smash them with your hands or toy hammer.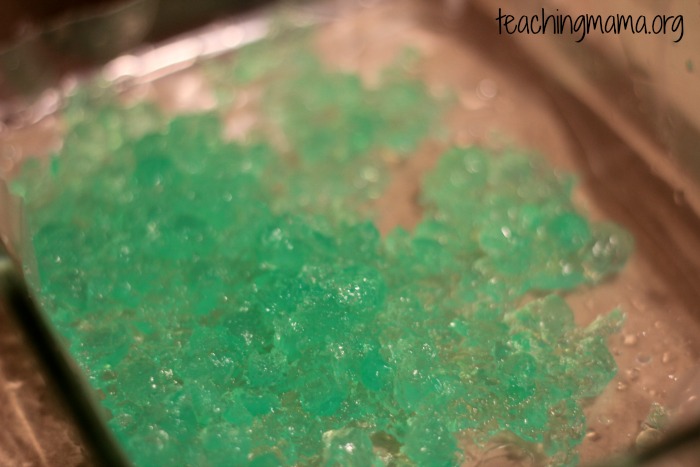 As you can see, there are so many fun play ideas for water beads!!
You can find water beads at the Dollar Store, Walmart, or Michaels in the floral section. Or you can buy them on Amazon here.
Just a reminder to only use water beads with kids who do NOT put things in their mouths. If you want to try this with a toddler, I recommend trying these safe edible water beads.
This was day 15 of the 31 Days of Play Series. To see all the play activities, visit here.