10 Little Things That Make My Day
Hi friends! Did you have a nice long weekend?! I hope you did. We had a wonderful weekend being all together and spending time as a family. That seems to be the theme of most weekends!
Today I'm linking up with iHomeschool Network's blog hop and sharing 10 little things that  make my day. I know it's kind of random since I normally post toddler and preschool ideas, but this will give you a chance to get to know me better! Here it goes…
1. Reading the Bible and drinking coffee!! I love it when I start the day right with spending time in the Word, feeling encouraged while sipping some java.
2. Candles…I have an obsession with them! I love lighting them and smelling them throughout my house. So glorious! I love Bath and Body Works, Yankee & really any good candle that smells good and melts evenly.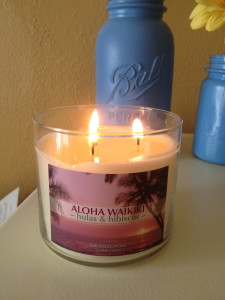 3. Boys taking naps at the same time. This does not happen very often these days, but when it does I soak it up. It really makes my day when they take naps!
4. Phone calls from friends. I love it when I connect with new and old friends. Most of my friends are busy moms, so it's hard for us to talk on a regular basis. It's a treat when we do!
5. Watching my boys with their dad. It just melts my heart!! We spent time at our local park with a carousel last weekend and the boys just loved the time with their dad!
6. Fresh cut flowers. I love picking them from our garden or receiving them from my husband. Something about flowers on my table brings a smile to my face!
7. Cards or letters in the mail. There's something special about receiving a handwritten note from a friend or family member. Call me old fashioned!
8. Watching my boys play together. It's so fun to watch them bond. They had a lot of fun splashing at grandpa and grandpa's pool yesterday!
9. Back rubs from my husband. Hint, hint 🙂
10. Your comments!! I love hearing from you. You all bring a smile to my face. Thanks for reading along and for your sweet words.
What are some little things that make your day?