Today I'm taking a break from sharing kid activities to share what's on my heart. It's something that I feel led to share with you!
We all have something in our lives that requires us to wait. Sometimes it's something simple, like waiting for the power to come back on (like we did last night during a blizzard). Other times, it's something major — a diagnosis or waiting for a cure. Maybe it's waiting for a future spouse, getting pregnant, or even just to have a good friend. A lot of times, we can't understand why God is silent…and why it seems like He isn't listening to our prayers. It's frustrating. We pour out your prayers day after day after day…and still it seems like God is not at work. What is God doing?
God uses waiting and trials to refine our faith and bring us closer to Him.
I've felt these emotions this past year when we were selling our home. It seemed to take forever! We were following what God had for us, but He wasn't providing a way for us to leave our current home. We knew that God was calling us elsewhere because God opened up doors for my husband to accept a job in a different city. It seemed impossible for him to get the job, but he got it! We knew this was God leading us to move. But still, we had to sell our house. Our first step was trying to sell it by owner for about 6 weeks. The first gal that looked at it was super interested and told me she fell in love with the house…she even cried when she told me how much she loved it! We thought for sure that God was answering our prayers there…and a bonus was that we wouldnt have to pay realtor fees! But, God closed that door. She decided on a different home. So after no luck trying to sell by owner, we got a realtor. I won't share everything that happened, but basically we waited 7 months and realized it was time to move where my husband works. With winter weather coming up, we wanted to be close to his work. So we took a leap of faith and moved out of our home while still trying to sell it. I kept thinking — Come on now, God. What are you waiting for? I totally trust in you, but it would be so nice if you could just answer this small request.
I vividly remember the day God answered this prayer request. I was laying in bed miserable from morning sickness when I got an email from our realtor. We had an offer! And I had no clue that anyone was even looking at our home! So 10 months of waiting and God answered at an unexpected time. I know, that may not seem like a long time, but it felt like a long time to us!
From this period of waiting, I realized two things:
1. It is hardest to accept the waiting parts of life.
2. God's timetable is often different from ours.
You see, I realized that God's timing was perfect. Looking back, he allowed a buyer to come when we were ready financially to close on the home. We learned a lot about waiting during this process. We praise God for answering our prayers and I thank you for praying for us!
And I also realize that sometimes God doesn't answer our prayers the way we want them to be answered, and that is very hard to accept. However, He doesn't abandon us, but He promises to take care of our needs.
Lastly, I want to share a quote from Elisabeth Elliot. I love her book Secure in the Everlasting Arms
. I've read it multiple times and am always encouraged when I read it.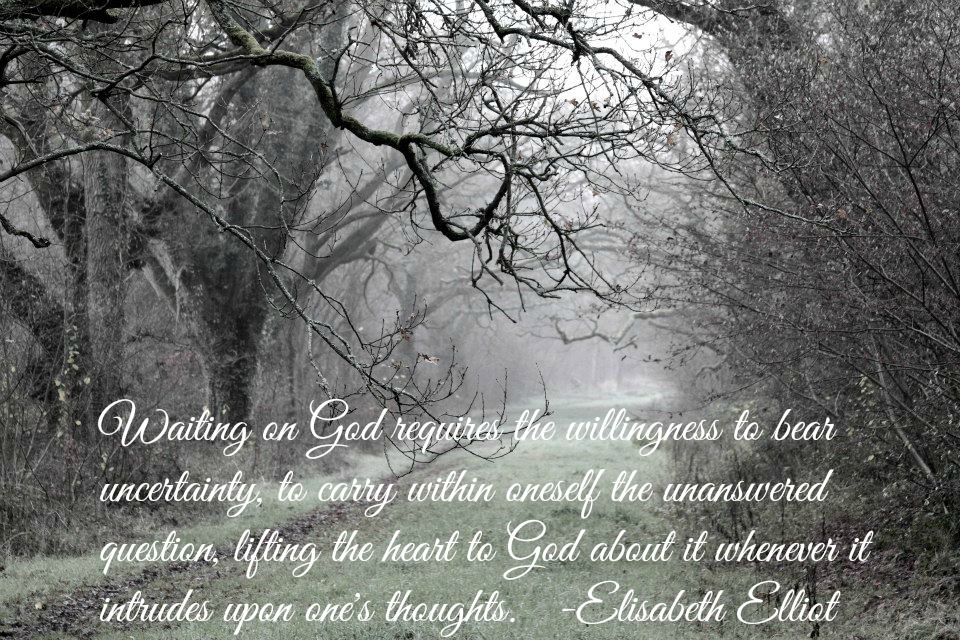 Have you experienced a time in your life where you waited? If so, I would love to hear about it. You can comment here or even email me if you'd like.
I pray that you all feel God's peace today as you start a brand new week!