Many people ask how I schedule and plan our preschool day. For awhile, I really didn't have a formal plan and would just go with the flow. I realized that I needed something more structured to make our day run smoother, so I came up with a morning schedule. We don't always follow it every day, but it does guide our morning. Here's what it is: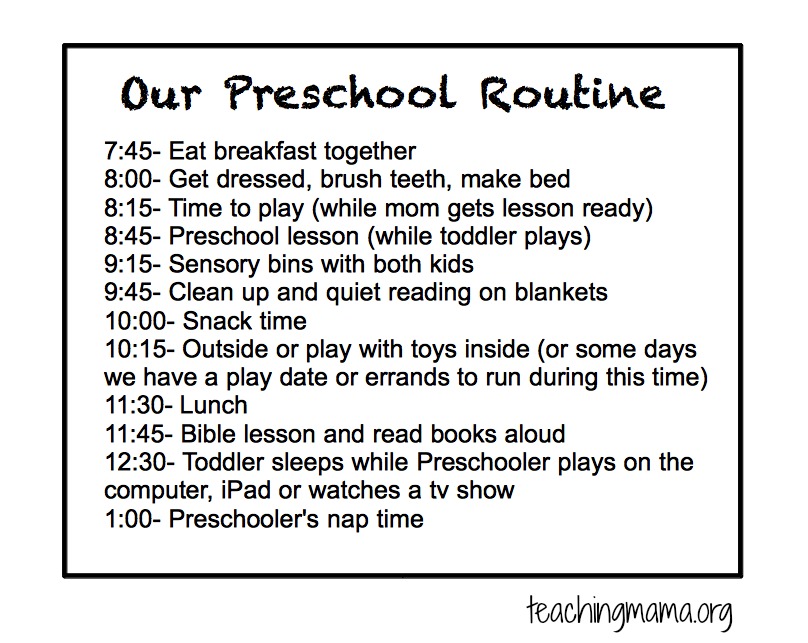 I also designed a preschool planning sheet to help me stay organized. It's not very fun to not have materials when I want to start an activity. That's when my kids start to get rowdy! So, I'm sharing this PDF copy with you and I hope you'll download it and use it to help you plan your preschool days.
To download your own copy click here —> Preschool Planning Sheet

Now I know you may not need a whole sheet for 1 day, so you could also use one sheet for a week, if you would like. One more thing–we don't have a new sensory bin every day, but we make one about every month. So don't think you need a new sensory bin every day or week! You could even have a simple sensory activity, such as playing with ice or shaving cream.
I hope this will help you out as you plan out your days with your preschooler! I really think having a routine to your day really helps little ones.
Lastly, I just wanted to share that my preschool ebook will be out July 8th!! I can't wait!! In case you are a new reader, this ebook is about the journey from preschool to kindergarten. It will share what preschoolers need to know before going to kindergarten, how to organize your preschool at home, 26 weeks of lesson plans and 50+ pages of printables! I will be doing giveaways and also discounts to my readers when the time gets closer.  Get excited!!!
Have a great week!