It's time to share my sensory bottle of the month! This month I'm going with the theme "Back to School". I decided to make a sensory bottle look like a pencil! It was a fun little experiment. 🙂
Our pencil sensory bottle is fun and definitely looks homemade, but that's ok! It's an opportunity for my little ones to engage their sense of sight and touch and it doesn't need to look perfect.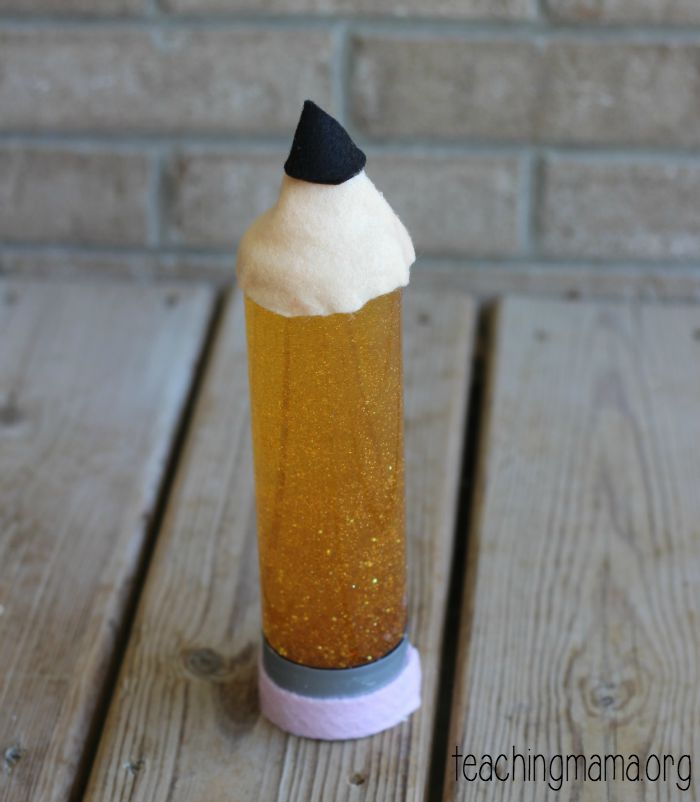 It would be fun to have in a classroom or homeschool. My little guy enjoyed looking at it!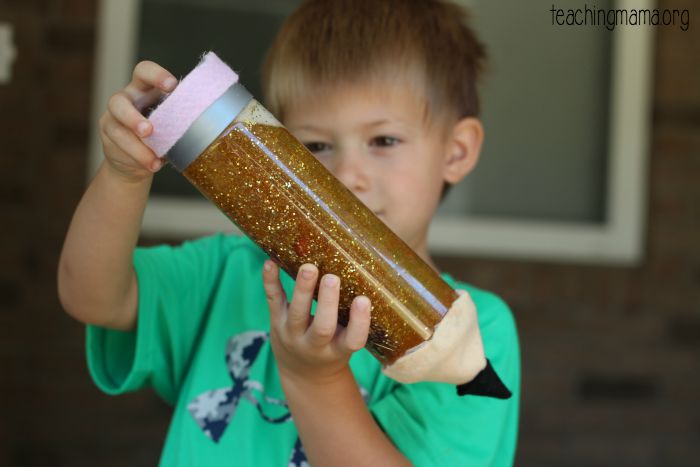 Here's what you need to make it:
Voss Plastic Water Bottle (This is an affiliate link to Amazon, but it's also found at Walgreens, grocery stores, gas stations, and even TJ Maxx sometimes!)
strip of pink felt (for the "eraser")
tan felt and black felt (for the "pencil tip")
1 drop of yellow food coloring
gold glitter
clear dish soap
water
scissors
hot glue gun (or felt glue)
To make the bottle, start by gluing a thin piece of pink felt to the bottom of the silver lid. This will be the pencil's eraser.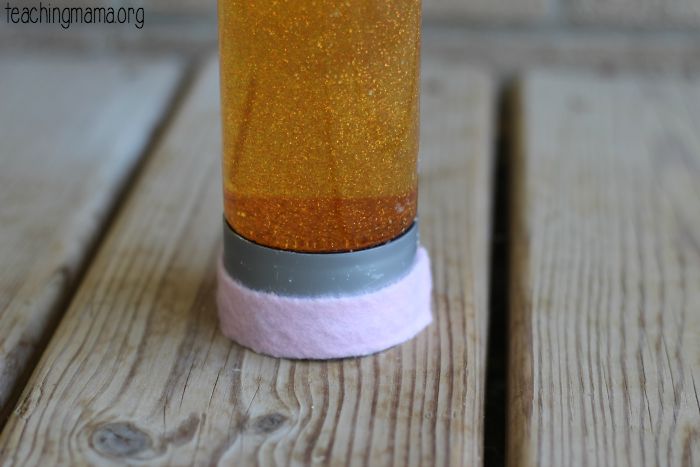 Then cut out a cone from tan felt for the tip of the pencil. Here is a template for the cone. After you cut it out, wrap one piece of the felt over the other until a cone is formed. Then glue it to the end of the bottle. Cut out some black felt (just like the tan cone, I just don't have a template) and glue it onto the tan piece. I think the hardest part of making this bottle is getting the tip to lay nicely on the bottle. 🙂
Next, fill the bottle 3/4 full with water and add 1 drop of yellow food coloring and gold glitter. Then fill the rest of the bottle with clear dish soap. Attach the lid (and glue it on if you don't want to open it again!). Then shake it up and watch the glitter fall! The dish soap makes the glitter fall more slowly.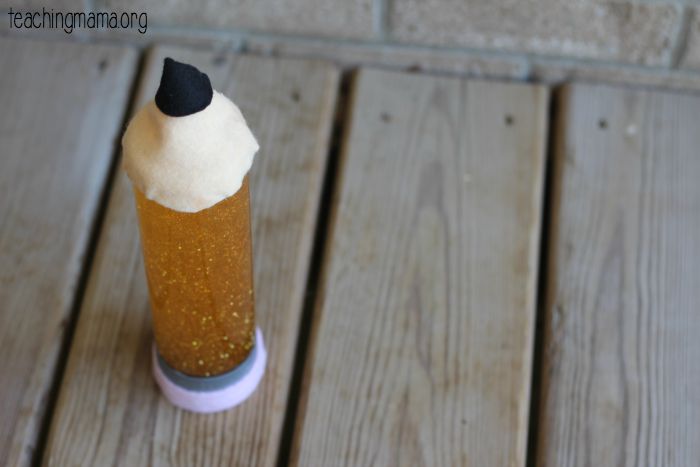 After the bottle is made, your little one can enjoy shaking it, feeling the felt, and watching the glitter swirl in the bottle. Of course you can make the liquid any color, we just chose a gold color since it looks more like a pencil.
To see all my sensory bottles, click here.