Lalabu Soothe Shirt for Babies
Disclosure: I was sent this product in exchange for an honest review on my blog.
Are you a mom to a baby or a soon-to-be-mom? If so, you'll want to read today's post about the Lalabu Soothe Shirt! While I was pregnant, a company called Lalabu sent me a Soothe Shirt to review. I was so excited to receive the shirt and couldn't wait to try it out! But of course I had to wait several months until baby Lincoln was born to try it out. As a busy mom to two older boys, I knew this shirt would be really helpful.
So what is a Soothe Shirt?
A soothe shirt is a simple baby-wearing option. It's a comfortable nursing tank top with a pouch to hold baby. The shirt is designed to soothe your baby and also free up your hands. With two older boys around (who constantly need me), this is a great way to still hold baby, and also help my boys.
Last week, I went to the park with the Soothe Shirt on. Lincoln was fussy in the car, but when I got to the park, I put him in the Soothe Shirt and he was immediately consoled and fell asleep. Then I was able to walk around with my boys and help them around the playground. It was so nice! I also loved that at least three moms (that I didn't know!) asked about the Soothe Shirt. They had never seen one and thought the idea was genius!
I've worn the Soothe Shirt around the house, on walks, at the grocery store, and the park. It is really a nice babywearing option! I have a Moby Wrap and Ring Sling, but so far I've mostly worn the Soothe Shirt. This shirt reminds me a lot of the Moby Wrap, but it's not complicated. The moby can be confusing because you have to learn how to wrap. All you do with this is wear the shirt, open the pouch, and place the baby in. The soothe shirt is a great option for all moms, but particularly those who want something simple for baby-wearing!
I love that this Soothe Shirt is a nursing top, too! It is SO easy nurse with this on.
The Soothe Shirt is for newborns up to 15 pounds. You can also continue to use it the entire time you breastfeed. In my opinion, the only disadvantage to this shirt is that my baby will grow out of it soon. My husband and I make bigger babies and they grow fast, so I won't be able to use it for very long.
Something I love about the company, Lalabu, is they are very giving. $1 of every sale goes to support women in Africa. Also, once a week their employees work for a local women's shelter rather than on Lalabu. That is why their vision is, "We work for new lives." Isn't that so awesome?!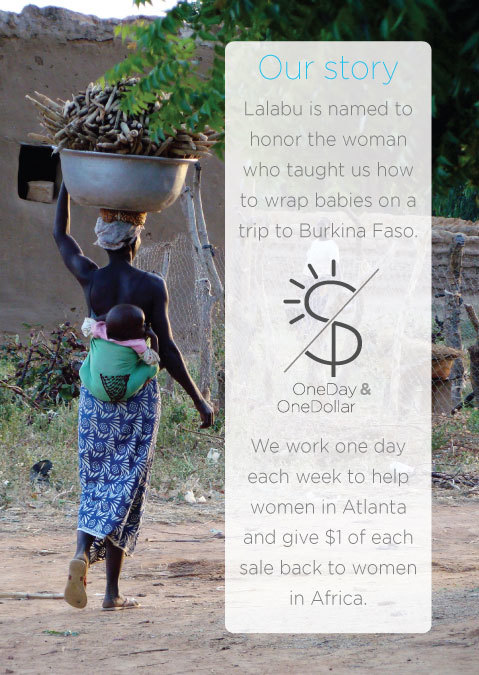 The Soothe Shirt never goes on sale, but this weekend, they are having a sale for Labor Day! Just for the rest of today, you can take $10 off your order when you use the code INSTAGRAM. Pretty awesome! So if you are a new mom or mom-to-be or need a gift for a mom, you don't want to miss out on this deal! Click here to order yours today! I love the Soothe Shirt and I think you will, too!
Disclosure: I received this product for free in exchange for an honest review. All opinions expressed are my own.