Have you heard of Kindness Elves? They are similar to Elf on the Shelf, except the elves encourage children to do acts of kindness during the Christmas season. We got our first set of Kindness Elves last year and my boys had a blast doing the activities! We did just the 12 days before Christmas, since we didn't get our elves before then. Anna from The Imagination Tree sells them and last year she sold out very quickly. This year she has more options to choose from and hopefully a larger inventory. These are so popular!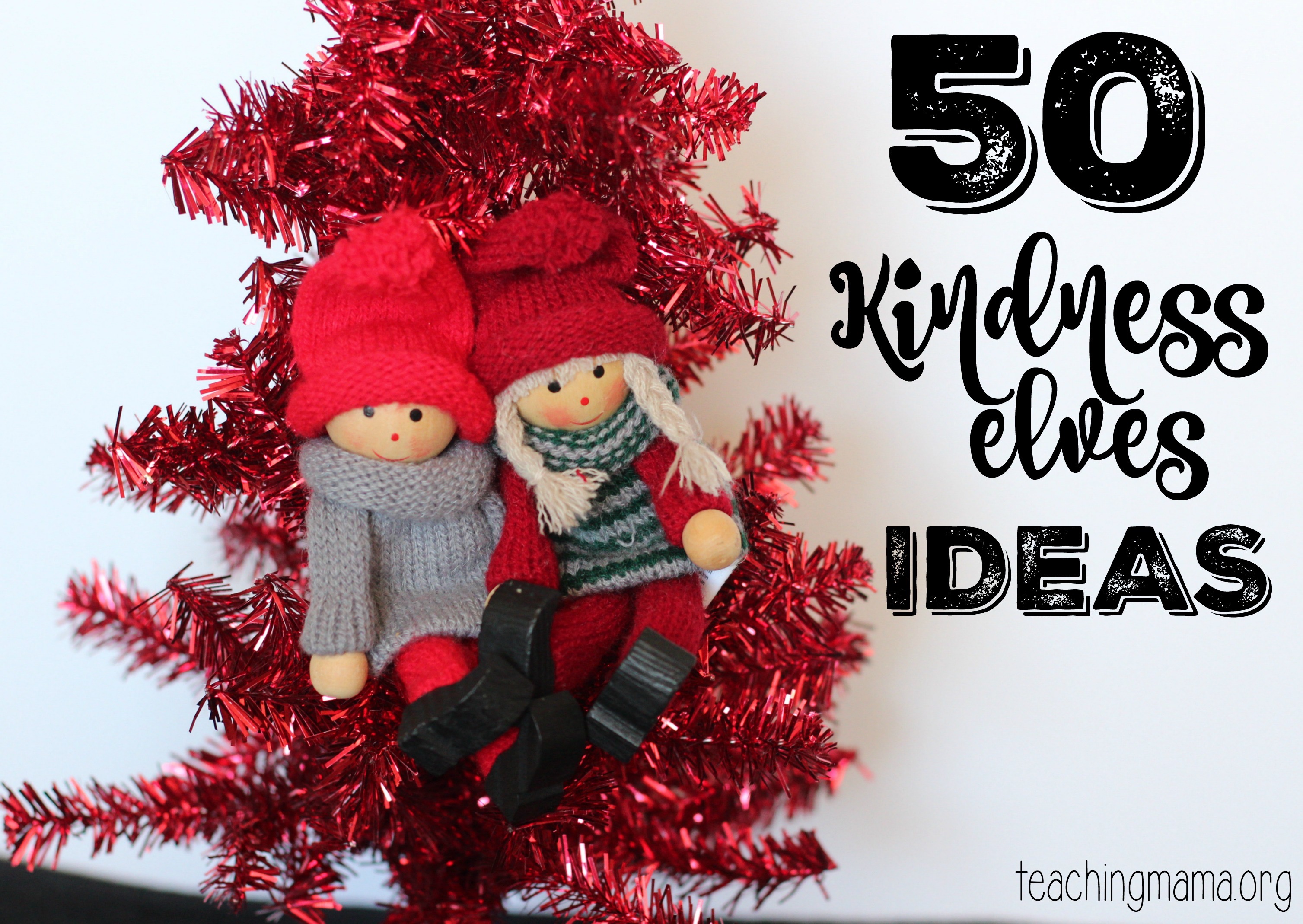 Disclosure: This post contains affiliate links. 
Each day, the elves write a message to the children asking them to an act of kindness. The children can also write messages back to the elves and put them in the mailbox that comes with the box. So cute!
Today I'm sharing 50 ideas you can do with kindness elves. You don't have to have the elves to do these random acts of kindness, but it is a fun way to make the season meaningful for children. You can move the elves around the house with little notes for the children to find each day. It is really fun for the kids to wake up to!
Here are 50 ideas for kindness elves:
Donate toys to a charity organization
Visit a retirement home and bring homemade cards or sing carols
Pass out candy canes
Buy gift cards for a teacher
Bake goodies for the neighbors
Buy the person's order behind you at a fast food restaurant
Sponsor a child from around the world with an organization, like Compassion.
Bake or buy goodies for the local police officers
Buy a gift for a child off of an Angel Tree
Send letters to grandparents
Clean up your sibling's room for them
Hug your friends
Donate clothes to Goodwill
Place $1 + tax into baggies and put them around the Dollar Store  (I recommend putting it in a plastic baggie with a note that explains this is for someone to use!)

Shovel snow off of your neighbor's sidewalk
Donate canned goods
Pass out stickers
Smile at everyone
Donate old shoes to a charity
Bring a meal to a family
Buy the coffee order behind you in line
Pass out encouraging notes to friends and family members
Do yard work for a neighbor
Bring hot chocolate to your neighbors
Take goodies to the fire station
Donate old books to the library or charity organization (even the doctor's office!)
Make a bird feeder for the birds
Pick up trash in your neighborhood
Deliver a surprise gift to a friend
Donate supplies to the animal shelter
Make Christmas crafts to give to friends
Call a relative
Make cards for the librarians
Tape change to the parking meters
Deliver coffee to your favorite teacher
Scrape ice off of cars in a parking lot (this is for older children!)
Write words of encouragement on sticky notes and post them around the house
Give your parents a massage
Compliment 5 friends
Tell funny jokes to make people laugh
Play a game with a sibling (without fighting!!)
Bring flowers to a loved one
Make homemade playdough and deliver it to a friend
Hold the door open for someone
Donate supplies to families with foster children (ask before what they need!)
Do a chore for a sibling
Of course these are just 50 of my ideas and I'm sure you have more ideas! I'd love to hear your ideas in the comments.
I know this post seems early since we haven't even celebrated Thanksgiving. I wanted to make sure you knew about Kindness Elves before the Christmas season and before they sell out! You can get these adorable dolls here.
Have a wonderful Christmas!