I love that Thanksgiving is just around the corner. It is one of my favorite holidays. It's such a neat time to reflect on life and the past year's blessings. Today I'm sharing with you a thankful jar idea that is great to do with families, or even in a classroom!
This post contains affiliate links. See my disclosure for details.
I love ways to concretely display what we are grateful for. It means more to me to write it down and share it with others. That's why I came up with this thankful jar. I actually made 2 different thankful jars to share with you. The first one uses these supplies:
tissue paper squares
glass mason jar (with smooth sides – this one is from Target dollar section)
paintbrush
permanent marker
small candle (or faux tea light!)
To make this jar, follow these steps:
Cut tissue paper into squares.
Paint Mod Podge onto the jar and lay tissue paper on top.
Paint a layer of Mod Podge on top of the tissue paper. It will dry clear, so don't worry if it doesn't look clear right away.
Let the jar dry completely.
Use a permanent marker to write words of gratitude around the jar.
Add a tea light to the middle to make it glow!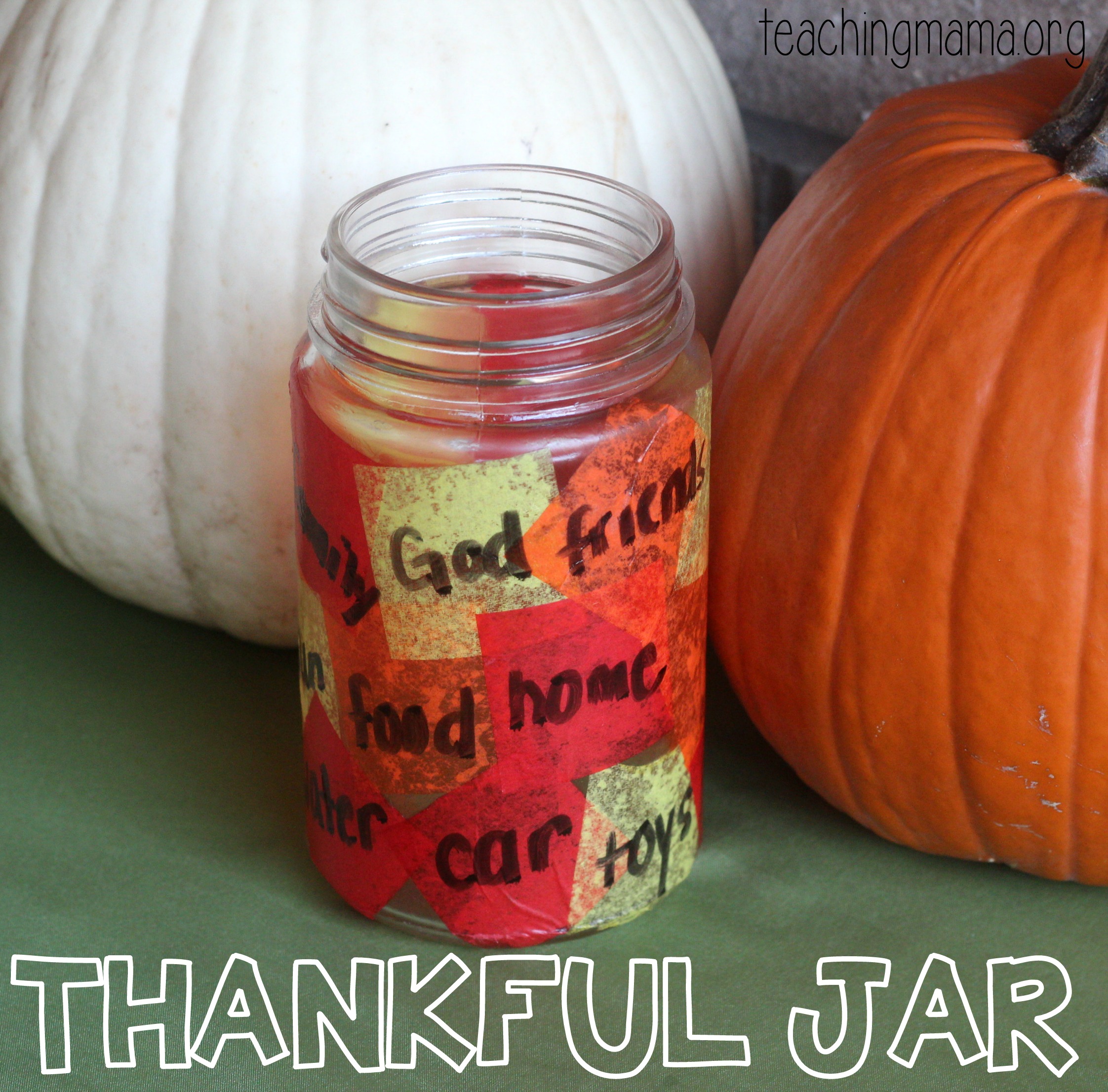 This would make a great centerpiece for a table. It would also be fun to add one word to the jar each day until it is full.
I also came up with another thankfulness jar idea. This one uses a turkey!
I found some turkey napkins at Target and thought they would be perfect to use for this craft.
Here's how to make this jar:
Cut the turkey picture out of the napkin.
Paint Mod Podge onto a clear glass jar and add the turkey.
Paint a layer of Mod Podge on the turkey and around the rest of the jar.
Let the jar dry.
Write words of gratitude onto pieces of paper and add them to the jar!
You could also add a tea light to make it glow. Looks pretty at night!
Hope these ideas inspire you to create a thankful jar this Thanksgiving. I think it's a wonderful way to celebrate this season!