Our Preschool Plans for 2014
Disclosure: This post contains affiliate links.
Happy Wednesday! Hope you are having a good week. We're still adjusting to life with a newborn and two active boys. It's going well and I'm trying to soak up all these sweet moments with baby (and at the same time being sleep deprived!) I can't believe it's already August 13th…and schools around here start this week! Since school is on the minds of parents, today I am sharing our plans for preschool this year.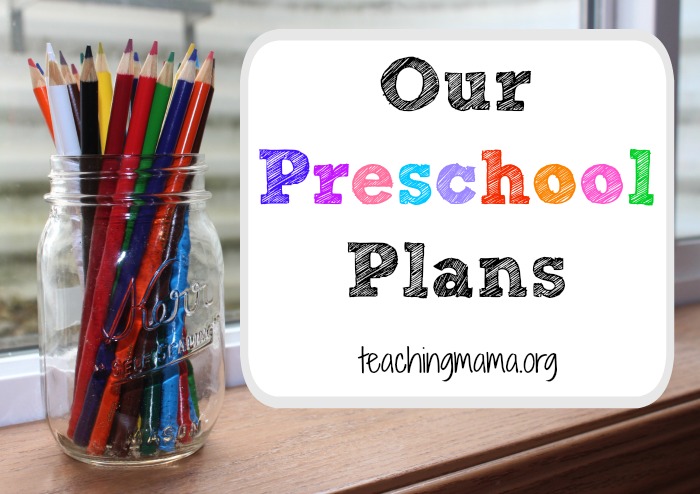 (This post contains affiliate links.)
Our oldest, Troy, is 4. He turns 5 this fall, so he still has one more year of preschool. The past two years I've homeschooled him and used my curriculum from my eBook. It has worked well, but I feel like he needs something else. Over the last six months, I felt God tugging on my heart to do something different with him for preschool this year. We decided to enroll him at a church preschool this year for three mornings a week. He will get Bible lessons, learn in a classroom setting, and have social interaction with his peers. I know I could have homeschooled him another year in preschool or even started kindergarten homeschool curriculum with him, but we feel peace with this decision. He is very excited to go to preschool this year! I will still do preschool activities with him at home and share them on the blog!
---
Here's the curriculum I'm using for Troy:
---
My middle child, Wesley, will be 3 in a few days. This year will be his first year doing preschool at home with me. I am so excited to go through my curriculum with him! I feel like he is ready for these activities. Last year, he would not have been able to focus on most of the activities. With a new baby at home, I feel like I can manage Wes and Lincoln well while Troy is at preschool.
---
Here's the curriculum I'm using for Wesley:
Basic Shapes for Beginners (which is on sale until August 15th!!)
God's Little Explorers (if we have time after completing The Preschool Journey)
(I've decided to just do preschool 3 days a week on the days Troy is at preschool.) 
---
In the morning, I am planning to do a short devotional with both kids after breakfast. I'm going to start with the ebook, God Said So.
I get a lot of emails asking what a typical schedule looks like at our home. Although I may not follow a schedule every day, here's a look at what I'm planning to do.
Lastly, I wanted to share that I started a Facebook group called Preschool at Home Moms Group. This group is designed for moms to support each other as we are teaching our preschooler at home. In this group, we will share teaching ideas, ideas for modifying lessons, tips for teaching preschoolers, quiet box ideas, organizational tips, encouragement for mothers of preschoolers, and more. If you want to join the group, just click here!
Have a great rest of your week!