Fourth of July Rockets for Kids
One of my favorite holidays is the Fourth of July! And one of my favorite activities to do with my kids is STEAM activities. I'm so pumped to share my Fourth of July Rockets with you because they combine two of my favorite things!
These homemade rockets are simple and make a great STEAM activity. There are so many things kids can learn from this activity…problem solving, trying new ideas, engineering, and more!
If you're looking for a fun and easy activity, you'll have to try this out!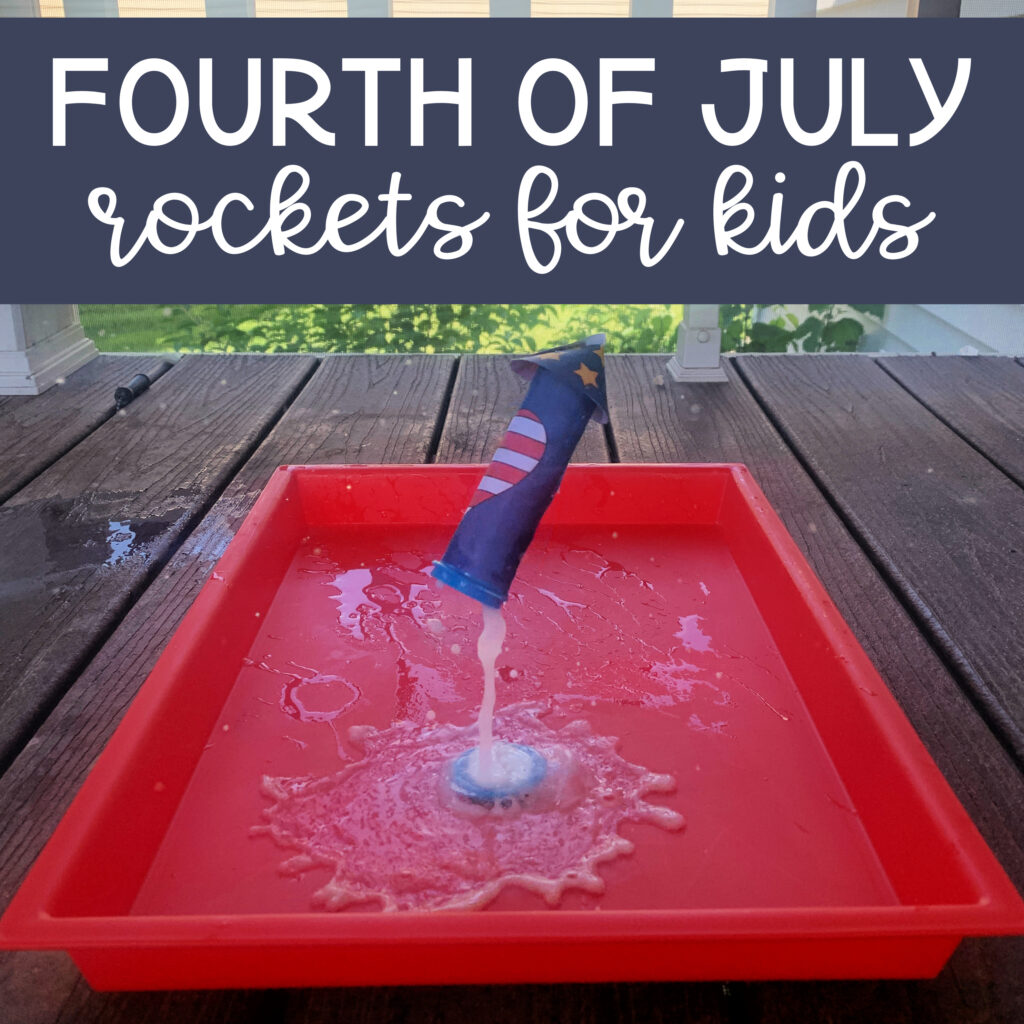 Materials Needed for Fourth of July Rockets
Here's what you need for this activity:
Alka-Seltzer tablets (1 per rocket launch)
M&M minis tube (1.08 oz tube)
vinegar
tape
scissors
printable for decorating (optional)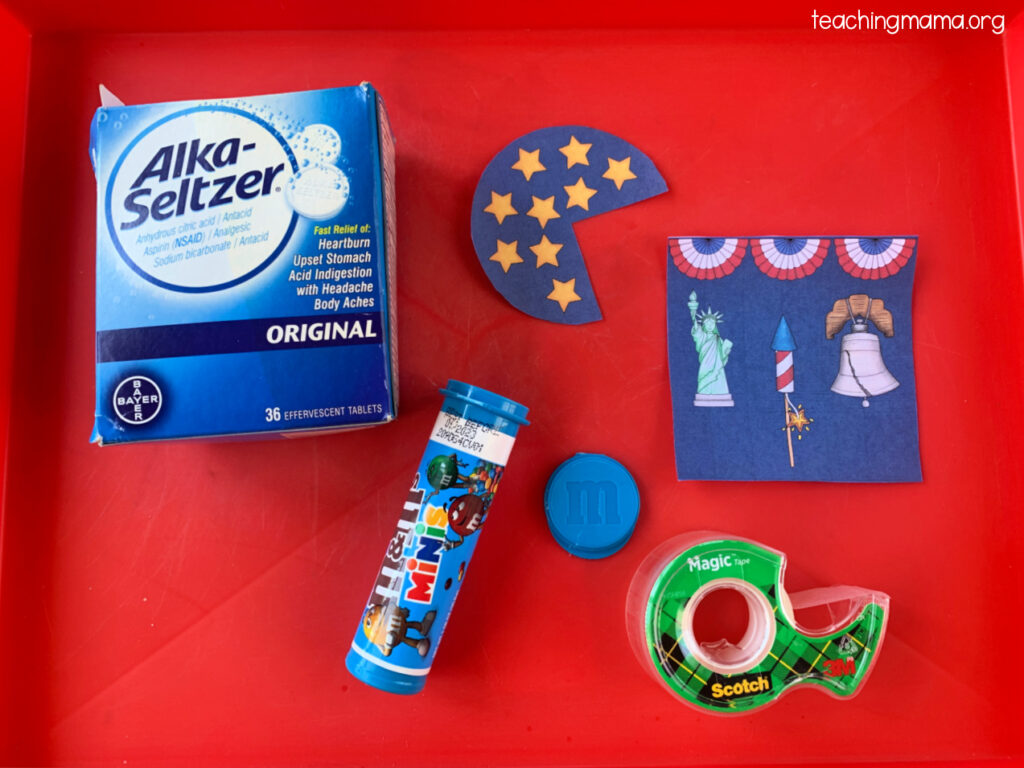 How to Set up the Rocket
Cut the lid off of the M&M tube.
If you want to decorate the tube, then cut out the desired decoration from this printable.
Flip the tube upside down (so the lid would be on the bottom) and wrap the rectangle piece around the tube. Tape it in place.
Cut out the shape to make the tip of the rocket. Bring the two pieces of the shape together until it makes a cone shape and then tape it together.
Use a hot glue gun or tape to attach it to the tube rocket.
Launching the Rocket
I recommend taking the rocket outside and wearing safety goggles to protect your eyes. (You'll see my kids did not, but I wish I would've thought of that before doing the activity!)
Begin by pouring vinegar inside the tube until it is halfway filled.
Break and Alka-Seltzer tablet in half.
Drop it inside the vinegar and quickly attach the lid.
Flip it so the lid is on the tray or ground.
Wait a few seconds and then watch the rocket launch! It will be quick!
This is a great STEAM activity because you and your child can experiment with different variables. We tried using water, adding more or less Alka-Seltzer tablets, shaking it up, taking off the decorations, and more! We had a blast and watched our rocket launch so many times!
We even tried it with the lid facing up and seeing how far the lid would launch. Check out the video below to see some of our experiments!
You can try experimenting with different amounts. We found adding just a little bit of vinegar with one tablet of Alka-Seltzer made the rocket go really high!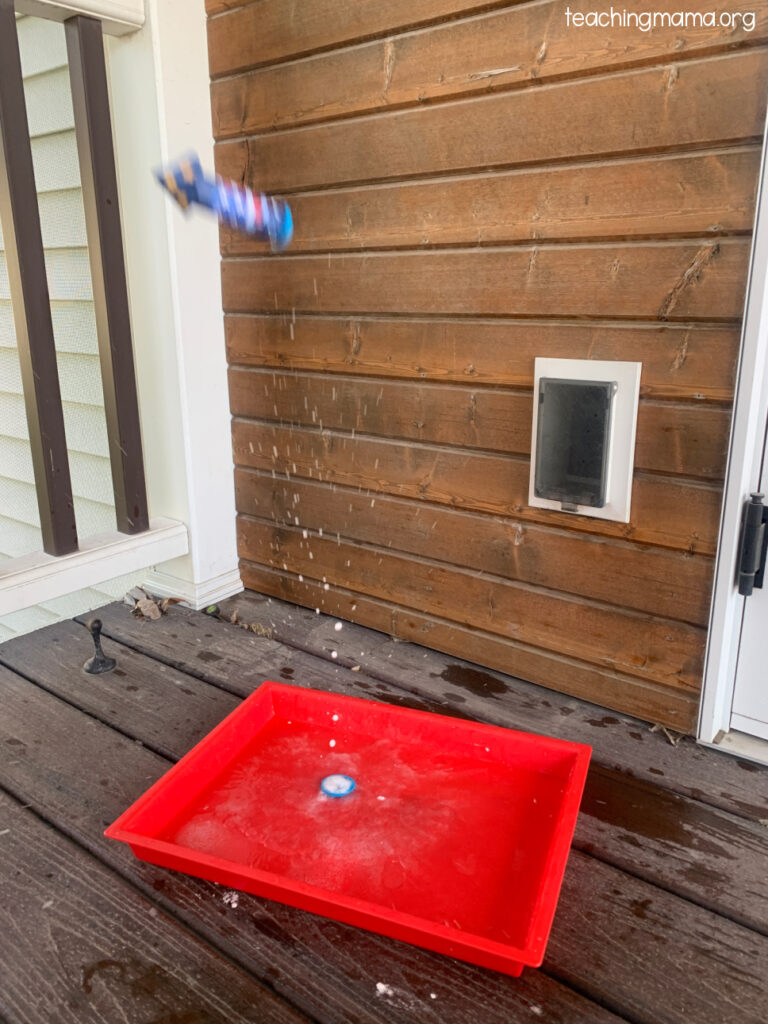 The rocket has so much power! It makes a popping sound when it launches, too!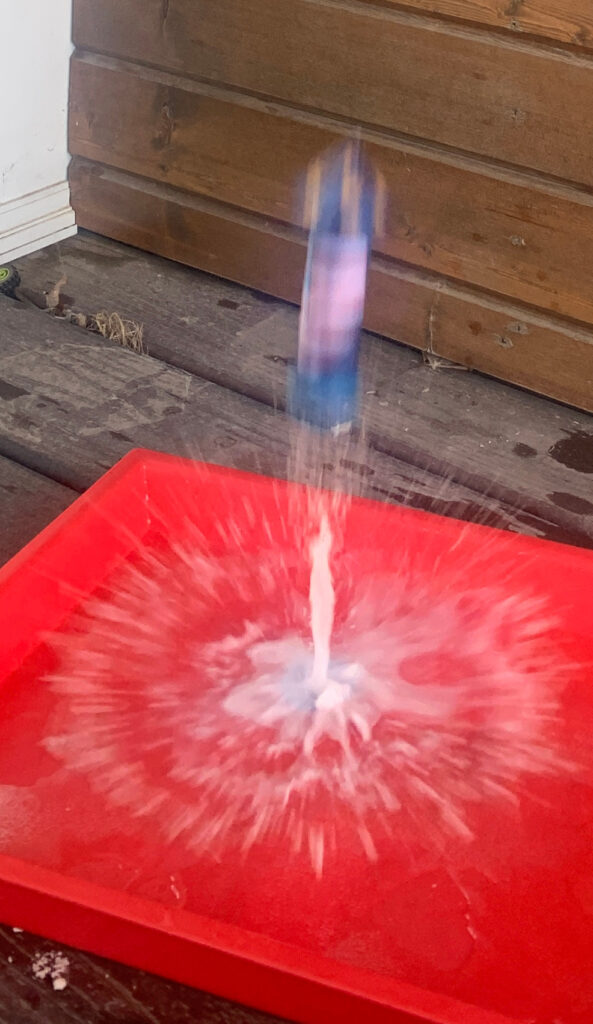 As you'll see in the pictures and videos, the decorations didn't stay on the whole time. You don't need them for the experiment…it just makes it more festive!
I hope you'll try this activity! Your kids will LOVE it!