Replacing Fear with Faith
Today I'm sharing what's been on my heart. I was nervous last time I shared about finding contentment, but was surprised to hear so many other women struggle with the same thing. Thank you to those who commented and encouraged my heart.
Fear & Worry. I think it's very common for moms to worry. In fact, I think it's common for anyone to worry. There are so many things we can worry about: finances, relationships, jobs, school, health, success, pregnancy, the future, and the list goes on and on.
I remember worrying about Troy when he was about 4 months old. My mom was watching him while I was working and she brought him to a doctor appointment with her. The dr. noticed a small ridge on his head and brought fear and worry into our lives when he said he had craniosynostosis. This would mean he would likely have surgery and wear a helmet to correct his ridge on his head. Of course I googled it and worried even more. After a couple different doctors looked at his head they found no problems with it and said that the ridge would change as he grew. I felt silly for being so worried. Why didn't I just trust God and leave it in His hands? I let fear and worry take over.
I can think of many times that I've worried. Most recently, I've been worried about health. It seems that many people I know (mostly family) are struggling with health issues. My mom had a stroke 3 months ago, and most recently my grandmother passed away. With these two things and more, I've been overanalyzing health issues in my own life just because I'm fearful something might happen to me. Worrying doesn't get me anywhere…it just stresses me out and makes me lose focus on what's important! We get consumed by fear when we dwell on it and don't seek truth in God's word. As I was thinking about my anxieties, I realized that I hadn't been giving them to God or spending as much time reading His word in the Bible. That makes a huge difference in my life!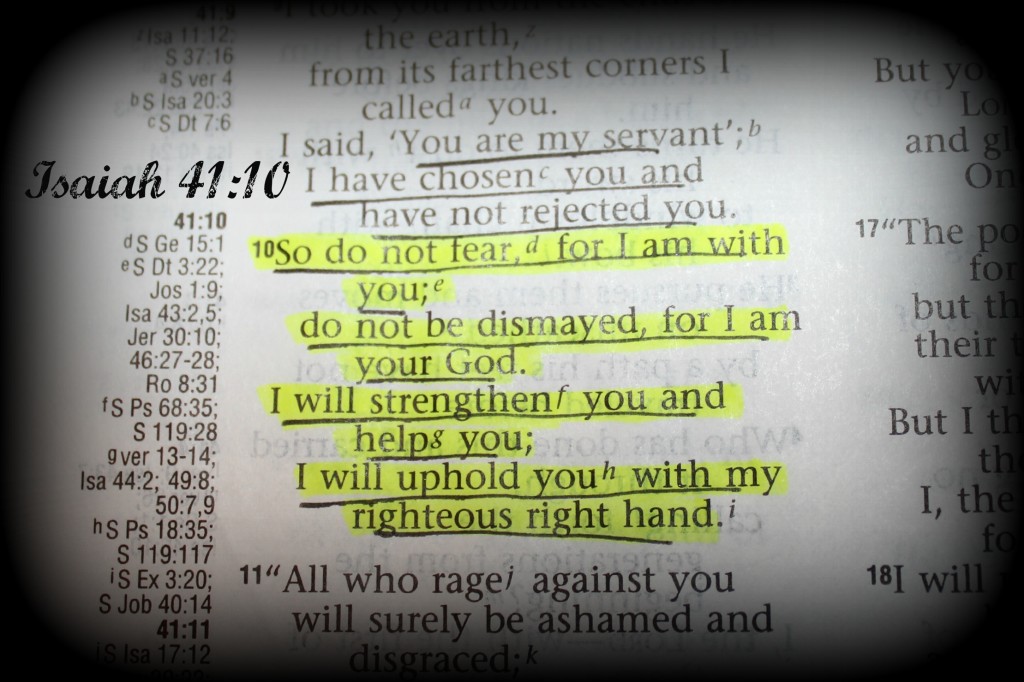 I need to pray, trust, rest, and have faith that God is in control. I desperately need to remember that! I love this quote from Elizabeth Elliot in her book, Secure in the Everlasting Arms
 "A prayerful heart and an obedient heart will learn, very slowly and not without sorrow, to stake everything on God Himself." 
My sweet grandmother passed away last week. She was 87 and lived a wonderful and full life. She had many health problems in her life including polio and scoliosis. She never complained or was fearful of what would happen to her. In the bulletin from her funeral, there was a short letter that she wrote in 1981. It said: I shall welcome death and have life, with great joy, because I will be with my Lord & Savior! That is how I want to life- with no fear of death because of my trust in the Lord.
Isn't it amazing when we go to church and the message speaks right to our heart? That happened to me yesterday. The pastor was speaking about the Kingdom of God. He stated that when we are living in the Kingdom of God, we are in a no worry zone. When our thoughts, actions, and life are completely aligned with God and His will, we have peace. That is the Kingdom of God. His message hit home for me and is something I've been meditating on.
It is hard to go through a day without worrying. When we watch the news, we can get worried about our country or the latest health scare. My prayer for you today is that you choose to trust God and not dwell in fear or worry. Let Him take control and bring your anxious thoughts to Him. Pour out your hear to him–He wants to hear you! I would love to pray for you have something in your life that you are worried about. Please email me or leave a comment if you would like to share.
I certainly will struggle with fear and worry throughout my lifetime. I am not perfect and need God's grace daily. But today, I challenge you to replace your fear with faith in our everlasting Father.