I'm excited to share with you our latest DIY baby toy! I've been wanting to create a sensory activity for my baby to explore textures with. I decided to make a cube with different types of fabrics for him to touch and look at. It was a big hit!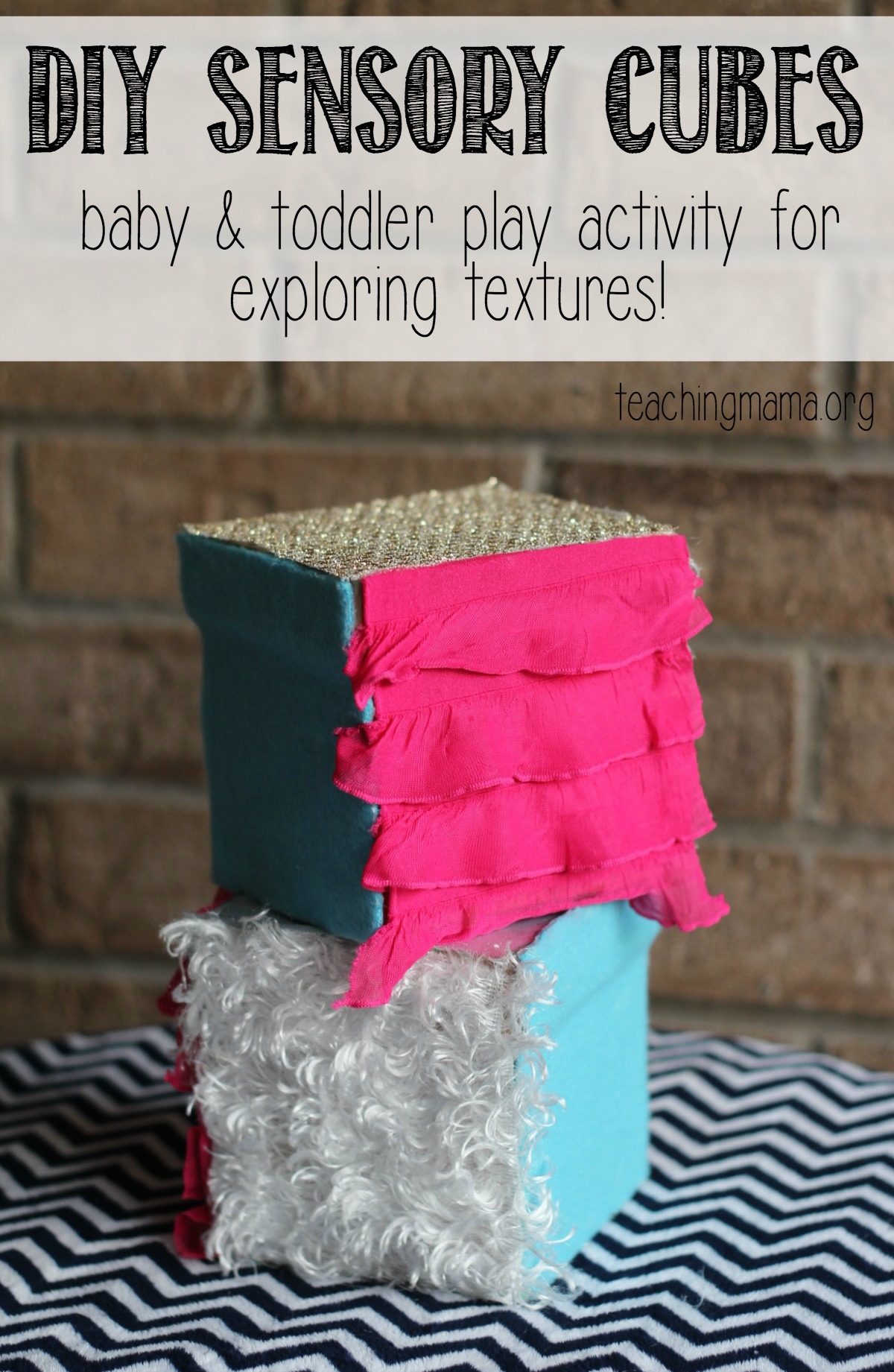 Here's what you need to make this:
cardboard cube
6 different types of fabrics
fabric glue
scissors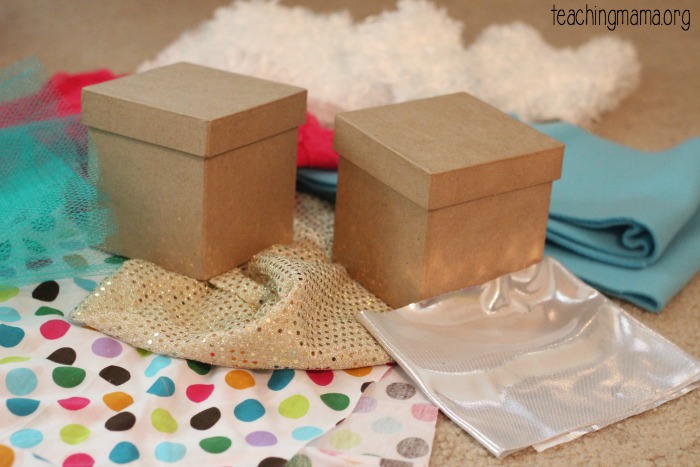 I found these cardboard boxes at Hobby Lobby for about $2.50 each. Ideally, I would've used a cube without a lid, but this was the size I wanted and the only thing I could find.
I also got 6 different types of fabrics at Hobby Lobby. They ranged between 20-75 cents for the scraps of fabric.
To make the cubes, I simply cut the fabric to fit the side of the cube. Then I slathered fabric glue on the side of the cube and put on the piece of fabric.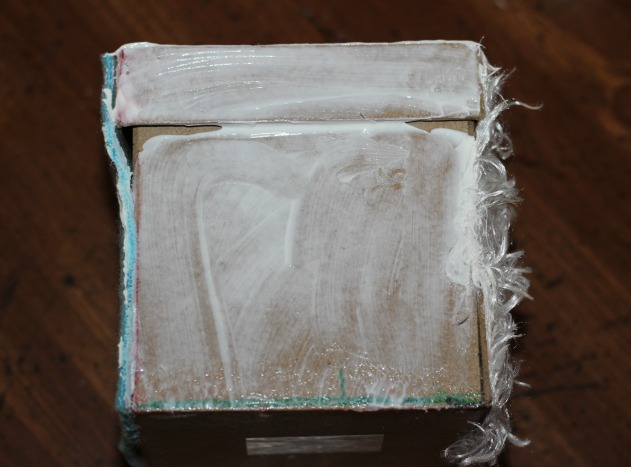 It was very easy. The only tricky part is cutting the fabric, since some are harder to cut. Here's how they turned out!
I used flannel and furry fabric.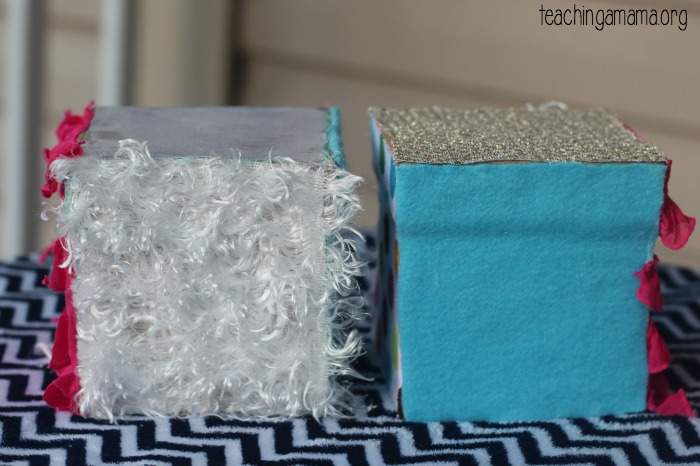 Here is jersey knit fabric and layered soft fabric (not sure the name of the fabric).
And I used gold sequins and silver stretchy fabric.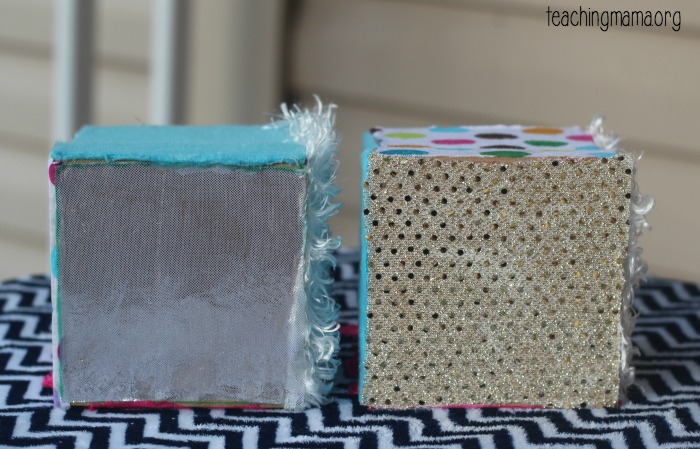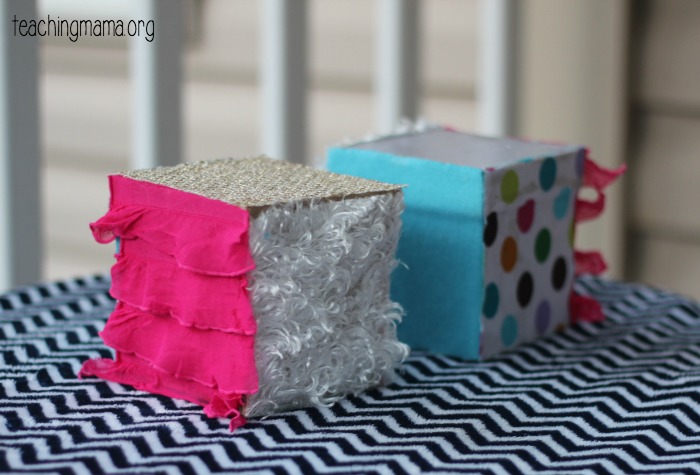 While I was making the cubes, baby work up from his nap. He spotted them and immediately wanted to play with them. He really loved the white furry side the best.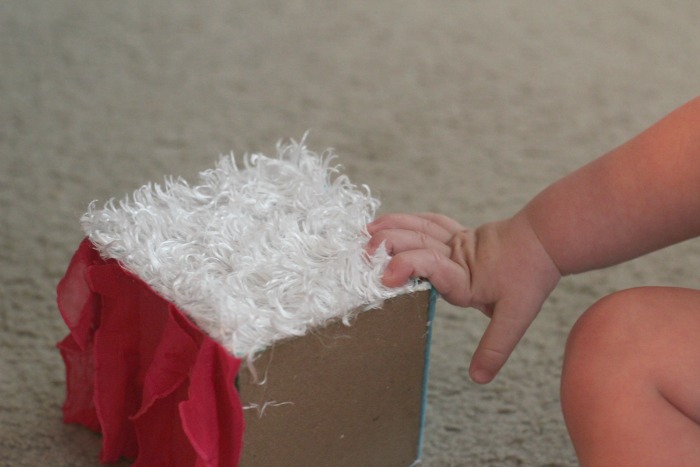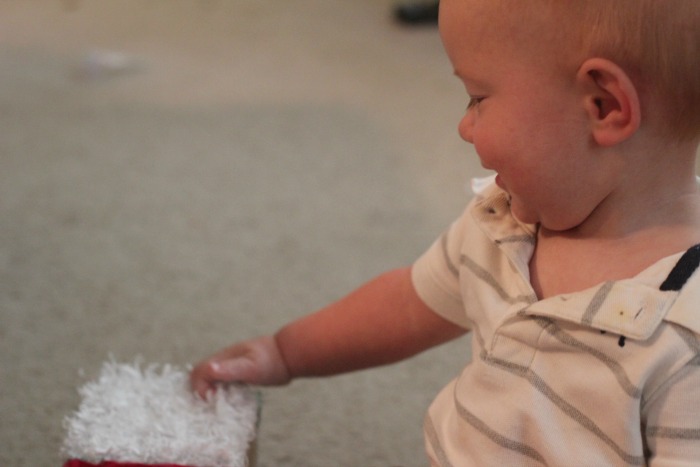 I love watching him play and explore. I've watched my older two learn and discover new things as babies, but for some reason the third time I notice much more. Babies are so much fun. 🙂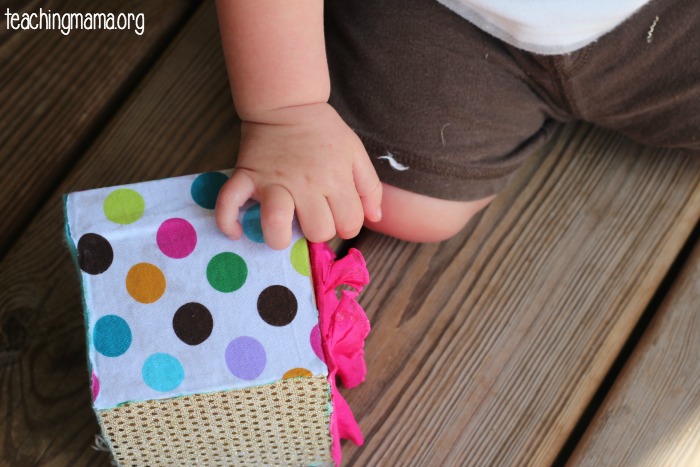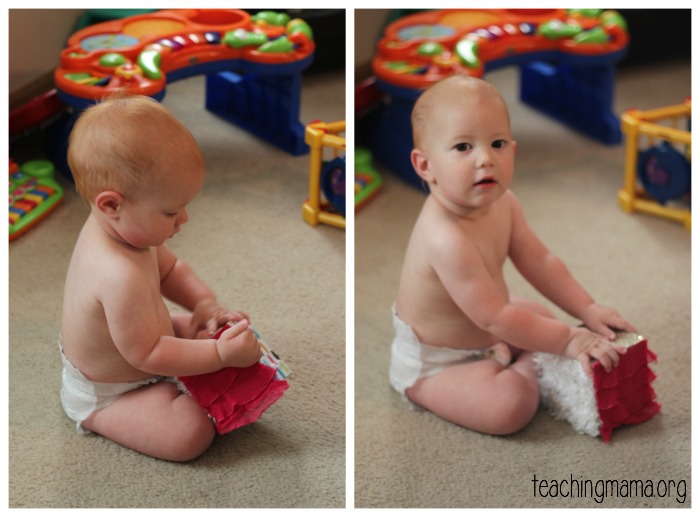 He loves playing with the sensory cube!
If you have a baby or toddler, this would be a great way for them to explore textures and colors. I hope you'll try it out!
---
And speaking of baby activities…I want to share with you the newest kids activities book! It's called Learn with Play and I was privilege to be a contributing author to this book. This book is so, SO awesome.
This book was created through the collaborative efforts of 94 awesome authors from the Kid Blogger Network. The book includes more than 150 amazing activities for babies, toddlers, preschoolers, and kindergarteners. Learn with Play is available in eBook, Kindle, or print formats.
The book is broken down into different categories:
General play / arts & crafts / activities
Early childhood education
Life skills
Organization and set up of play / reading / explore areas
Seasonal/holiday activities
I was able to contribute 2 activities to the book. My posts were on discovery bags for babies and fine motor weaving hearts for Valentine's Day.
Here's a look at a couple pages inside the book.
I am so honored to be a contributing author to this amazing book. Parents, grandparents, caretakers, and babysitters will love this book. I know it's going to be what I'll be buying for baby showers! Get your copy today!
Here are the links to buy:
eBook ($5 off until July 14th!) – $9.95
Kindle – $14.95
Print  – $29.95 (Actually the price is slightly lowered by Amazon because it is ranked as the #1 STEM book right now! Wahoo!)
You won't regret buying this book. It is an amazing resource!!