Oh I'm so excited to share our new sensory bottle with you today! This one is so much fun and we tried something really different this time! If your child is learning about penguins or just loves them, then you'll have to try this one out!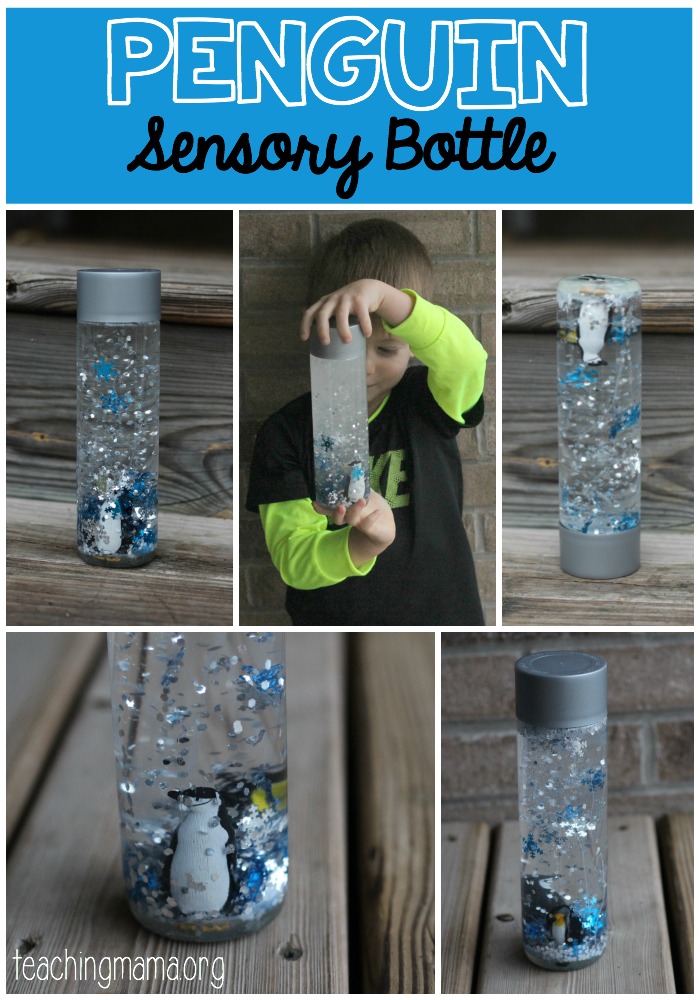 This post contains Amazon affiliate links.
This one need a little prep work, but it's not too hard! Here's what you need for this sensory bottle:
1 plastic Voss water bottle (or any other water bottle) filled with water
penguin figurines (we used 2 penguins from our Safari TOOB)
snowflake confetti (found at Hobby Lobby or here)
silver glitter
In this bottle, we glued the penguins to the bottom of it. I wanted it to look similar to a snow globe, so we used super glue to attach the penguins to the bottom. It worked great!! We squirted a hefty amount of super glue epoxy into the bottom of the empty water bottle. Then we lowered the penguins to the bottom and let it sit until the glue was hard.
Side note: My husband helped me lower the penguins to the bottom. I wish we would have taken pictures!! We put tape on the end of a drum stick, stuck it to the head of the penguin, then placed it in the bottle. Once the penguin was in the glue, we lifted the stick out of the bottle. Kind of a weird way, but it worked!
Then we added water to the bottle and poured in silver glitter and snowflake confetti!
A fun, snowy sensory bottle!
Lincoln liked rolling the bottle, while looking at it.
I think the glue on the bottom actually looks like an iceberg!
It's really pretty and also so hard to capture what it really looks like on camera!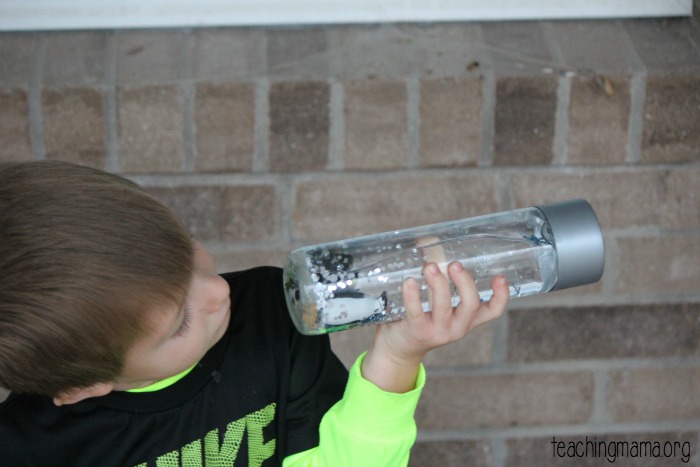 If you want the snowflakes to fall slower, you can take out some water and add clear hand soap to the bottle. You may have some bubbles, but it will slow down the falling of the confetti.
We've never done a bottle like this before and it was so much fun to try it out! I hope you'll try it out, too!
You can check out all of our sensory bottles here.