We've been studying bugs and insects this summer and one creature my boys have been so interested in lately are fireflies! They really are fascinating insects and it's been fun to see them outside glowing in the summer night.
Starting out, we read The Very Lonely Firefly, by Eric Carle. Although this is a fictional story, it still has facts about fireflies in the book. Plus it's just a cute story to read!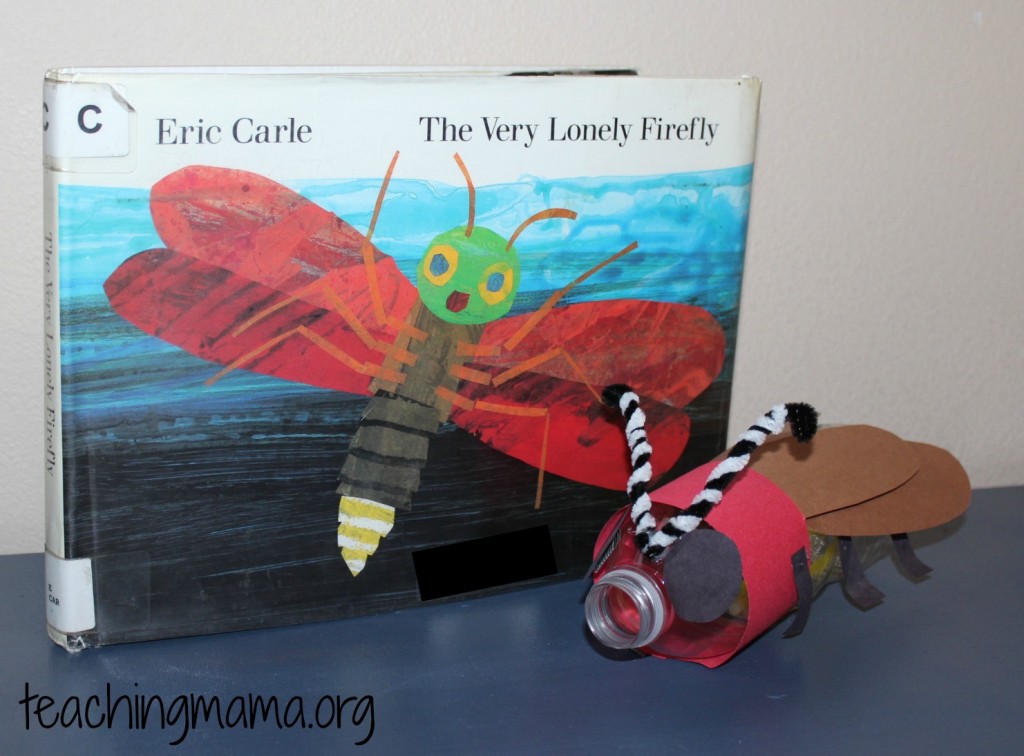 After reading, we made a firefly craft to talk about the parts of a firefly. Here's what you need for this craft:
empty water bottle
black and white pipe cleaners
black, red & brown construction paper
1 glow stick
tape
glue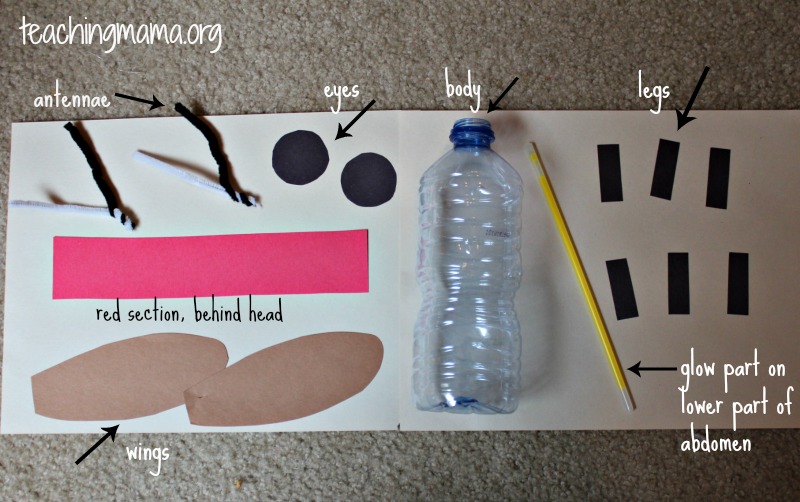 To prepare the craft, you will need to cut construction paper for the eyes, legs, wings, and a red section (which is behind their head). You can see in the above picture how I cut them out. We made the antennae black and white (because that's what they looked like in the pictures we saw). So I started twisting black and white pipe cleaner together and had my preschooler finish the twisting.
Once all your materials are ready for your child, then have them first tape the wings onto the water bottle. (We started out with just two wings, but learned later that they have 4 wings so we added two more wings underneath!)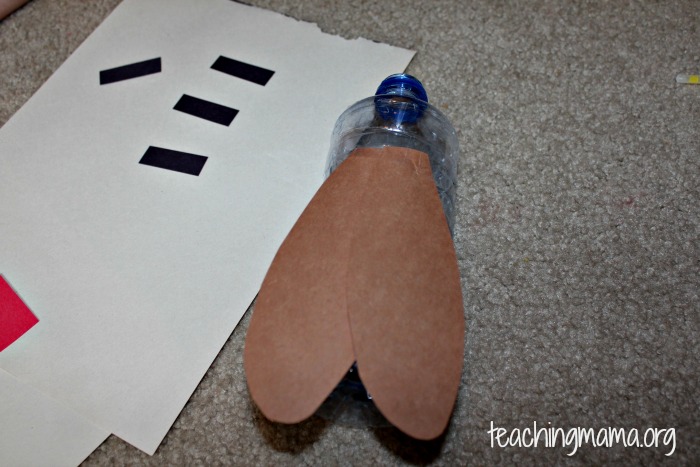 Next, we taped on the legs (3 on each side). Then we placed the red strip of paper around the bottle (in front of the wings) and taped it to the bottle.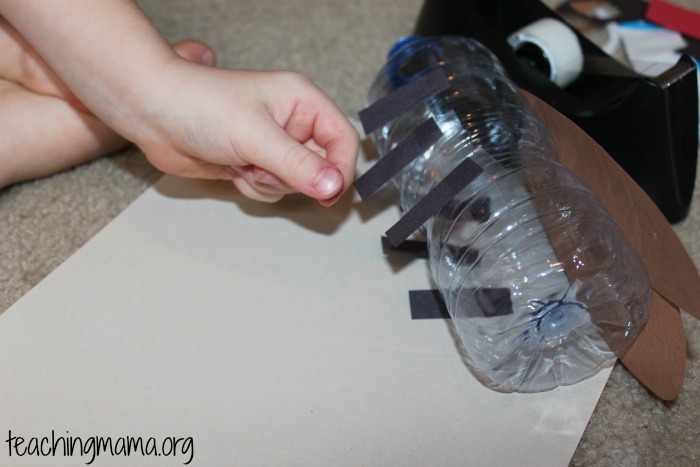 Then we glued on the black eyes. Fireflies have HUGE black eyes, which I never knew before! We also glued on the antennae (between the eyes). We decided to use a hot glue gun to make sure it would stay on.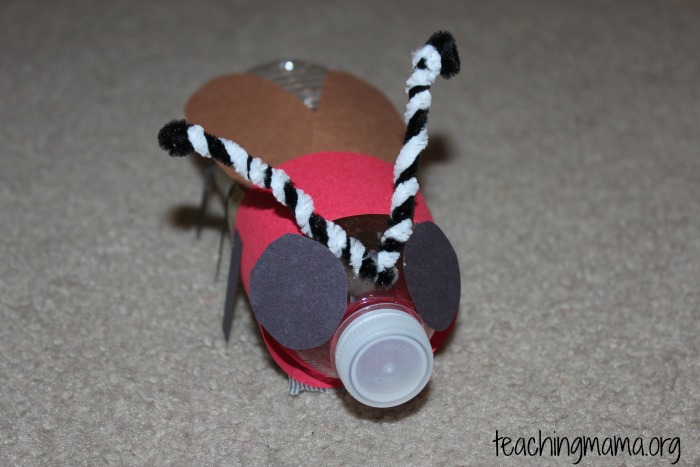 Lastly, we added the glow stick! I got a small glow stick, bent it in half and stuck it through the opening of the bottle. I shook the bottle until it reached the bottom.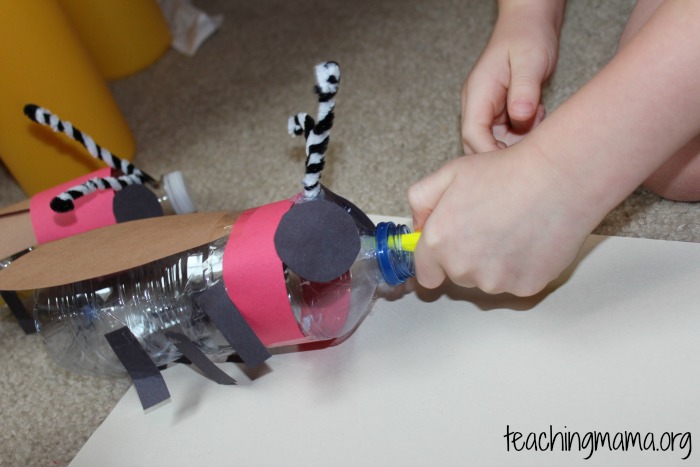 And that was it! Then we had fun taking it in a dark room and watching it glow!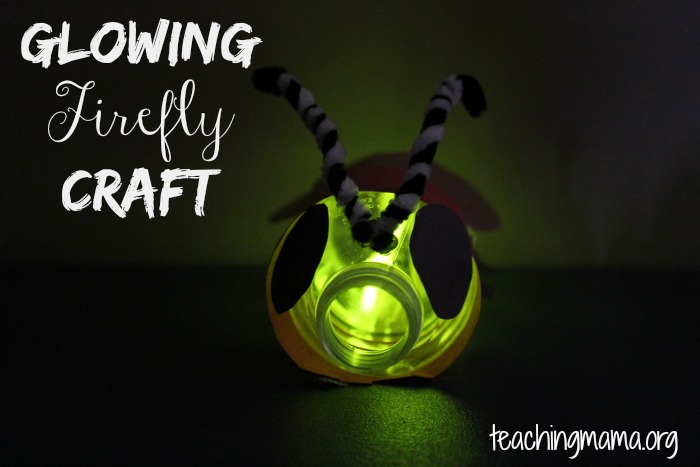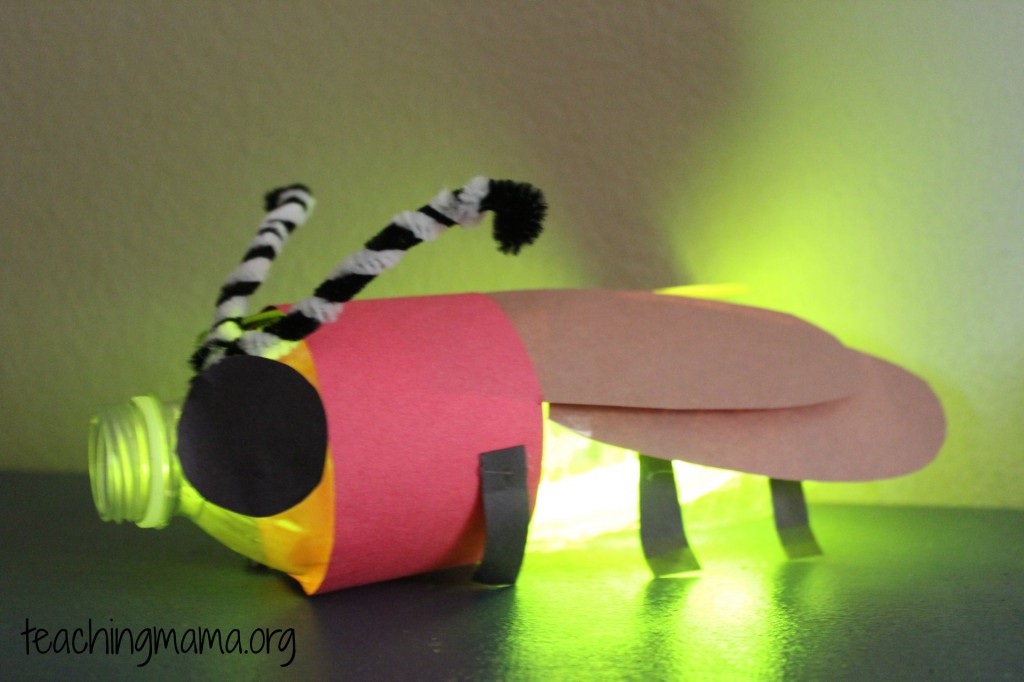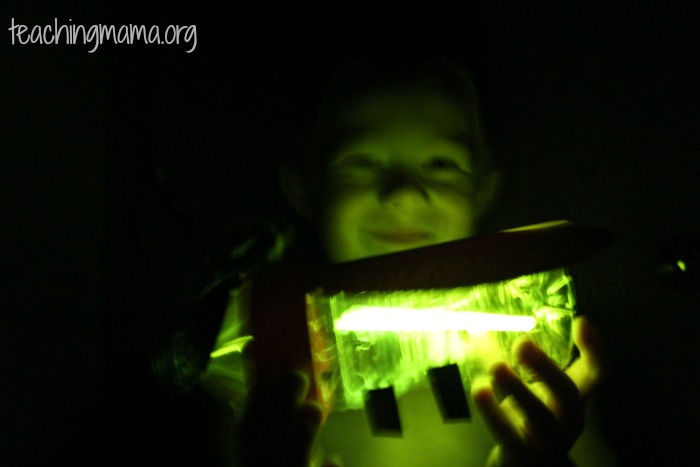 The boys LOVED using their firefly for a nightlight that night. Of course it doesn't last long, but you could always add more glow sticks to the bottle.
We also watched this Wild Kratts video on Fireflies (which you can see on YouTube here) and learned even more! Our last activity was going outside and looking for fireflies. We found a HUGE one on our bush in the daytime. It was fun to hear my boys notice that it looked similar to the craft we made! 🙂
If you are looking for a summer craft to keep your kids busy, you will have to try this one out!