Floating Hearts Sensory Bottle
We love creating new sensory bottles and today I'm excited to share with you our Floating Hearts Sensory Bottle. This one is perfect for Valentine's Day and it only needs a few ingredients!!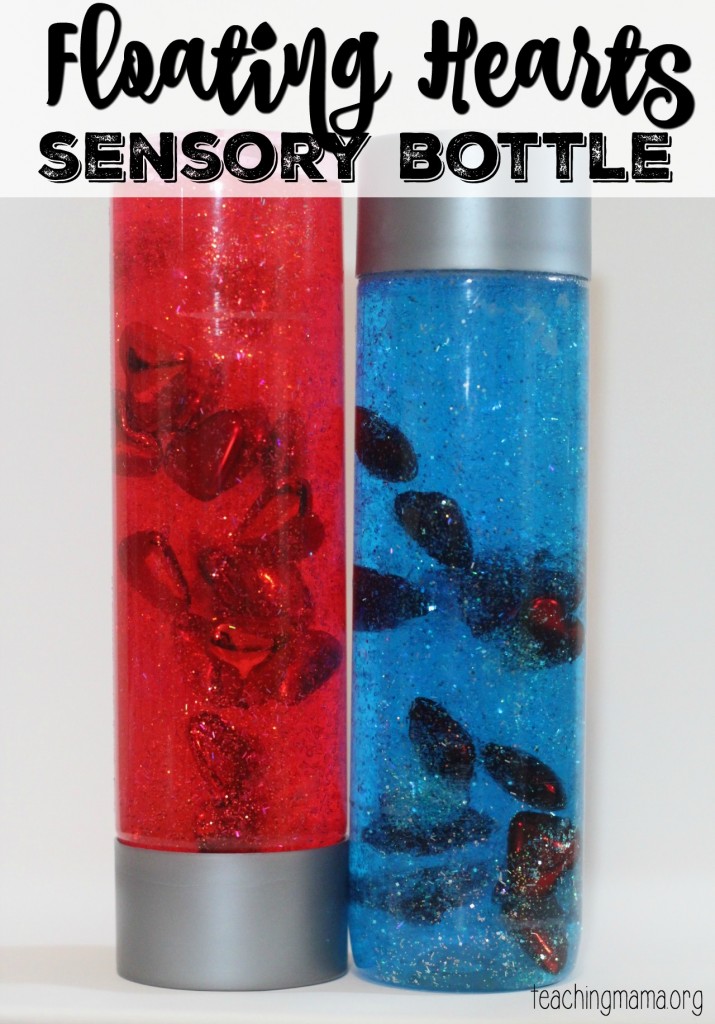 Here's what you need:
plastic water bottle (we use the VOSS ones)
1 bottle of glitter glue
warm water
food coloring
heart stones (from Hobby Lobby) – these are similar
To start, pour about half of the bottle of glitter glue into the water bottle. Next, pour in the warm water. Also drop in some food coloring to make the water colored (since the glitter glue doesn't color the whole water). Put the lid on and shake hard. It may take a minute to get the glue to mix with the water. Then open the lid and place the hearts in the water. Glue the lid on (with a hot glue gun) to make sure the lid doesn't come off. You don't want a child to open this sensory bottle up! 🙂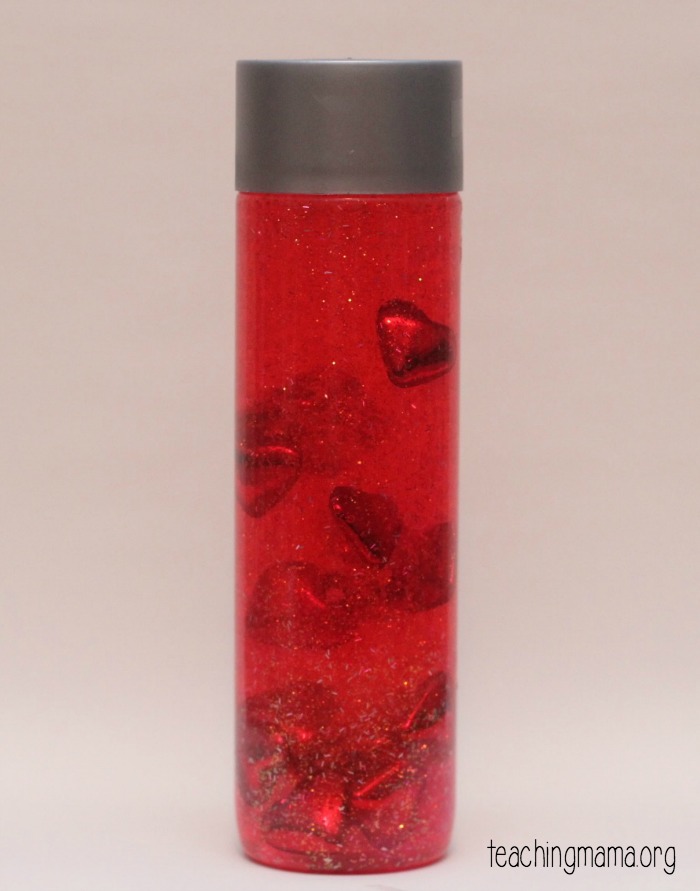 The glitter glue in the bottle helps the hearts float down more slowly, instead of using water or another liquid. The longer you let your sensory bottle sit, the slower the hearts will fall! I actually created 2 of these bottles with blue glitter glue and pink glitter glue. I let the pink one sit for a couple days and it changed the bottle to look red!! That bottle also made the hearts move much more slowly than the blue one, which I had just made a couple hours before taking these photos.
My boys loved checking out the new bottle, too!
It's fun to shake or just look at the hearts swirling around.
If you're a visual person (like me!) you'll want to check out our video on how to make the bottle and what it looks like when it's done!
To see some more Valentine-themed sensory bottles, check out these lovely ideas below…
Color Mixing Sensory Bottle | Preschool Inspirations
"Full of Love" Calm Down Jar with Printable Calming Affirmations | Lemon Lime Adventures
I Spy Love Sensory Bottle | Modern Preschool
Alphabet Discovery Bottle: Valentine's Day Activity for Kids | Sunny Day Family
Water bead Hearts Discovery Bottle | Sugar Aunts
Slow Falling Hearts Sensory Bottle | Rhythms of Play
Heart Glitter Jar | Fun-A-Day
Happy Valentine's Day!