I am excited to participate in the 31 days of ABCs brought to you by some wonderful bloggers! Today is my turn and I am sharing an activity to go along with the letter U. At first I was thinking of umbrellas or underwater creatures, but I decided to do go in the direction of what's underground…what lies beneath the earth.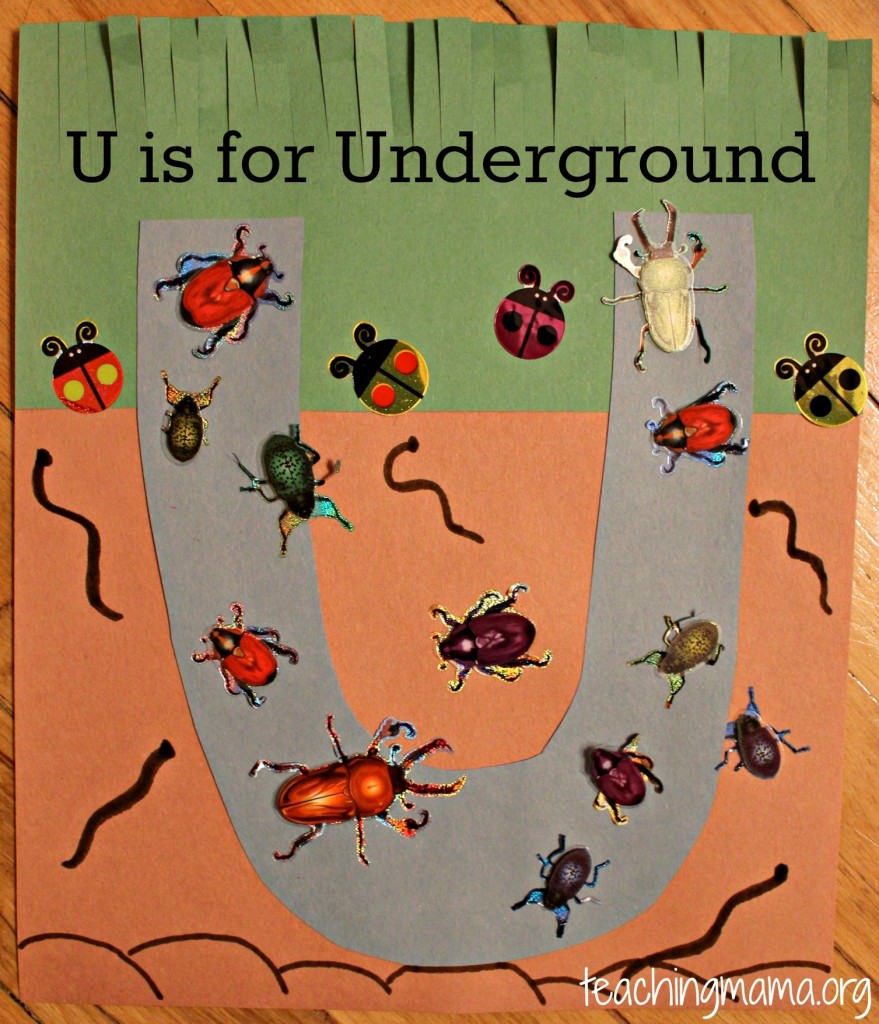 We were playing in the backyard recently and the kids were digging in the ground. The question came up about what lies underneath the ground. I thought this would be the perfect opportunity to bring up this lesson. To make this hands-on, we made a model of the layers underground. For this, we collected large rocks, gravel, sand, soil, and grass. Here's the model we came up with!
In a large plastic bin, we laid down large rocks to represent bedrock. Bedrock is simply solid rock underneath loose deposits such as soil.
The next layer is weathered or decomposed rock. We used gravel and small rocks to represent this. Then we poured sand on top for the subsoil (or a mixture of small particles, such as sand).
Then we put a layer of soil on top (called topsoil) and sprinkled grass on the very top! This was not done to scale, but it was a general representation of what's underground.
We talked about animals and insects that live underground. Then we added some beetle stickers to the outside of the bin to show that they live underground. I wanted to find animals, such as a groundhog or a prairie dog, but they did not have those stickers at the store. However, my kids had fun with putting the stickers on!
And here are some great books to use with learning about the Underground:

Take a look at so many other alphabet activities here:
This Reading Mama, Nothing if Not Intentional, Sugar Aunts, For the Love of Spanish, Craftulate, Diapers-n-Heels, The Good Long Road, Here come the girls, Toddler Approved, Discovering the World Through My Son's Eyes, Princess And The Rock, Kids Yoga Stories, Frogs & Snails & Puppy Dog Tails, Little Bins for Little Hands, The Measured Mom, P is for Preschooler, 3 Dinosaurs, Preschool Powol Packets, Crayon Box Chronicles, Juggling With Kids, Toddling in the Fast Lane, Teaching Mama, Still Playing School, Mamas Like Me, All Done Monkey, Little Hiccups, LalyMom, What to do with the children, Teachers of Good Things, Stir the Wonder, Scribble Doodle and Draw
Do you have a letter U activity to share? Come link up below!!