Toddler Tuesday: Goodnight Moon Sensory Bin
Goodnight Moon is a favorite story for many toddlers. We love the book so much, that we decided to make a sensory bin to go along with it! We are going through the letter 'M' with my preschooler, and one of our activities is to read Goodnight Moon 
and also explore a sensory bin. As I was putting together this bin, I thought my 2 year old (who really loves the book, Goodnight Moon) would love this activity. This is why I am sharing this with you on Toddler Tuesday. Although I used this as a preschool activity, I thought it was also great for an older toddler activity.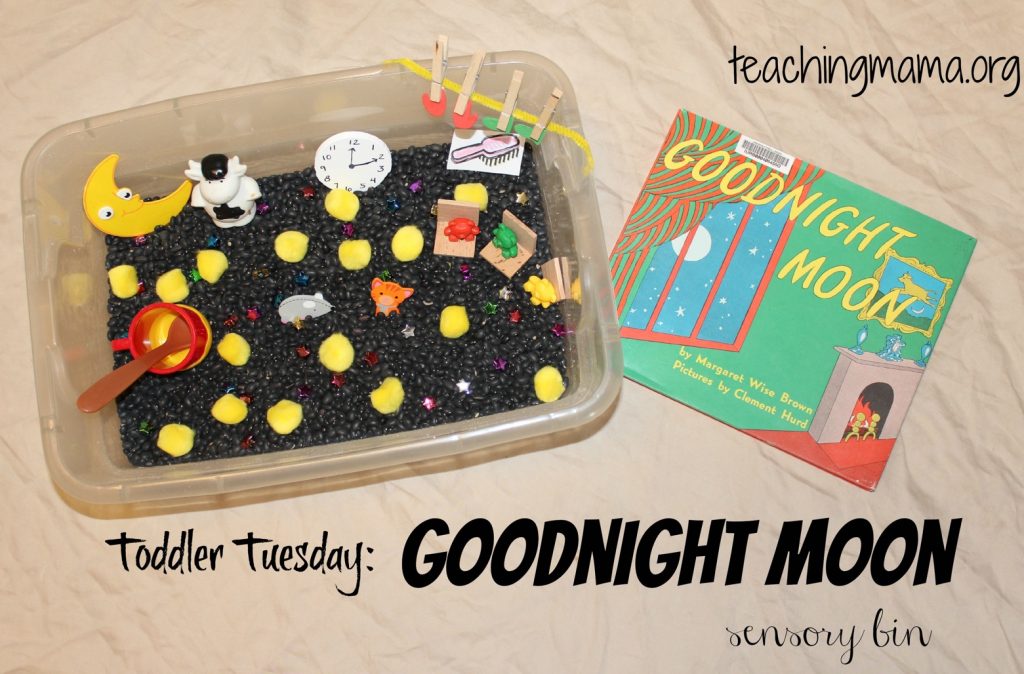 This bin really has material that goes along with the book. In the bin I added the following:
*black beans
*shiny stars (beads from Michaels)
*yellow pompoms (to represent moon)
*3 bears on chairs
*kitten
*mouse
*cow and the moon
*clock (I painted a wooden circle white, then added the clock face)
*corner for mittens and socks (hung on pipe cleaner with small clothespins. Mittens and socks are cut from foam)
*picture of a comb
*bowl and spoon (for mush)
Each of these items go along with what's in the book. There were more things I could have added to this bin that are in the book, but I could not find around my house or at the store. For example, I would have loved to add a bed with a rabbit, but couldn't find a small rabbit anywhere. Oh well, it doesn't have to be perfect! 🙂
When I presented this bin to my toddler, I read the story aloud to him. While I read it, we pointed out things in the story that we had in the bin. For example, here are the 3 bears on chairs.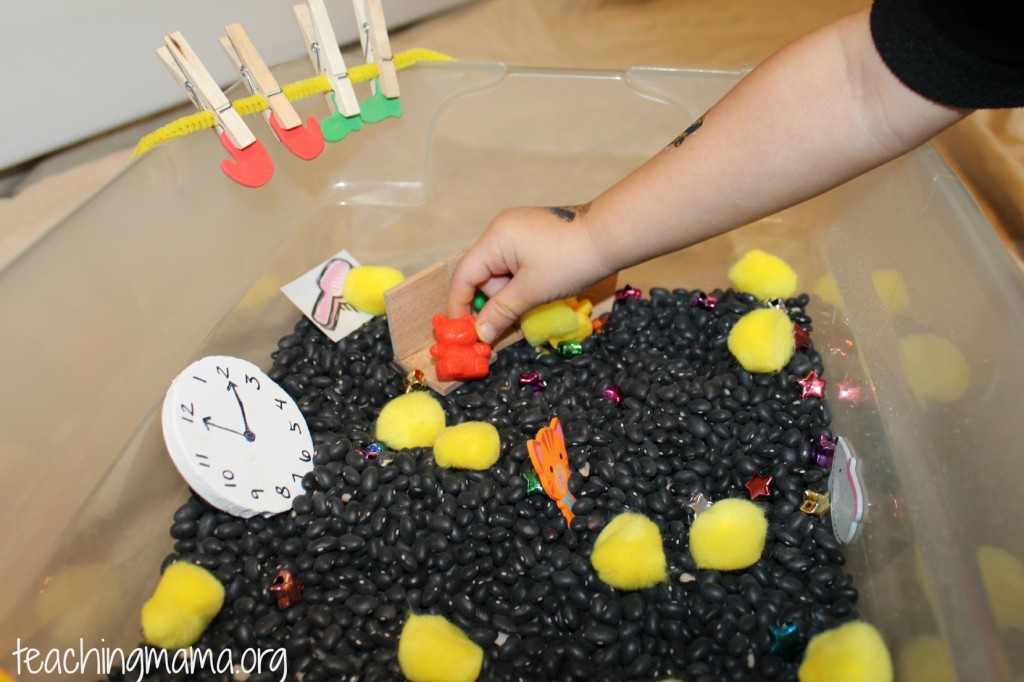 We also practiced clipping on the mittens and socks to the clothespins (with help from mom!). This is good practice for fine motor skills, but your child may need assistance with this!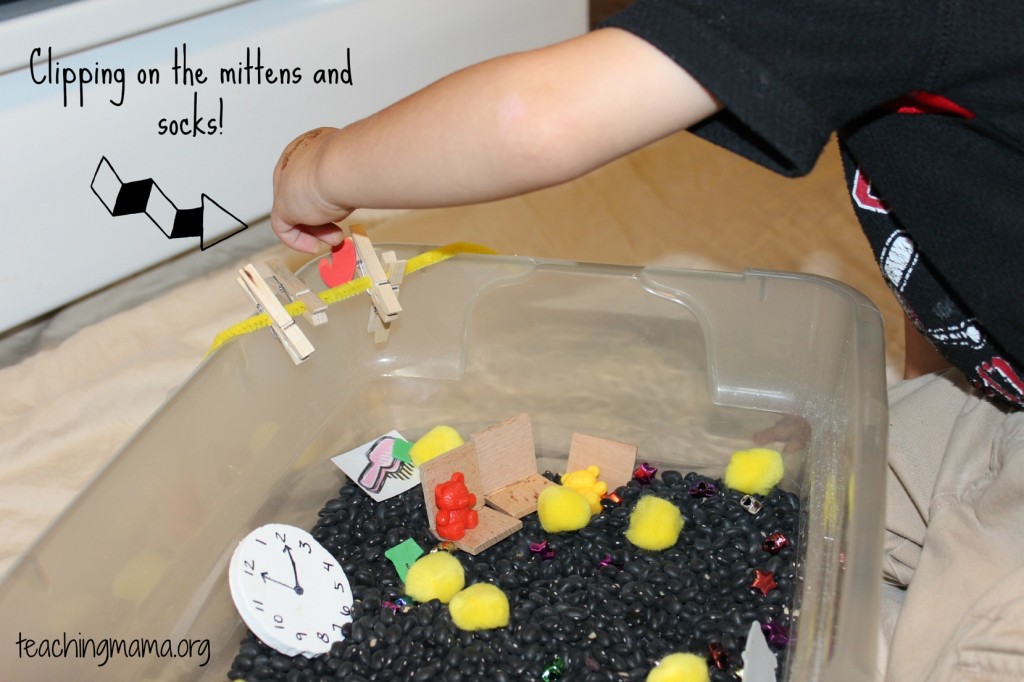 And we scooped "mush" into our bowl.
And of course, I gave him plenty of time to just explore and use imaginary play. His absolute FAVORITE thing to do was say "the cow jumped over the moon" and then show me with his cow and moon.
This bin was tons of fun! I loved it because it helped him practice listening skills, comprehension skills, and fostered imaginary play.
After the bin, we made our own moon with craters. To do this, I mixed yellow paint with a small handful of flour. Then we painted a circle moon onto black paper. Here is my almost 4 year old painting his moon. I painted the circle for my 2 year old. After the moon was painted, we took a bottle cap and stamped it all around to make craters!
Here's the final product!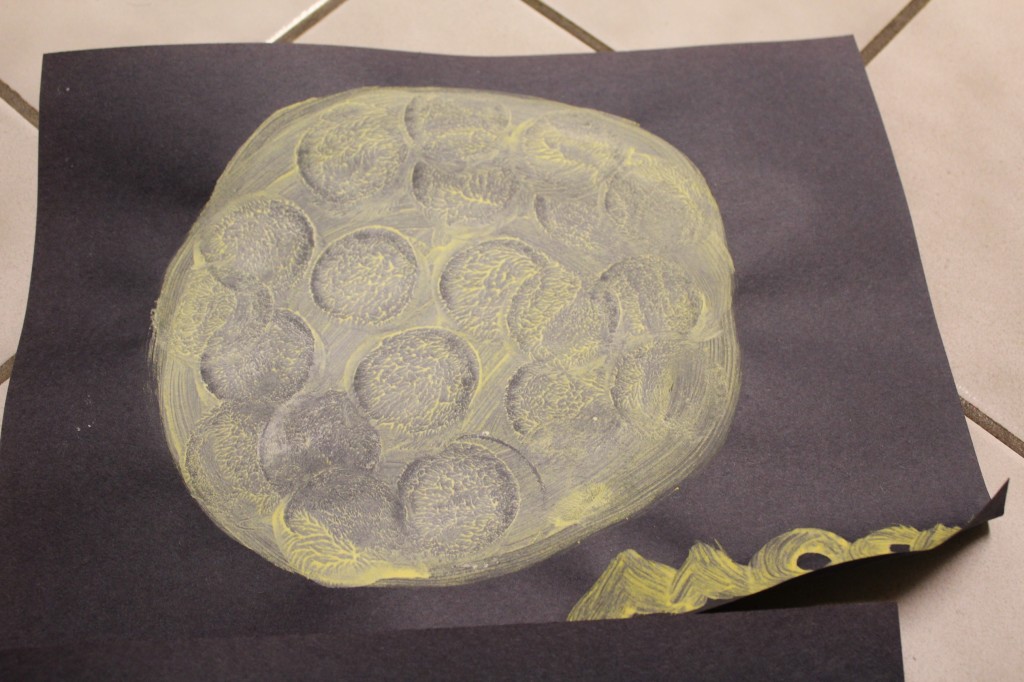 Hope you enjoyed taking a peek at our Goodnight Moon activities! Do you have a fun activity to share that goes along with this book?