The day is FINALLY here! I am so excited that I can finally share The Toddler Journey book with you. Many, many hours were spent creating these activities, writing them, and designing a captivating book that you can actually hold in your hands!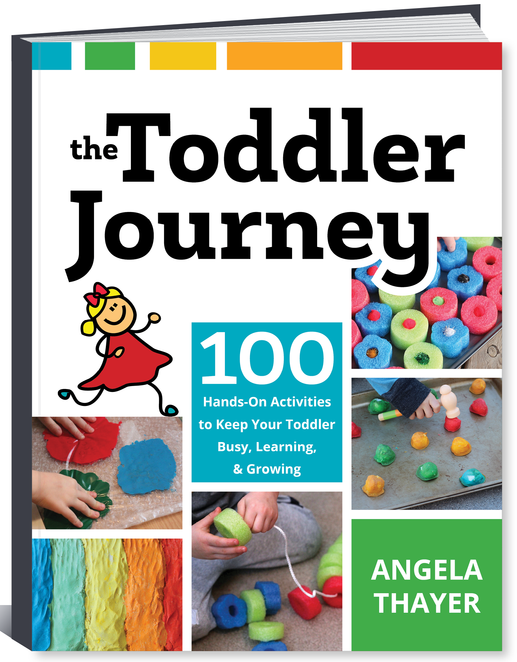 I'm a lot like you, weary mama. There are days where I stare at the clock and I literally don't know what to do with my toddler all day to make the time go by more quickly. But after having 3 toddlers, I have figured out how to not only make the hours of the day go by quickly, but to also make my time with them meaningful. Because you know what? The years go by quickly! 
If you're a parent, grandparent, or caregiver to toddlers, THIS is the book for you. You can even use many of the activities in this book with older children. I designed this book to be a resource for all caregivers to toddlers with activities that are simple, engaging, and fun!
Here's what is included in The Toddler Journey:
List of developmental milestones for toddlers
Hands-on activities for sensory play, gross motor skills, fine motor skills, art, and more
100 toddler activities categorized by age groups
Each page is filled with color. Take a peak at one of the sample pages!
At the top of every page, I share what age group this activity is developmentally appropriate for. I put them into these age groups: 12-18 months, 18-24 months, and 24-36 months.
My favorite part of the book is that you can do most of these activities with materials you already have at your home. These are simple, engaging, and FUN activities your toddlers will love.
The Toddler Journey is available in ebook, kindle, or print. (You can also find it on Amazon.)
BUT before you go…let me share with you a special launch bonus I'm offering to you! For just 1 week (June 1 – June 8), I am giving away
10 printable toddler busy bags
for anyone who buys the
ebook
version of
The Toddler Journey
! (Not Kindle or Print!) I love how these busy bags turned out. They are so easy to assemble and are great quiet activities for little ones.
Here's what's included in the busy bags:
Build a Pizza
Matching Animals
Matching Colors
Matching Shapes
Color Matching Wheel
Flower Threading
Craft Stick Puzzle
Create a Face
Dress Up Weather Frog
Matching Colored Faces
This is an awesome deal! These will be for sale in my store next week.
I love toddlers. They are curious little explorers that learn so much from 12 months to age 3! This book will not only help you keep toddlers busy throughout the day, but will also create memories with them that you will cherish forever.