Disclosure: This post contains affiliate links to Amazon.
Are you a history person? I wish I was! I am determined to foster a love of history in my kids, so we start early in this family. Hands down the best resource for kids on the subject of Thanksgiving is Pete the Cat – The First Thanksgiving! It is interactive with flaps and also gives a great amount of history in short sentences. To enhance the retention of history I'd like to share what I have done to make this book come alive.
After reading the book, we started with making Pilgrim hats; as we made them, we talked about where they lived, why they are leaving, what kinds of things they might bring. Asking what they would bring usually has a very entertaining answer!
Here's what you need for the pilgrim hat:
Black Construction Paper, 2 pieces (cardstock works best, but you can bend a bit in the middle at the end to help keep it straight)
Yellow Construction Paper
White Construction Paper
Tape
Cut 2 strips of black construction paper and tape them together.
Measure around your kids' head and cut the excess and tape together.
With the other paper, cut 2 slits on either side about 3 inches each side, making sure the height is larger that the height of the previous strips.
Then, cut from the top towards the slits, making the hat base.
Cut an 1.5 inch thick strip of white construction paper the length of the hat piece.
Cut a yellow square and white square.
Glue together to make the traditional pilgrim look. Take the hat piece and then glue to the head circle you made earlier.
After we made the hats, the kids boarded the Mayflower! This is by far the best holiday activity we have done! The kids will play for days! (by that time, you have a huge clothes mountain and need the laundry basket!)
Here's what you need:
Laundry basket
Broom pole (mine happens to unscrew, but you can still use one that doesn't)
Strips of cardboard (cut from an Amazon box)
Brown craft type paper (keep that brown paper from Amazon boxes!)
Packing tape (it is sturdier than regular tape)
White cardstock paper
Red dot marker
First, tape the pole to the basket; you don't need to make this pretty, the kids will not care!
Next, tape on the 2 strips of cardboard about 2 feet apart, making an X at the intersection works well. It all starts to look cool when you add the brown paper.
Tape at the bottom and top cardboard pieces, allowing for excess room for "sailing" appearance.
To add some extra pizzazz, have your kiddo dot marker a red cross shape on white cardstock paper. Tape that at the top and then hop in! This is a great time to talk about how crowded it was on the ship and how a lot of people got sick and died.
Once we hit land, we met the Native Americans! We made feathered head-dresses as the Wampanoag tribe would have worn. We discussed how they were helpful to the Pilgrims, teaching them to farm local crops. To make the head-dress, start with 2 strips of felt (or construction paper), connect via tape based on kid's head size. Attach feathers with tape or fabric spray glue (this is best!) and voila!
A great way to show hands-on what a harvest looked like is by setting up a sensory bin! These are the things you can throw in (we stick with traditional items that the original Native Americans would've harvested themselves): Indian corn (the multi-colored corn with dried husks usually found with décor items), cornmeal, beans, squash, pumpkins and other gourds, and oats. *Interesting fact to tell the kiddos – corn was not eaten off the cob; it was dried and ground to use for cooking and baking.
On Thanksgiving Day, we love to talk about our favorite foods and discuss if it would have been eaten at the original Thanksgiving or not. You'll be surprised how often the answer is no. From some historical research I've done, here are the documented foods they ate at the original Thanksgiving: duck, goose, deer, lobster, pumpkin, squash, cornbread (a little different than ours today) and melon. No pie y'all!
Happy Turkey Day!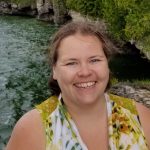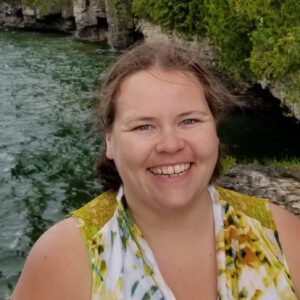 BIO: Rachael Alley is a mother of 3 and wife to a loving husband. Rachael is a former chemist turned stay-at-home mom currently residing in Chicago, Illinois. Her favorite things to do with her kids are random science experiments and dance parties. On the weekends she enjoys time doing outdoor activities like hiking, kayaking, and canoeing.