December has arrived and so has winter! It doesn't snow much where I live, but we have so much fun when we visit the snow. One of the first things we do is build a snowman! It's wet, slimy, and full of wonder!
Let's bring snowmen home with us in this super fun activity. I call it "Snowman Bowling." Kids will learn colors and numbers through active play! Are you ready?
What you need:
3 (or more) Empty 12 ounce drink bottles (could be little water bottles)

3 Markers, each a different color

2 Googly eyes for every empty container you have

1 Orange sheet of construction paper

1 Bottle of Glue

1 Pair of Scissors

1 Ball (any size)

1 Black Marker

1 Bag of Cotton Balls
Steps:
1. Have your child fill up each bottle with cotton (snow).
2. Place the bottles upside down on their "caps" and make a dot with each marker (One color per snowman.)
3. Cut out one small triangle from orange construction paper for each bottle you have.
4. Count out two googly eyes for each bottle you have.
5. Using the glue, glue two googly eyes on each of the snowmen.
6. Fold the non-pointed end of each triangle down to make a crease. 
7. Glue one creased orange triangle underneath each of the snowman's eyes to make a carrot nose.
8. Using a black marker, draw a button mouth on each of the snowmen (under the carrot nose.)
9. Put the cap (hat) back on top of the bottle. (Optional: Kids can color the cap with markers.)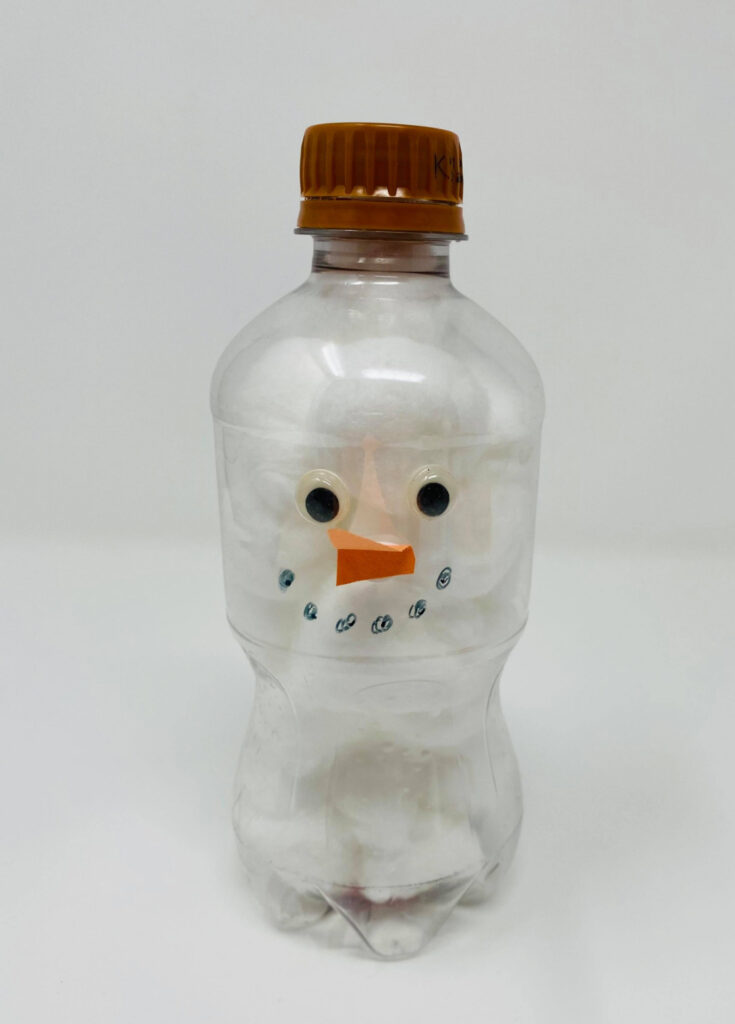 10. Stand all of your snowmen up and place them in the corner of a room.
11. All your child to use a ball to "bowl" towards the snowmen.
12. Ask your child how many snowmen were knocked down this time!
13. Ask your child to identify what color snowmen were knocked down by looking at the dot on the bottom of each bottle.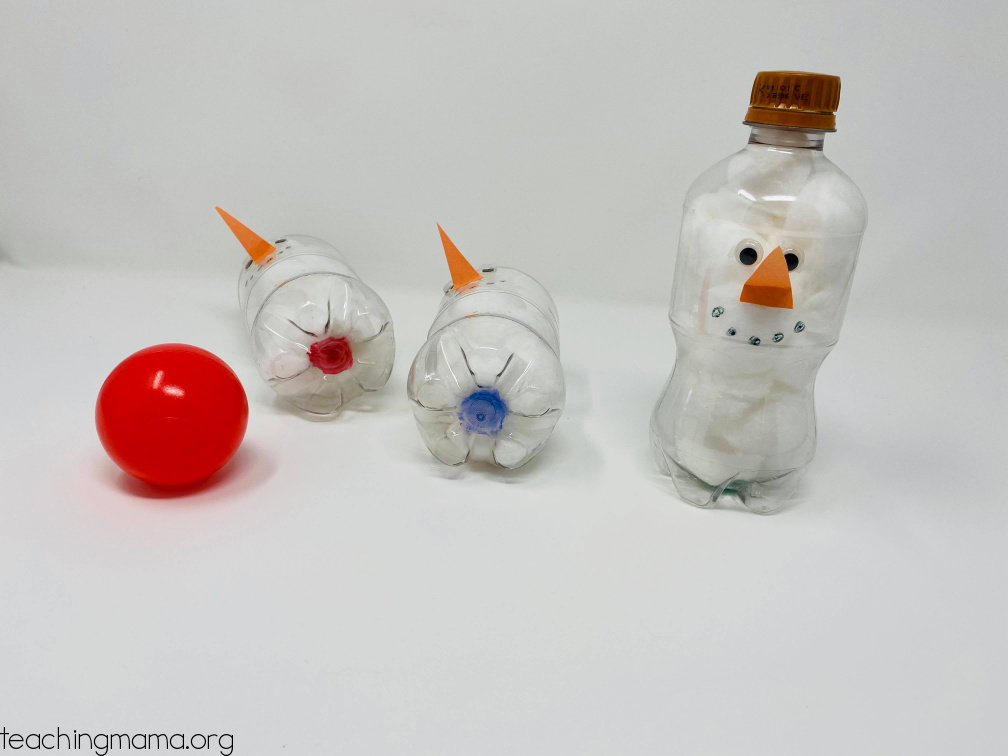 Take it to the next level
If you have children that are working on alphabet or number identification, here are some ways to take this activity to the next level.
1. Instead of a dot on the bottom of each snowman, use different colors to write a letter or a number.
2. After your child "bowls" ask them to identify what is on the bottom of each snowman (color and number – or color and letter)
3. If you have enough bottles, write one letter of your child's name on each bottle, so it spells out their name. 
4. After your child knocks down each bottle, have them write the letters they have "knocked down" onto a sheet of paper.
5. Ask them if they know what the rest of the letters are that they need to find to create their whole name.
6. Continue playing until they have knocked down all the letters of their name and they can spell it on the piece of paper!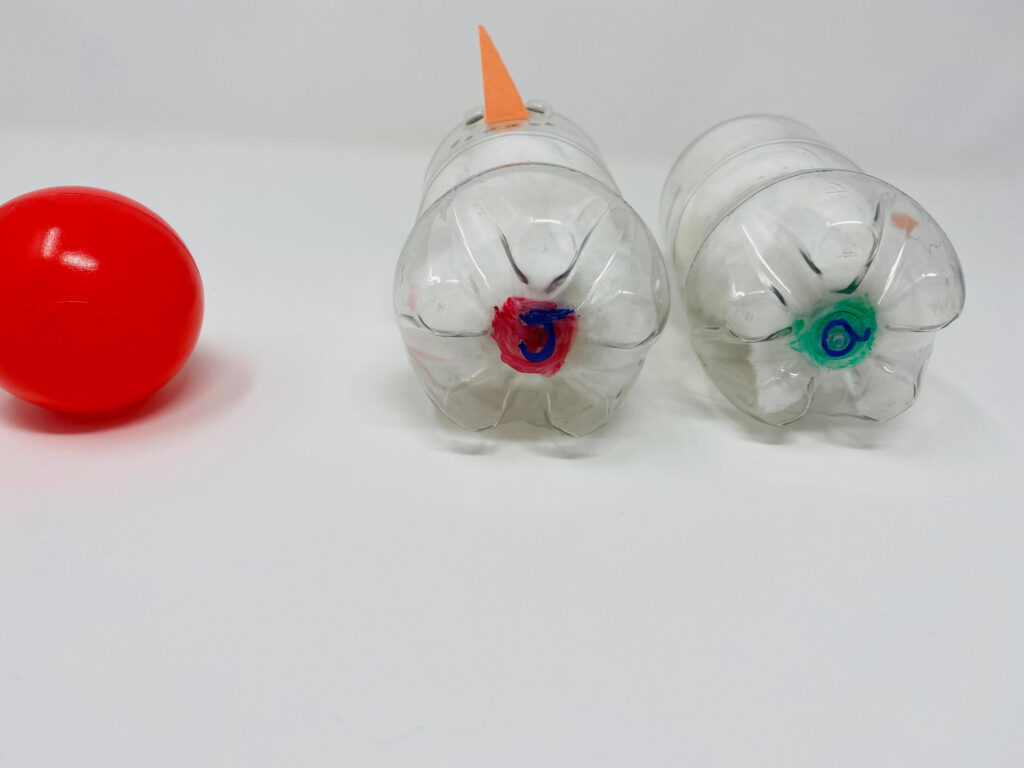 What did your child learn?
One to One Correspondence (Counting)

Fine motor development

Following simple directions

Using words to describe objects

Color Identification

Number Identification

Compare and Contrasting

Name Identification

Gross Motor Development

Body Part Identification
What a fun activity! My favorite part about this is that kids of all ages can participate. Whether your kids are learning colors, letters or numbers, this game is perfect for those "stuck inside" days. Learning can be fun especially when we incorporate movement into an activity!
Are you looking to teach your kids letters through more movement games? Check out "Sammy Chases the Alphabet" about a sweet golden retriever who plays fetch with letters around his farm! Help Sammy find all the letters, then play "fetch the alphabet" with your kids at home!
Bio: Jeana Kinne, MA received her Master's Degree in Early Childhood Education. She has been a preschool teacher, preschool director, parent educator, and now works with infants and toddlers with special needs. Jeana loves working with parents and families, creating simple and fun ways to teach children new skills.