We all love Pete the Cat! In this super cute book Pete realizes how much his parents love him and wants to do something special for them; to show them how much he appreciates them. This cute book is perfect for a Thanksgiving and family lesson. I have created a few fun learning activities that cover literacy, math, music, art & crafts, and character building with this sweet book!
Literacy
I have been teaching my daughter phonograms. I am using these letter blocks as we read through the book to spot the letters we are learning the sounds of. When she sees one of the letters in the book, she picks up the block and makes the sound. If you haven't started phonograms, it would be a great time to start with one letter. If your little one is at a writing stage, I suggest starting with the letter "t". The letter "t" only has one sound and easy to learn to write. If you haven't started any formal writing activities, start with teaching horizontal and vertical lines…perfect for learning to write the letter "t".
Math
Each page in this book has a lot of circles, squares, rectangles, and triangles. It's great for teaching about shapes. I have these 3d shapes, but you can also use construction paper and cut out a circle, square, rectangle, and triangle. Use them to teach your little one to identify and reinforce these shapes. You can also count the number of each shapes seen in the book for one to one correspondence.
Art & Crafts
I made this cute Thanksgiving placemat template. It's also made to tailor to other family members besides mom and dad. If your little one has a grandparent, aunt, uncle, or sibling that plays a special role in their life, you can make one for them too. You can grab the templates here. Use 5 sheets of construction paper: one to glue the template to, and the other four to cut out small shapes to decorate around the placemat. Let your little one write their name or help them. Allow them to glue the shapes around the placemat and review them as they go. Talk to them about the special person the placemat is being made for and ask them about the special ways that person cares for them. Write in at the bottom space. Laminate and let your little one give it to the special person.
In the book, Pete thinks of all the various ways he could show his parents his appreciation. He decides to write them a song. Feel free to sing this cute song with your little one. Use any instrument you have on hand. We don't have a guitar, but we have various other instruments. To make it extra fun, create your little one a Pete the Cat hat to wear while they "Rock On"! Take a sheet of construction paper cut in half vertically, glue, tape or staple together fit for their head; print out a picture of Pete in glue on to complete the hat!
I hope you and your little ones enjoy these fun activities.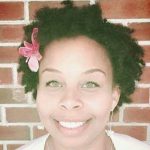 BIO: Melissa A. Johnson is a devout Christian, wife to Jeremy, and mother of 1 toddler girl, Brianna. She holds a Bachelors of Science and a Teacher Certificate. Melissa is currently a Pre-K & Kindergarten teacher and resides in Houston, Texas. She loves to create preschool activities for her daughter and cook!