I'm excited to share with you a review on a great parenting book–Parenting the QBQ Way by John G. Miller. I had the awesome privilege of attending a blogging conference a few months ago and one of the keynote speakers was John. Not only was he a speaker, he became a friend.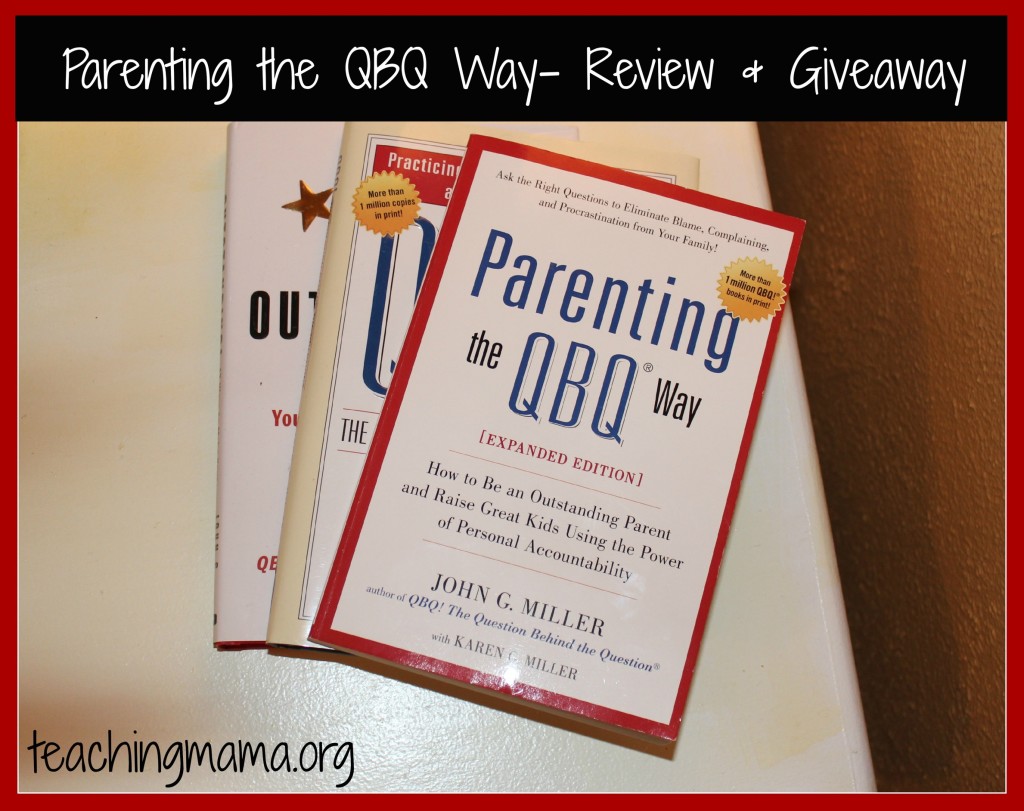 Here's my story on how I met the QBQ guy. The day before I left for Florida, there was a big snowstorm in Iowa. I thought it wouldn't impact my flight since I was flying the next day. I was wrong. As Lane dropped me off at the airport, I noticed the huge lines at our small airport. It seemed that everyone who was supposed to fly out yesterday had been re-booked for that day! I still got on my flight, but for various reasons the flight didn't take off for another hour and a half, which made me miss my connecting flight in Detroit. So, I had to wait several hours in Detroit and was bummed that I would miss the first keynote speaker, Money Saving Mom. God had other plans.
Since my flight was delayed, I arrived at Ft. Myers at the same time as John, his sweet daughter Kristin, and adorable granddaughter. Right away, we started talking, getting to know each other, and sharing stories . They were the neatest people and made me feel like I was part of their family. By the time we got to Captiva Island, it was dark and we were hungry. We caught the last few minutes of Crystal's talk and then John, being the genuinely nice guy that he is, took Kristin and myself out to dinner. It was so nice and I felt extremely blessed by them. If I had made my connecting flight in Detroit, I don't think I would've gotten to know John and Kristin as well as I did. John gave a dynamic keynote and inspired me. He was so generous and gave us 3 books at the conference: QBQ!, Outstanding, and Parenting the QBQ Way.
As I was reading his parenting book, I felt encouraged and challenged. The concept of the book is to take personal accountability in your parenting (and marriage) to raise great kids. QBQ defined is "Question Behind the Question". It's a practical tool that enables parents to look behind questions to find better ones and to practice personal accountability by making better choices.
Here are some examples:
Why won't my children obey me?  QBQ question –What can I do to set clear expectations and consequences—and follow through?
Why isn't my son more responsible? QBQ Question-How can I model responsibility in all I do?
Why is my toddler so difficult? QBQ Question-How can I acquire strong parenting practices?
This is a parenting book for all ages of children. It shares advice about being a good parental model, dealing with family stress, creating trust, family finances, becoming a strong parent, family unity, role of grandparents, humility, and more. I wish I could share all I've learned in this book, but for now, I'll share some of my favorite quotes from this book.
"If parents have problems with their teen, they likely had problems with their toddler."
"My child is a product of my parenting."
"Family stress is a choice." Do you really need your child to be in so many extracurricular activities? Did you absolutely need to take that phone call from a friend when it brought stress and made you late for an appointment?
"Outstanding parents discipline themselves to discipline the child. They are not afraid to be firm because they know it is the right thing to do."
"We can't be the best parent possible while reliving the past."
"Parenting never really ends. It changes."
This book is a quick read, but full of great wisdom. I highly recommend this book for parents of all stages of life. I am so excited to share that I have 3 QBQ parenting books to give away this week! Enter in the Rafflecopter below and I will announce the 3 winners on Friday, March 29th.