Happy Tuesday! Normally I share toddler activities on Tuesdays, but starting today I'll be taking a break from that and participating in iHomschool Networks's blog hop. Each week I will join them in sharing my top 10 list for different topics. Today's topic is 10 toys that have lasted in the home. Since my kiddos are small, I am choosing to share with you toddler & preschool toys that we've loved.
1. Playskool Ball Popper
– This toy is perfect to entertain toddlers! You push on the orange guy and the balls start popping up. They can catch them and put them back down the slide while listening to the fun music. Kids will get some exercise from catching the occasional flying ball.
2. Melissa and Doug Puzzles- We have quite a collection of these puzzles in our home. Starting as toddlers, my kids loved playing with them. I love that the pieces are large and are high quality. It's fun that some of them make noises when you put the piece in. Check out more puzzles on Amazon: Melissa & Doug Puzzles
3.Melissa & Doug Pounding Bench
  This toy is fun for toddlers to pound and good for practicing hand-eye coordination. Let them get some energy out!! These products are high quality and are made to last for a long time!
4. TRY-ANGLE by Discovery Toys
 My kids started playing with this toys as babies and my toddler still plays with it. Discovery Toys has awesome products and they last forever! I got this toy 3+ years ago and it still looks like new.  It's a foldable activity center with 5 sides to twist, turn, and whirl. There are a lot of fun activities on each side of the triangle. You can lay it flat or put it together like a triangle.  It's perfect to store in the car for a long car ride.
5. Giant Pegboard by Discovery Toys
 My youngest has spent countless hours playing with this toy! And it also still looks brand new! He loves building towers and knocking them over. My oldest counts the shapes and orders them by color or type of shape. We also have tower building contests. Oh and on the backside you can use the pegs and rubberbands to make shapes. I highly recommend this toy!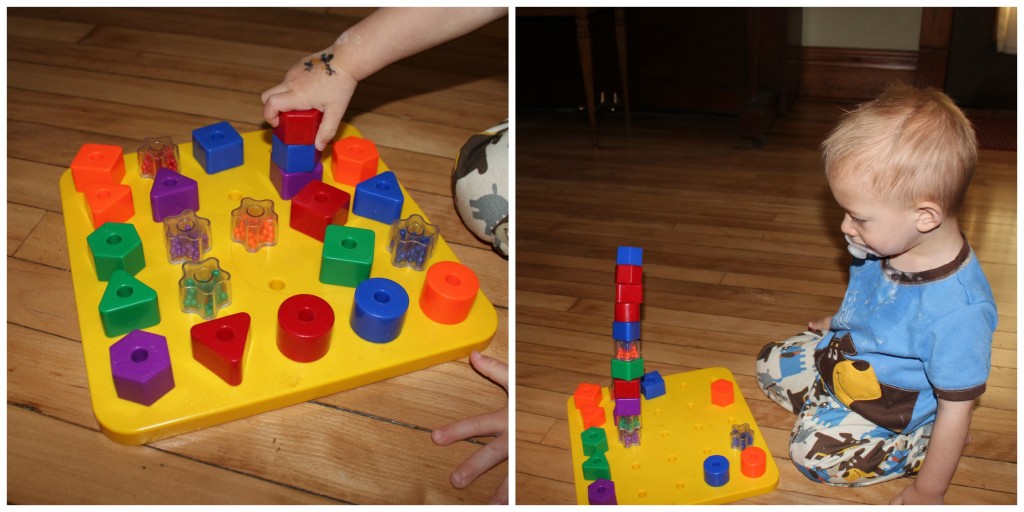 6. Melissa & Doug Joey Magnetic Dress-Up
 First of all, isn't this little guy adorable? He comes with 6 different outfits for him to change into: fireman, policeman, construction worker, superhero, pirate, & knight. My oldest has really enjoyed dressing him up.
7. Large Trucks- My guys love rolling these trucks around the house. They fill them up with items from our sensory bins and dump them in buckets. It's just fun for them to use their imagination. We bought these trucks from our local Learning Post store, but you can also find them online here: Battat Trucks
8. Fisher-Price Medical Kit
   It's so fun to watch my 3 year old use his imagination and dramatic play with this kit. It comes with a stethoscope, blood pressure cuff with a spinning gauge, a "sick-to-well" thermometer, pretend otoscope, spring-loaded syringe, and a bracelet style bandage that all fits into a bag for storage.
9. Marbleworks by Discovery Toys
 This toy is for older kids (around 3 years old) because of the small marbles. It's fun for my oldest to build the course for the marbles. Once again, you really can't go wrong with Discovery Toy products. They are amazing!!
10. Thomas Trains and Train Table  We play trains ALL THE TIME! My oldest is phasing out of trains, but my youngest is obsessed with Thomas the train. We have many toy trains and last year we received a train table for Troy's birthday. It has been played with for many, many hours. These are great toys for boys and they can really use their imagination while playing. Here are some other great train tables —>Train Tables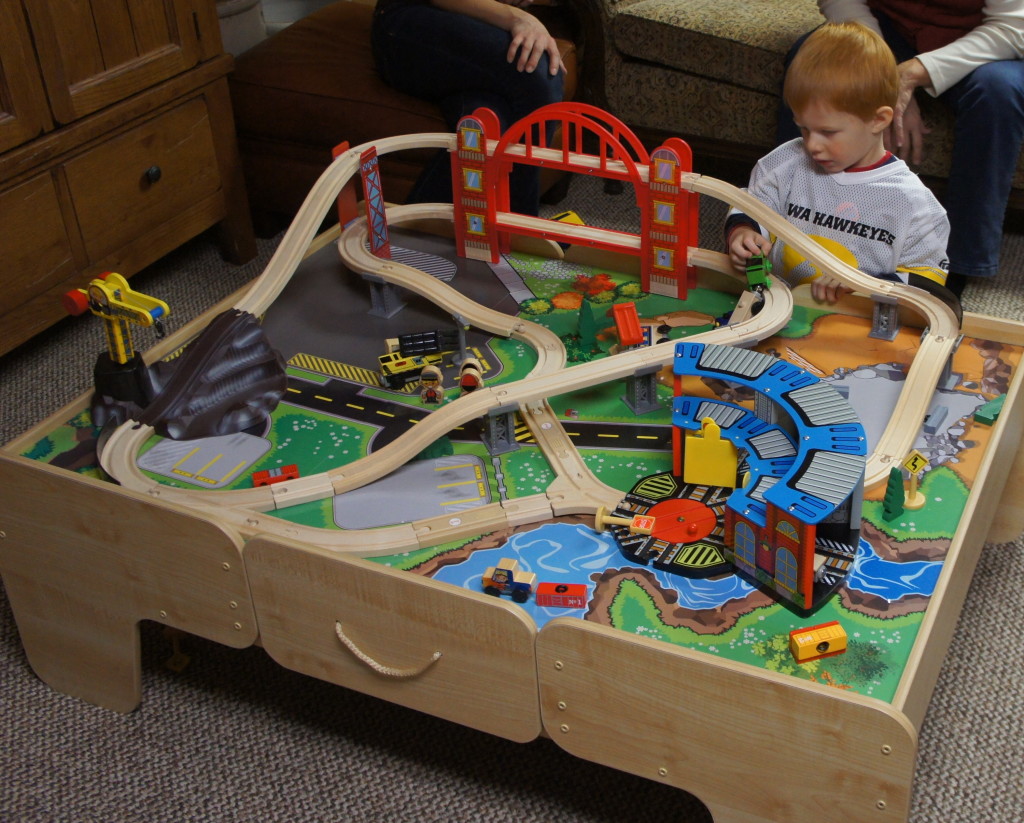 As you can see, we really love Discovery Toys and Melissa & Doug toys. What are your favorite toys for toddlers and preschoolers?
*This post is a part of the iHomeschool Network's 10 in 10 Blog Hop. Visit other bloggers to see their take on the same top ten list each week.
*This post contains affiliate links. I appreciate your support of this site.