Friday Favorites – End of June
How is it already the end of June?! This month just flew by! I am a huge fan of summer and I wish it would last longer. We live in the Midwest, so it's very cold and snowy for a good part of the year. When spring and summer get here, we are always outdoors. The kids love doing anything outside!
Here are some of my favorite moments from the past two weeks…
Dating my husband is one of my FAVORITES. He is my rock and my best friend. We haven't been going on too many dates since Lincoln joined our family, but we did get to go to a wedding a couple weeks ago. And we actually snapped a picture together!
Like I mentioned earlier, my kids are big fans of anything outdoors! Here are some of our FAVORITE things we've been doing this summer.
The kids are loving the slip 'n slide! We have gotten so much use out of this.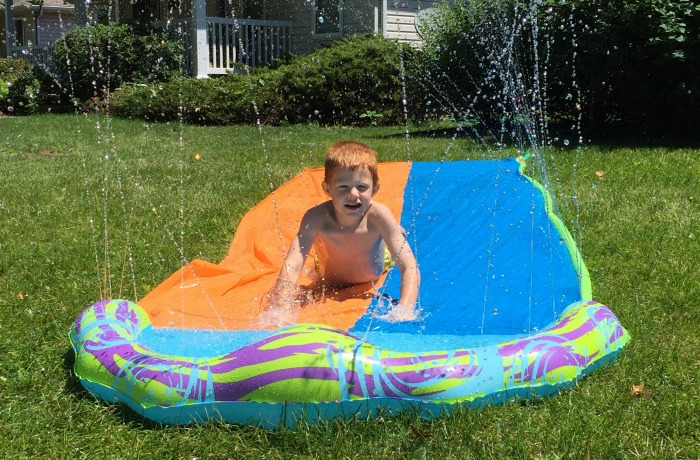 We also have been using the sprinkler. I'm sure our grass will look awesome this summer! LOL!
Water balloons have also been a huge hit! (Have you tried the magic water balloons
?! They make blowing up water balloons so. much. easier! The ones below are just from Aldi's, but we have gotten some at Walmart!)
And baby Lincoln also enjoys being outside. He is getting to the age where he wants to be with brothers all the time and I can tell he is itching to play WITH them!
Another one of my FAVORITE things is when we can learn about nature. Last Sunday we walked out of our house and saw a box turtle on our sidewalk. Poor turtle was so scared of us. He first tucked in his shell, then tried to run from us but only ran into the garage wall! Dad came to the rescue and picked him up and the boys walked with him to the park.
Lastly, another FAVORITE of mine is when my kids dress up. They have so much fun and play so well when they are in costumes. I wrote about 9 reasons why dress up is important this week (which you can read here). Don't forget to enter the giveaway that ends soon!
Hope you have a wonderful weekend and can enjoy the last few days on June!