I am so excited to show you this sensory bin! I couldn't believe that these foam bits were on sale for just $1.49 at Michaels! I knew I had to snag these off the shelf and use them in a sensory bin.
I set a sheet down outside and placed an empty bin, some tools, and foam bits as an invitation to play.
Then the boys took turn pouring in the different colored foam bits. It was so fun to watch all the colors mix together.
Both boys LOVED exploring this bin. We didn't add anything else to the bin, but they just enjoyed playing with the soft foam pieces.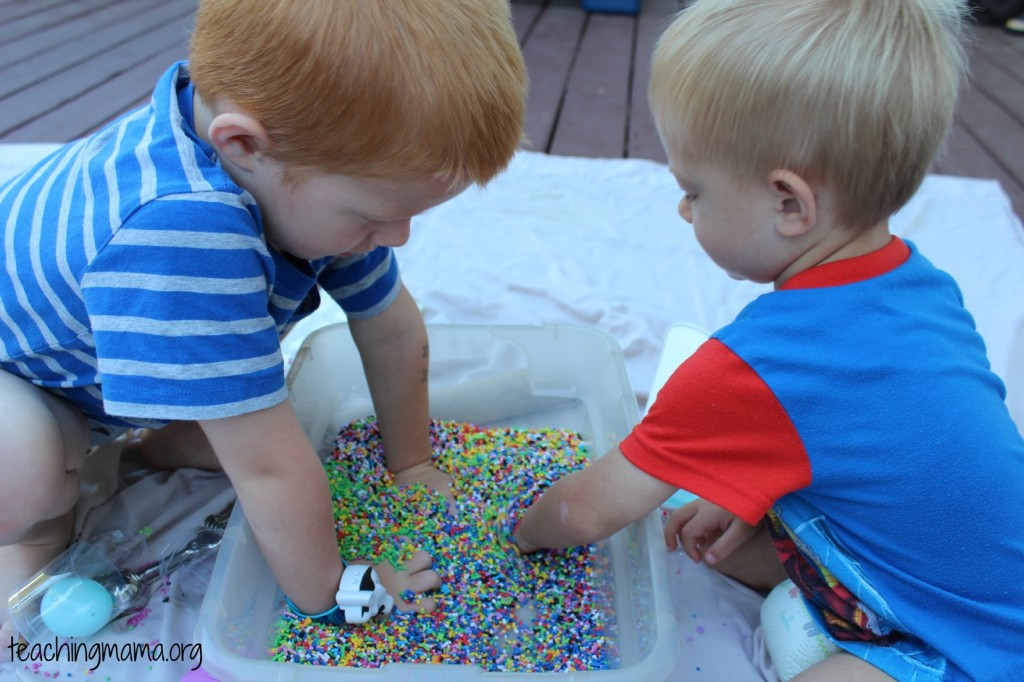 Wes practiced scooping and pouring. (And was pretty good at making a mess…) He also filled plastic eggs and shook them.
Troy worked hard on scooping the bits into an ice cube tray.
Then we did a little estimation. First, I had Troy estimate how many scoops it would take to fill a very small beaker. He guessed ten times. We tried it out and it just took 2 scoops. Then we tried to fill a larger cup. He guessed it would take ten times and it did take ten times! I believe it's never too early to introduce estimation to kids.
We had so much fun with this bin. I could not find foam bits anywhere online, but if you have a Michael's craft store nearby, I suggest checking there for them. They were on clearance at our local Michael's, so I don't know how long they will be around!
Side note: Make sure your child DOES NOT put these in their mouth. If your child likes to put things in their mouth, then this would not be a good activity for him/her. Thanks!