Disclosure: I received this product for free and was compensated for my time reviewing it. All opinions expressed are my own.
My kids love toys, but not too many toys can really keep their attention. I am always looking for high quality educational toys and I recently discovered one with BionicBlox. I was so impressed with this engineering toy and I can't wait to tell you more.
Benefits to Playing with BionicBlox
This toy is different from other toys. It is an educational toy that fosters so much learning! Here are some benefits to this toy:
Promotes Creativity — This toy really helps your child think outside the box. They can build, create, and try new ideas out.
Building Skills  — Although there are other building toys out there, this engineering toy has a different approach to building. The keva planks and connectors allow for children to create neat things like bridges, robots, or towers.
Geometry — Your child can learn about lengths, proportions, and angles with this toy.
STEM toy — This means that this toy stimulates scientific thinking, such as critical thinking skills, spacial recognition, architecture and engineering.
Fosters Independence — This toy would be a great toy to play with independently. My child is almost 4, and it was too hard for him to play with this completely by himself, but I imagine in a year or two he would play with this toy independently.
We loved playing with this educational toy. Take a look at what we created!
What I Loved About BionicBlox
There are so many things to love about BionicBlox. Here are just a few:
It is a high-quality product made in the USA. The blocks are sanded smoothly and would be safe around children of all ages.
The blocks are solid and sturdy while the plastic connectors are very durable.
It is very easy to build with and the blocks are easy to slide into the connectors. It did take some practice for my 3-year-old to master this, but it was good for practicing fine motor skills.
You can use your imagination to build whatever! We even made alphabet letters with them.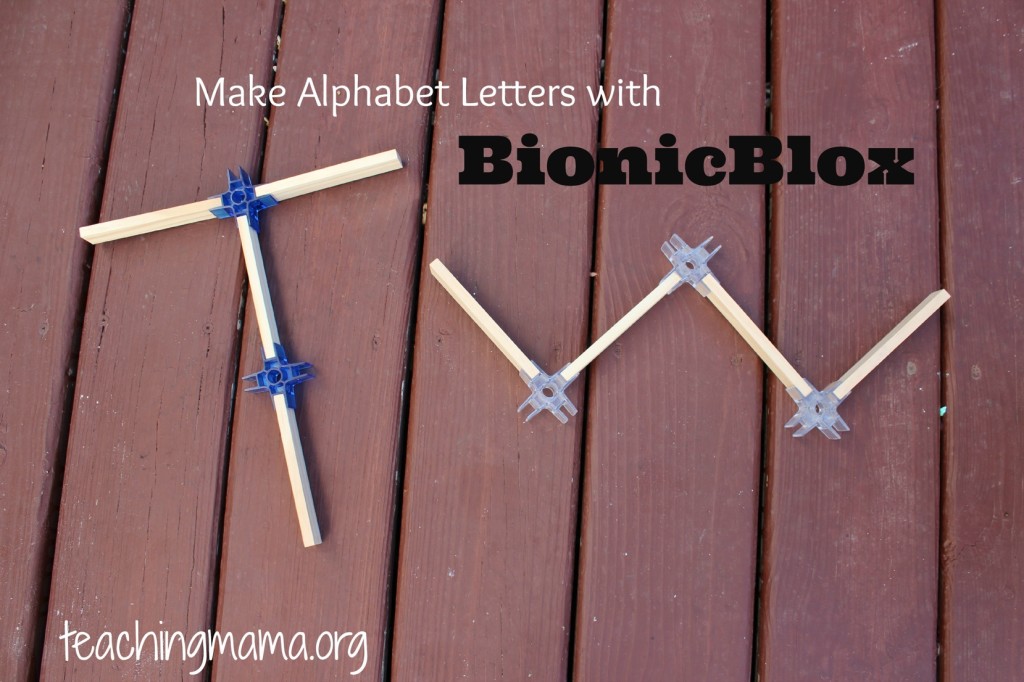 And I'm not the only one who loves this toy, they have received many awards for this STEM toy.
Details About BionicBlox
There are different sets you can buy from BionicBlox.  I am showing the 100-piece Visionary Set which comes with 75 wooden pieces and 26 connectors.  They sell 5 different types of building sets and extra connectors if you need them.
Are you interested it buying BionicBlox? Here is some great news….to save 10% on your order, just use the coupon code HOMESCHOOL10 when you check out. (The code expires November 10th.) This would make a great Christmas gift! 🙂
Find BionicBlox on Social Media!
This is not a toy you'll throw out after a few months…it is one your child will play with for a long time and you will keep for years. I highly recommend this educational toy!