Disclosure: I received this product for free and was compensated for my time reviewing it. All opinions expressed are my own.
With Christmas shopping just around the corner, I'm already starting to think about presents to give to my little ones. I love buying them high-quality educational toys that I know they will play with a lot, so when Austin Lloyd contacted me about their product, I was excited to give it a try!
I am very impressed with Austin Lloyd's product, which is a monthly subscription box service for infants and toddlers. The way it works is they send you a box of educational toys and books that are age-appropriate for your child. After your child is done playing with the toys, you have the option to keep them or send them back to be donated. They offer monthly subscriptions, or you can do a one-time gift.  The retail value of the items will always be higher than your monthly subscription cost, which is really awesome. Plus, you don't have to go out shopping for the toys!
When our box arrived, we were so excited to open it! I love that the box was personalized for my 2-year-old.
It was like Christmas here at our house when we opened the box up!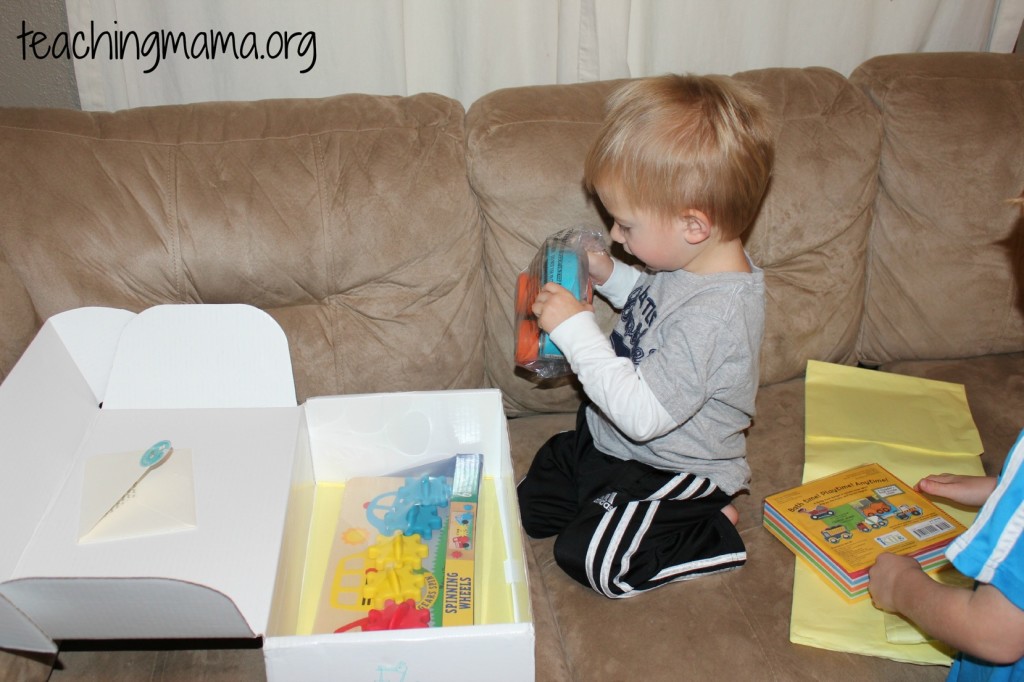 They send you 4-5 educational toys and at least 1 book. Each box is different, so you will not double up on toys.
Wes' favorite toy was the Ready Set Go Car
 by Manhattan Toy. This toy can zoom!! Both boys have played with this toy a lot this week!
Wes also enjoyed the Soft Shapes Trucks Book. This book has puzzle pieces in it, which is great for working on fine motor skills!
Another favorite was this Melissa and Doug Wheels Gear Toy
.
What I Loved About the Austin Lloyd Toy Box
There were many things I loved about this product! Here are just a few…
The toys and books are age-appropriate. I love that the box comes with an envelope of cards that explain what each toy is and what skills your child should be working on at that age.
The toys are high-quality. With brands like Melissa and Doug, Haba, or  Manhattan Toy, you are sure to have a good product.
There are no battery-operated toys…that makes me happy! I am always searching for batteries around the house when we have toys that need batteries!
The toys are BPA and phthalate free.
These toys are unique…they aren't your typical toy found at Target.
This product helps you save time because you don't have to go shopping and look for the toys yourself!
You have the choice to keep the toys or send them back when your child is done playing with them to be donated. This is great to give to others, plus it eliminates clutter in your home.
These toys encourage play-based learning and help your child work on developmental skills.
To learn more about Austin Lloyd, visit their website here. I really think this product is wonderful and I think this would make an awesome Christmas gift!
Lindsay from Austin Lloyd has been so generous and is giving away a box to one of you!! To win a box, just enter below. The winner will be announced on October 29th. Good Luck!